'The Bachelorette' Recap: Parton My French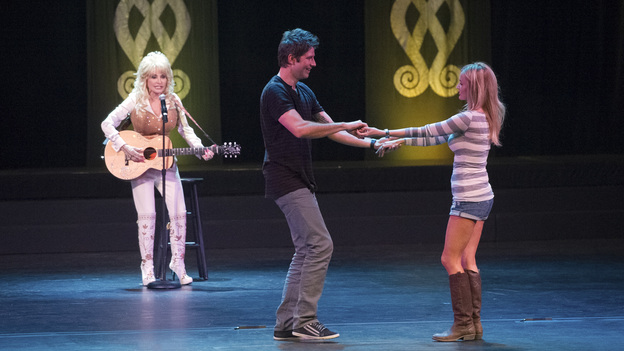 Alright, America. Emily Maynard is no longer f**king around. Homegirl has a Love Sickle and she's chopping down every single dude in the way of her path to love. At this rate, the season finale will be next week.
Let's get right to it; there are two one-on-one dates this week, as well as a group date. Young Gerard Butler (a.k.a. Chris) is up first. His shoulders are too big for his shirt, but luckily their date is climbing a building, so his very large shoulder muscles will come in handy. Chris thinks that climbing a building is like love. He's deep, like a puddle. Why are all these ridiculous dates terrible metaphors for love? It makes my head hurt. But wait, there's more. Lightning! A storm's a-brewing. Thunder! Lightning! Crowds! Unfortunately for Chris, Emily's terror only results in high-fives, though, no kisses.
Chris mentions that he's 25, and Emily is very wary of that. Clearly an old crone of 26 knows that 25 is a total dealbreaker. What sage wisdom this woman has! Luckily for Chris, she's managed to allow his age a pass. He's only 25 but he's a MAN, y'all. Thunder strikes and a fife ( …? why?) plays — a tumultuous narrative, for sure. Chris assures Emily that he is mature because he went to school at 17, which is, you know, totally unique in the modern American world. No one does that! What an individual. Emily thinks he's an old soul. The rose is his and he lives to date another day.
Now it's time for the brilliant musical stylings of… Luke Brian? Never trust anyone whose whole name is made up of first names. That is like, rule No. 7, America. I know it's hard with such prolific lyrics such as "your love makes my speakers go boom boom" and "I'm a little drunk on you and high on summertime," but it's all about having standards. There needs to be more standards on this show, and if I have to be the one to create them after-the-fact, then so be it. This is my cross. I will bear it for you all, because I'm here for you, and I care about you guys.
NEXT: Hey ladies! Group date time! The boys are playing with balls before Emily brings her gaggle of girls over to galavant with the guys. Emily, salivating at the thought, wants to know if any of these dudes are "worthy of being my husband." Upon hearing those words, all the men immediately vomit and spontaneously combust, turn into phoenixes and fly far, far away. The ladies take turns talking to them and awkwardness ensues.
Egg-Man is up first and he brings Shelly (the egg) with him. The girls are confused, which is weird, because what is weird about bringing a giant ostrich egg everywhere you go on a nationally televised dating show?
Stevie shows up and starts dancing because he is literally a parody of himself and of every single terrible person on the planet. It's like watching my worst nightmare come to life. I'm sure his forthcoming public access television show will be a huge success.
Next up is super-blonde Sean. The girls LOVE Sean because he's blonde and loves Jesus. They're making him take his shirt off and sit on him while he does push-ups. What is going on here? Like, no, really, for real… what in the actual f**k is happening in this sad little excuse for a fake beefshow? I have a really hard time dealing with moms pretending to go wild.
Release the hounds! Oh, I'm sorry, those are children. Kids. Yes. Not animals. Time to play with the kids. Doug and Tony come out on top since they're dads, and Jef and Sean are also stand-outs that the kids love. Then Ryan admits that he hates fat people, because that's a really unsurprising character trait for a dude on a reality dating show to have. Good job body-shaming your potential future wife, dude. This leaves Sean and Doug as the unsurprising front-runners from the friends.
At the boozy portion of the date, Emily wants to know more about Doug. He opens up about his father's epilepsy and subsequent foster home experience. Aww shucks, Doug, you're making me feel an emotion that isn't second-hand embarrassment.
Tony keeps talking about how he shouldn't be on the show because he misses his kid. He's clearly going home, right? Right. Zero surprise there, kids.
The other one-on-one date goes to Arie (thank goodness) and not Kalon. Also did Kalon just ask the race car driver if he can drive a stick shift? I just can't, America. I just can't.
Tony returns for more emotional tumult. There are tears, phone calls to his son, and more sobs. Emily knows that this isn't going to be a match for her, so she sends him home. One down, two more to go! She cuts like a knife, this one.
Sean gets the rose from the group date! He feels great, and also very blonde.
NEXT: Hello, Dolly! Ho-ly CATS, America. Arie's one-on-one date is at DOLLYWOOD. Do you even understand how incredible this is? Do you even understand? Dolly Parton's amusement park. Dolly is such a boss that she has her own amusement park! As a fellow head queen boss lady myself, I have high respect for the ladies that are in my Hall of Heroines, of which Dolly Parton is one. Homegirl does not give one glittery s**t about anything other than being her fabulous self, so I feel like Emily and I FINALLY have something in common. I appreciate her respect for the Goddess Dolly. Emily kept her cool way better than I would've if Dolly Parton showed up and wrote a song for me. I would've died and become a ghost, and died again so I could haunt myself forever with memories of Dolly's greatness.
After this date, I'm 100 percent on Team Arie, FYI. While opening up about an ex-girlfriend who had kids from a previous relationship, he mentions loving and missing those kids still to this day (which you know sent Emily into a fluttery romantic tailspin). Dude asks thoughtful questions and has insight into relationships that the other dudes don't seem have, from what we've seen so far. Plus there was a carousel make-out session. I mean, come on! Obviously, homeboy got the rose he deserves.
Time for The Kalon Show during the cocktail reception! How does Emily think he's genuine, by the way? Ugh, girls, why are we all so dumb sometimes? This guy is such a massive dolt. While they're discussing life and kids, Kalon gets really annoyed that Emily speaks? Dude, say what? Whenever Emily talks it's hard for him — because it means it's more difficult to BS his way to an answer he thinks she wants to hear. Yet somehow Emily thinks he's a gentleman? And since when is Kalon funny? Girl, Kalon should've been on that group date so your girlfriends could get your head right about him.
Travis (that's his name!) says it's time to "lay Shelly to rest." The egg. Oh christ, the egg. The boys pour one out for Shelly after Emily pulls a serious Hulk smash on it. And that is that.
Next up is Alessandro, who says that being a dad is a compromise. Um, say what? Foot, meet mouth. Is this a lost in translation thing? No? You're just the type of dude who would tell a single mom that dating her would be a compromise because she has a daughter? Continuing her trend of not-f**king-aroundness, she sends his a** home — and good for her! That self-proclaimed "gypsy king" needs to get a clue, yo. Also according to the end credits sequence he dated his third cousin? Sorry, but… gross, dude.
Arie finds this the perfect opportunity to make out with Emily, and Sean finds it a good time to reiterate that "Yo! Being a dad to your daughter Ricki would like, totally be super-fantastical and stuff!" The level of pain she looks like she's in when she makes out with Sean is semi-laughable, though.
So who stays and who goes? Let's break it down for you:
Staying:
Jef with One F
Charlie (Where were you this episode?)
Doug
Young John Mayer, a.k.a. Michael (anyone else forget about this dude?)
Travis
Alejandro
Ryan
John
Kalon (Ugh, of course.)
Nate (Oh, we're still getting haunted by this ghost?)
Stevie is gone because, well, I mean, of course. Can you imagine marrying that dude? He literally backed dat azz up earlier this episode in a wife beater.
What did you think about the dates so far? Are you on Team Arie or Team Sean? Sound off in the comments!
Follow Alicia on Twitter @alicialutes.
Image via ABC
MORE
'The Bachelorette' Recap: Into the Woods
'The Bachelorette' Recap: The Muppets Show, Tonight
Trista Sutter's 'Bachelorette' Blog: Classy Is As Classy Does