The Best and Worst Moments of the 2012 Olympics: Staff Picks


Phew. The Games are over, the medals have been awarded, and the thousands of Olympic athletes and officials have packed their bags and headed back to their home country. It'll be two more years until we get a taste of Russia when the 2014 Winter Olympics hit Sochi, but until then, we can bask in the experience that we as a nation shared during these past few weeks in London. 
Tears! Smiles! General excitement! This year's Olympics were a regular emotional roller coaster, complete with highs and lows that Hollywood.com's staff felt should be highlighted (and, well, lowlighted). Here now we present our picks for the best and worst moments of the London 2012 Olympic Games. See what our staff selected below:
BEST: Let The Games Begin
We knew that Danny Boyle's Olympics opening ceremony was going to be all sorts of crackers, but we also didn't know whether or not we would like said crackers (and, if we're keeping with the metaphor, whether they'd be salty, bland or covered in unnecessary seeds of some kind). But Boyle's crackers were the best kind — a variety of wacky thematic dancing, random celebrity cameos (hey, Gilderoy Lockhart!) and some awe-inspiring set visuals. Plus, there was a parachuting Queen. That enough should mean that we can call the event a success. — Marc Snetiker
BEST: The Spice Girls Reunion
Granted, we had to wait through the sleepy, robot versions of old Pet Shop Boys songs to get to it, but by the time classic London black cabs started mysteriously circling the stadium, we knew what was about to happen. Yes, McKayla Maroney's mind-blowing perfect vault made my heart jump into my throat, but watching Scary, Sporty, Baby, Posh and Ginger Spice hop out of cars and break into "Wannabe" was the trigger for an out of body trip back to being 13 years old. Who knew a glorified half-time show could make give us the giggles and that warm, happy nostalgic feeling? — Kelsea Stahler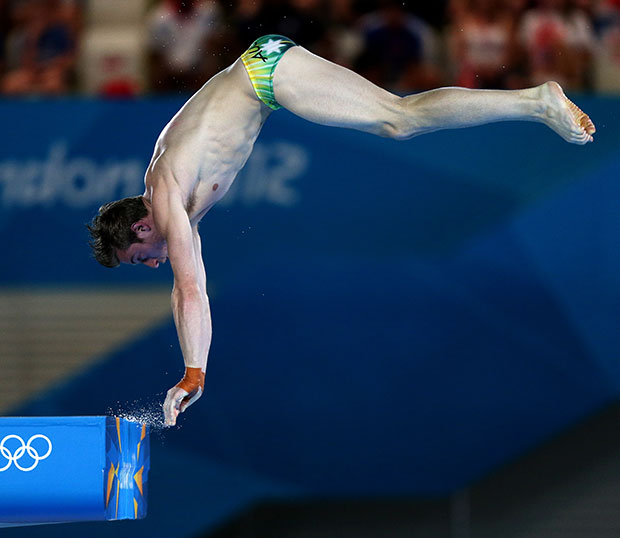 BEST: Matthew Mitcham
While the finals of the men's 10m platform diving were thrilling on Saturday night, it was a moment on Friday night that really had me teared up. During the preliminary rounds, the action cut away to a story about Australian diver Matthew Mitcham, one of the few openly gay divers in the Olympics. He won a surprise gold medal in the event in a shocking comeback four years ago in Beijing and, although he was already out of the closet, NBC neglected to mention why he was a hero to millions. They followed this up with a longer interview between Mitcham with Shakespeare and nautical history correspondent Mary Carillo on Saturday afternoon. Due to injury Mitcham failed to make the diving finals on Saturday, but NBC finally made up for one of their huge mistakes four years ago. — Brian Moylan
BEST: More Mo! 
It was thrilling to watch Olympic superstars like Michael Phelps and Usain Bolt earn their rightful place in Olympic history, but I couldn't help but get choked up watching England's hometown hero Mo Farrah take the gold. He's not only a symbol of what the Olympics are all about but he maybe had the best reactions of any winner during these games. A total class act worth rooting for. — Aly Semigran
BEST: Girls' Soccer Power
Watching the US Women's soccer team take home Olympic gold in their rematch with Japan (who triumphed over the Americans last summer in the Women's World Cup) was oh so sweet. Seeing the 18 strong, beautiful women inspire young girls to trade in their Barbies for cleats as they stood atop the podium was even sweeter.  — Abbey Stone
BEST: Victorious Pistorius
After all the controversy surrounding the 2008 Olympics, it was encouraging to see double-amputee Oscar Pistorius qualify and take to the track to represent South Africa in the Men's 400M. Pistorius nabbed second place in Round 1, with an impressive 45.44 second run. But his time and placing notwithstanding, the mere fact that Pistorius has qualified to compete in the 2012 Olympics is inspirational to anyone who has faced significant obstacles. — Michael Arbeiter
BEST: Olympic BFFs
Watching the young stars that I went to high school with like Sanya Richards-Ross (Track and Field) and Foluke Akinradewo (Team Volleyball) compete. It felt amazing to watch people that I knew compete — and gave me even more reason to cheer for Team USA. It's young athletes like these that helped lead Team USA to the front with the world's most medal wins of the 2012 games. — Lindsey DiMattina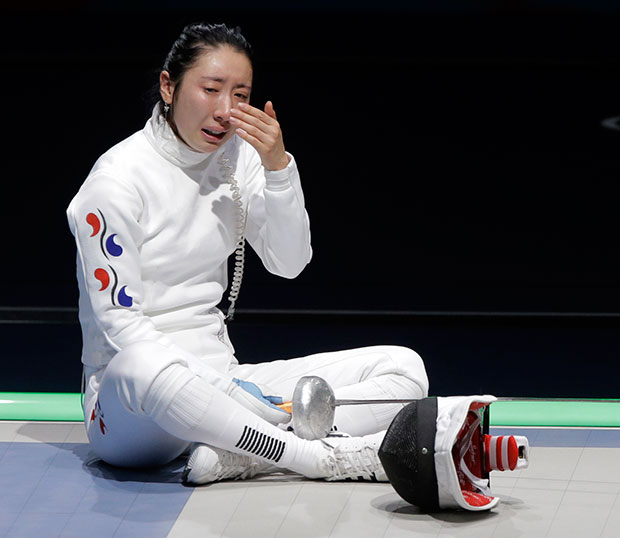 WORST: Shin A-Lam's Fencing Horror
Spoilers are one thing (and boy, did they put a damper on the fun and take away the excitement of watching the games) but there was nothing more agonizing than South Korean fencer Shin A-Lam's heartbreaking and controversial loss to Germany's Britta Heidemann. (Shin missed out thanks to a one-second timekeeping error from a 15-year-old British volunteer.) Shin tried to stand her ground, but lost her appeal to the decision after sitting on the mat for 30 minutes. She then went on to lose her bronze medal match. — Aly Semigran
WORST: NBC Failed to Broadcast the Russian Gymnast's Fall, But We Had to Witness Poor Jordyn Weiber's Tears for 20 Painful Minutes
When Weiber, the All-Around favorite, lost her shot at the finals, we all felt a little like crying too. But watching the poor girl try to wrestle with her emotions on (not-so) live television for a good 15 or 20 minutes was simply torture. Cut to the actual women's All-Around competition finals in which Russian gymnast Ksenia Afanayeva fell on her face during the floor exercise, except wait, we can't cut to it because NBC didn't show it. The network sustained criticism for building up a narrative around the U.S. and ignoring the "dynamics" of the other teams. We'll say it: if we have to watch Weiber cry, we should "have" to watch the girl who fell on her face too. — KS
WORST: Music Choice
After America's victory over Spain during the gold-medal basketball game, the North Greenwich Arena blasted a song to denote the victory… unfortunately, it was Bruce Springsteen's "Born in the USA." As good a song as anyone might think it is, the idea of blasting a ballad condemning America for wartime atrocities and its lack of support for returning soldiers isn't exactly appropriate for celebration. Someone forgot to listen past the refrain… — MA
WORST: NBC's Dancing Vendetta
During both the opening and closing ceremonies, NBC chose to cut heartfelt, awe-inspiring pieces by legendary British choreographers from their primetime segments. First, NBC nixed footage of Akram Khan's moving homage to the victims of the July 7 London bombings in favor of a Ryan Seacrest interview with Michael Phelps during the opening ceremonies. Then, NBC cut a Christopher Wheeldon-choregraphed piece featuring prima ballerina Darcey Bussell (who came out of retirement to swoop into the stadium like a phoenix) and four male dancers from the Royal Ballet. Considering the amazing reception Chinese choreographer Shen Wei received for his calligraphy dance in Beijing, NBC's omission of dance from their 2012 coverage is surprising and disappointing, to say the least. — Abbey Stone
WORST: Where Are The Horses!?
NBC cut out parts of the equestrian coverage! A lot of people may think that the equestrian sport is a lot of nonsense, but it's honestly one of the toughest sports out there. Not only does it require endurance, technique, and talent, but the rider also has to control the horse's mind. Specifically, the dressage coverage lacked. Sure, Ann Romney's horse Rafalca gave the country plenty to laugh about — but the finesse of the sport is not really a joke. Dressage requires hours of practice to build muscle tone and get down the special movements perfect. Showing an hour of a competition that probably lasted all day just didn't satisfy me. — LD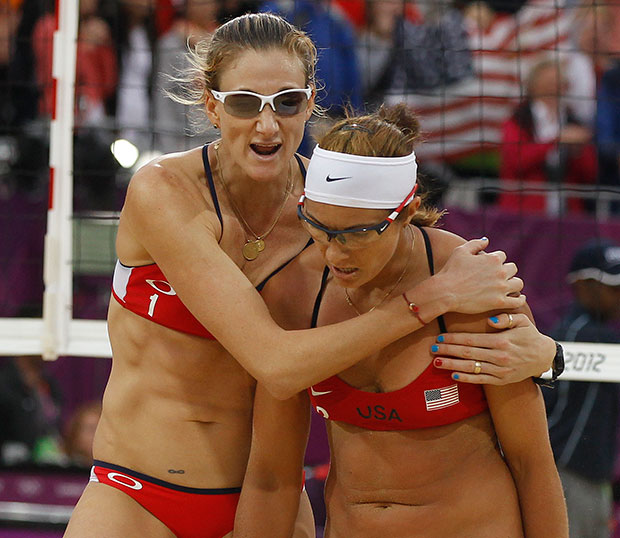 WORST: Beach Volleyball
I'm very excited that Misty May-Treanor and Kerri Walsh Jennings won their third medal in beach volley. I am not excited that I had to watch every single one of their matches leading up to the big win against the American team. First of all, it was unfair to Jennifer Kessy and April Ross, the other American team who we barely got to see until they were in the final with Misty and Kerri. Yes, they were off winning too, but we didn't see any of it. Secondly, it's unfair to every single event that we didn't get to see one minute of in prime time. Unfair to rowing, fencing, white water canoe, handball, badminton, table tennis, wrestling, trampoline, rhythmic gymnastics, weight lifting, and on and on and on. Can't we agree to show highlights of some of the pair's less important games so that we could see the finals of some other things? I know they wear skimpy outfits, but the audience could benefit from spreading the love around. — BM
WORST: Animal Malpractice
Did we really need to interrupt the closing ceremony telecast with a preview of NBC's new monkey-centric sitcom? I'm all for the show — which is actually, kind of, sort of, a little bit funny — but not when it comes at the cost of seeing more ceremonial London ridiculata (did you see those hats!?). — MS
[Photo Credit: AP Photo]
MORE:
Cinematic Olympics: 9 Movies Worthy of Gold Medals
2012 Olympics: Casting the Movie Version
A History of Ugly Outfits from the Olympics Opening Ceremonies
The Very Best of Olympic Memes from the London Games