The Best and Worst of the 86th Macy's Thanksgiving Day Parade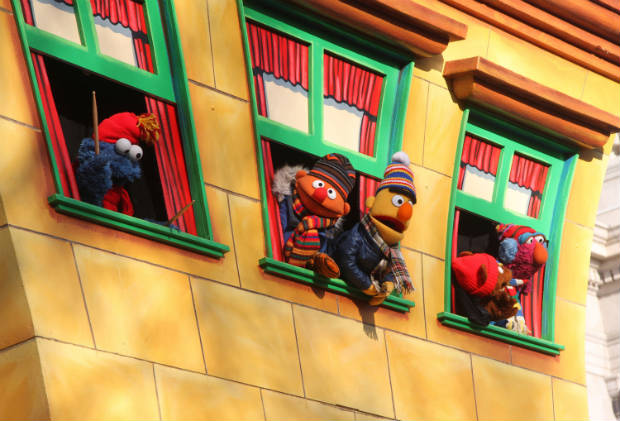 The 86th Macy's Thanksgiving Day Parade marched across our TV screens today, and we took notes through all the good, the bad, and the downright awkward to bring you the top ten best and worst moments of the three-hour festivities. Enjoy!
The Best:
1. The Sesame Street Gang: Despite all of their recent hardships (Mitt Romney tried to evict them, Elmo is now a mute) the ABC and 123 enthusiasts were all smiles on their bright float. And their song "What I Am" definitely seemed like a subtle screw you to all the haters out there. Our favorite line was "We're never gonna quit, we'll just keep getting stronger." Boom! Gauntlet thrown.
2. The Radio City Rockettes: Nothing says 'Happy Holidays!" quite like 40+ girls with sparkly dressed dancing in complete and total unison. Scoff all you want but their kick lines are legendary. Plus there's a good chance that they're just really really life-like robots, so that a win in the technology department.
3. Jimmy Fallon and The Roots: From the tippy-top of a pretty awesome Gibson guitar, Fallon brought a fun new energy to the marching band infused parade. He and The Roots took on the Queen classic, "We Will Rock You" and not only did the song sound great, Fallon looked like he was having a blast while performing it. We we're a little disappointed when Justin Timberlake didn't make a surprise appearance for another "History of Rap," mash up but hey there's always next year.
4. Power Rangers and The Teenage Mutant Ninja Turtles: It's like someone at Macy's said, "Hey! Let's take two badass things from the 90's and put them next to each other in the parade." Well done kind sir. All of the turtles were there—Michelangelo, Donatello, Raphael, and Leonardo—dancing along to Neon Tree's "Everybody Talks," while the Power Rangers flipped and kicked along the parade route. Wanna feel old? The Power Rangers are celebrating their 20th anniversary this year.
5. Santa Claus: No explanation needed. He's Santa.
The Worst:
1. The Varsity Spirit Cheerleaders: Holy hell these girls were terrible and the worst part about it was that they kicked off the parade! Not only did their music sound like we transported back to 2004, (Really y'all? The Black Eyed Peas?!) their center stunt fell! It fell you guys! These are supposed to be the best cheerleaders in the United States and they could even save a half stunt? Torrance Shipman would not be impressed you guys…
2. Carly Rae Jepsen: We're thankful that she didn't preform "Call Me Maybe" for the kajillionth time this year, but the pop princess's performance of "This Kiss" was just not great. We completely understand that all the performers lip-sync, while standing awkwardly on their assigned float, but she could've at least tried to make it look convincing. Hold the microphone closer to your mouth, girl!
3. The Spangles Dance Company: These big-haired ladies showed up in leg-warmers and sweatbands claiming that they were celebrating the dance music of the 1980's. Unfortunately most of them just looked like they were having some sort of a spasm. Their choreographer must have been high off of something he found in the 80's because at one point in the dance girls partnered up and someone thought it would be a brilliant idea to pair their tallest girl with the smallest. This made for some extremely awkward body rolls and while the camera zoomed in on the shorter girl's face, we simultaneously got a close-up of the taller girl's lady business. Classy.
4. The Kids Dancing Behind The Wanted: You poor things. You're dressed up as traffic signs while having to act excited to listen to the older and slightly more depressing One Direction wannabes. Plus on the scale of 1 to 10 on float coolness, yours is like a 2.5.
5. The Millions of Commercial Breaks: We understand that this parade is just one giant subliminal advertisement from the insanity that is Black Friday, but do they really need to put a commercial break literally every five minutes? If we see Justin Bieber wink, nod and smile one more time, we're going to punch a basket full of kittens.
What were your favorite moments of the parade? Shout it out in the comments below!
Follow Leanne on Twitter @LeanneAguilera
[Photo Credit: Wenn]
MORE:
Macy's Thanksgiving Parade: 6 Most Overtly Promotional Balloons, Floats
A Pop Culture Thanksgiving: What Made Us Give Thanks In 2012
Pop Culture Potluck! 12 TV and Movie-Inspired Thanksgiving Day Dishes

12 Hot (And Horrifying) TV Nude Scenes

Hollywood.com's Holiday Movie Guide: Best of the Season!