The Best VMA Performances of All Time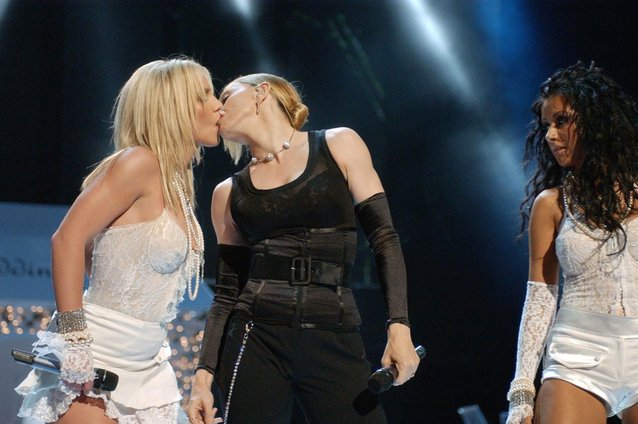 MTV

Once a year, we're treated to a cultural event unlike any other: the MTV Video Music Awards. Some of the moments from ceremonies past will live forever in our mind, from Chris Rock joking about Jennifer Lopez and her derrière's need for more than one limousine to Diana Ross jiggling Lil Kim's exposed breast. The show knows how to provoke controversy, and has thus remained a lightning rod for pop culture discussion since it began in 1984. This list isn't about the most controversial moments in the award show's history, but the most mesmerizing live performances it gave us (some of which, yes, surely did drum up some controversy).

1. Madonna – "Like A Virgin" 1984

Possibly one of the most iconic performances ever, period. Madonna's signature wedding dress and 'boy toy' belt are still synonymous with 80s pop culture, and it's all thanks to this performance. She rolls around on the floor quite suggestively, setting the tone for what we've come to expect from both the Queen of Pop and the VMAs.

2. Madonna – "Vogue" 1990

Madonna returned to the stage in 1990, decked out in Marie Antoinette-inspired clothing, and delivered this perfectly choreographed rendition of her classic "Vogue." Though completely covered as an 18th century aristocrat, Madge still managed to sexualize the performance by shoving faces into her bosom and lifting up her skirt to allow her backup dancers a peak beneath.

3. Madonna, Britney Spears, Christina Aguilera, Missy Elliott – "Like A Virgin/Hollywood Medley" 2003

Now that's how you open an award show. Or is it? The downside of this majesty: it ended up being all anyone could talk about… for ten years. I don't think anything  in VMAs history earned this must discussion until the dawn of Miley. Britney Spears and Christina Aguilera, at the time the two biggest pop stars around, having been so clearly influenced by Madonna, took to the stage to pay homage to her 1984 VMA performance only to be joined by the Queen herself. As everyone knows, eventually the Material Girl smooched both Spears and Aguilera (though for some reason, we mostly just focus on Britney Spears) before Missy Elliott came in and got everyone dancing away the shock.

4. Beyoncé – "Love On Top" 2011

NO. SHE. DIDN'T. This was a moment I'll never forget. Beyoncé came out, annihilated the song (which is an incredible feat in and of itself, spanning six key changes in one number), but then dropped the microphone and grabbed her budding baby bump to announce her pregnancy to the world. This performance still gives me chills, and when I think about it, I can't help but want to jump up and down like Kanye does at the end. It's just perfect.

5. Miley Cyrus & Robin Thicke (feat. 2 Chainz & Kendrick Lamar) – "We Can't Stop/Blurred Lines/Give It 2 U" 2013

The performance that everyone knows about… so much so that my grandfather just called me to ask how he can clear "Miley Cyrus twerk" from his YouTube history. In combination with her video for "Wrecking Ball," this performance made sure everyone would be talking about Miley Cyrus for months to come. It provoked discussions about sexuality, racial appropriation, and age differences. Not to mention, it helped destroy a marriage (thus leaving us to deal with a groveling Robin Thicke).

6. Diddy, Sting, Faith Evans, 112 – "I'll Be Missing You" 1997

A tribute to The Notorious B.I.G., this is an undeniably beautiful and meangingful song. Sting coming on stage to perform the sample of "Every Breath You Take" shows more than just artists collaborating to make wonderful music, but it demonstrates the music community coming together in remembrance of loved ones.

7. Beyoncé – "Ring the Alarm" 2006

Beyoncé is a goddess. We know. Beyoncé can do no wrong. We know. At the time of this performance though, Queen Bey was just beginning to prove just how much of a force to be reckoned with she was. I distinctly remember not being familiar with this song as she descended to the stage, but this performance sold me on it. The highlight isn't the amazing trench coat she twirls around in during the beginning of performance, but that unexpected hydraulicks-inspired dance routine that she does in the middle. Girl just slayed and slaaaayed.

8. Chris Brown & Rihanna – "Wall to Wall"/"Umbrella"/"Billie Jean"/"Kiss Kiss" Medley 2007

Let's go back to a time when saying "Chris Brown" and "Rihanna" in the same sentence didn't immediately present a problem and focus on this gem of a performance from 2007. The two were rising stars with some of the biggest songs of the year, joining forces on stage for a magical moment. Say what you will about Chris Brown, but he's the best dancer we've had around since Michael Jackson. As he table-top dances and leaps from table to table, even eventually paying tribute to MJ, we were reminded of just how good he is.

9. Lady Gaga – "Paparazzi" 2009

Ladies and gentleman, Lady Gaga has arrived. She gave the sort of performance we've come to expect from her: theatrical, filled with musical ability, bizarre, and shocking. Mostly in the way it ended, with Mother Monster hanging on stage and bleeding to "death." Um… this was truly a shocking moment, even for her.

10. Britney Spears – "I'm a Slave 4 U" 2001

What made this one memorable? For one thing, she beings the performance in a cage with a tiger. That's just the start. Then she gives us the sort of magnificent dance routine that we love so much we're willing to worship whatever she does now just in memory of a performance like this. Just as you're thinking it won't get any better, the python comes out and Britney shimmies around the stage with the albino snake around her shoulders. (Can you believe there is an entire generation of people who were only able to witness Britney performances like "Gimme More?" I shudder to think).

11. Britney Spears – "Satisfaction/Oops! I Did It Again" 2000

This performance is perfect (and by that, we mean that it's flawed in a variety of ways, but if you're looking for real singing or anything substantial, watch the Grammys and hope for the best). Watching it now, knowing that she's going to rip off that suit and hat and give us one of the best choreographed hair tosses ever recorded, we can't help but get excited. The nude body suit and that booty grab at the 2:00 mark really cemented her place as a sex icon (as if the subtle schoolgirl costume and red latex catsuit hadn't already).

12. Hole – "Violet" 1995

Courtney Love is nothing if not raw. She dedicated this performance to a slew of deceased musicians and loved ones, including husband Kurt Cobain and bandmate Kristen Pfaff, and proceeded to rock out in typical Courtney style and tried to destroy everything on the stage. This, of course, happened before she threw the contents of her purse at Madonna and struck up a conversation in the middle of an interview.

13. Eminem – "The Real Slim Shady" / "The Way I Am" 2000

Eminem made a statement in 2000 by proving that he was the real Slim Shady, marching through Radio City Music Hall with a sea of imitators. More impressively is how many times he grabs his crotch. You'd think he was in genuine fear of being assaulted or something.

14. Kid Rock (feat. Run-DMC, Steven Tyler, Joe Perry, and Joe C.) – "King of Rock"/"Rock Box"/"Bawitdaba"/"Walk This Way" 1999

What's not to like about this performance? As much as I wish I didn't like Kid Rock, I have to give him his props. This performance was stellar, and is probably one of the only performances on this list that my brother enjoyed watching too (just kidding, we mentioned Britney Spears stripping into a nude bodysuit, right?).

15. Michael Jackson – Medley 1995

At a whopping fifteen minutes long, this performance is more of a Michael Jackson concert than a VMA performance. However, it's definitely one of the better ways to spend fifteen minutes, as this performance is jam-packed with everything you'd expect from a Michael Jackson performance. He is the King of Pop, after all.