The Best of the Academy of Country Music Awards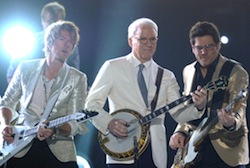 It may seem a little crazy that country music has two awards shows (the Country Music Association Awards and the Academy of Country Music Awards), but the ACM Awards had no problem finding stellar acts for tonight's show, with performances by The Band Perry, Scotty McCreery, and Kenny Chesney with Tim McGraw. In case you missed the show, we have a list of the moments everyone will be talking about. Plus, you can check out a full list of the winners here.
Carrie Underwood Performs "Good Girl"
The mood last night was country with a dash of rock and roll, and Carrie Underwood set the tone with her performance of her latest hit "Good Girl." Underwood strutted the stage in a pink fringed mini-dress and rocked out to her unusually edgy track.
The Hosts Mock Taylor and Tebow
Taylor Swift's sweetness is easily mockable, so naturally she was the target of some good-natured ribbing from hosts Reba McEntire and Blake Shelton. Swift, who was in the front row, mouthed "What?!" when the Voice host mentioned the rumor that Swift went on a date with quarterback Tim Tebow, saying "Now we know what he's been praying for." Shelton also joked that her new perfume is titled "[Shocked Face] I Can't Believe I Smell This Good."
KISS Presents Vocal Group of the Year
The award for most WTF moment goes to KISS, who appeared in full makeup (and with random patches of skin exposed) to present the award for Vocal Group of the Year. The guys continued flexing their muscles as Lady Antebellum took the stage to accept the award.
Steve Martin Performs With Rascal Flatts
Steve Martin has been moonlighting as a banjo player for several years now, but it was still a surprise to see him take the stage with the Rascal Flatts and play backup to their new song "Banjo."
Ashton Kutcher's Country Ditty
Ashton Kutcher may not be the first guy that comes to mind when you think of country music, but he is one of CBS's biggest stars, and the network couldn't pass up the opportunity to have him present an award. Kutcher played along, donning full country attire and belting out a few lines of George Strait's "I Cross My Heart" before presenting the Female Vocalist of the Year award to Miranda Lambert. He didn't sound too bad, but don't expect him to tour with Steve Martin anytime soon.