The Best TV You're Not Watching: Childrens Hospital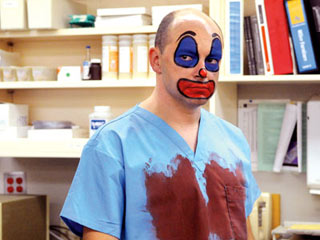 It's Thursday night. Midnight to be exact. You're a little buzzed; be it from a little drinky drink or a little smokey smoke, you're in no condition to do anything but sit in front of the couch and watch some TV. But nothing is on. It's too late for most channels to show anything interesting and the good stuff on Cinemax hasn't come on yet. What's a dude to do?
Watch Childrens Hospital, of course, dumbass. Why were you not watching it in the first place?
Why You're Not Watching
Wait, what is it?
Granted, this is a seemingly cultish show that not many people should know about on a channel that caters to shows that not many people know about, but when Adult Swim made the decision to start producing live action shows, they ushered in a boatload of talent. Now, Rob Corddry originally created the show as a web series for the WB during the 2007 writer's strike, but the Cartoon Network bought the rights to the show and began producing more original episodes last year and it quickly became one of the funniest shows on television.
Childrens Hospital is a parody of your basic medical procedurals (Grey's Anatomy, ER, it even films on the old Scrubs set), but only in the loosest sense. There is very little actual doctoring happening, each episode contradicts the one before it, and one of the doctors is a clown for the hell of it. Really.
It's on when?
Again, you're probably not in the most sober of minds when you watch this show. It's on Thursday nights at midnight when the Cartoon Network switches over to its older brother programming, Adult Swim. It's not exactly the most prominent time for TV-watching, nor is it the most popular channel for weekly comedy (yes, Tim and Eric is funny, but really only once in a while and the other stuff like Aqua Teen Hunger Force is enjoyable in small doses).
What You're Missing
It's completely absurd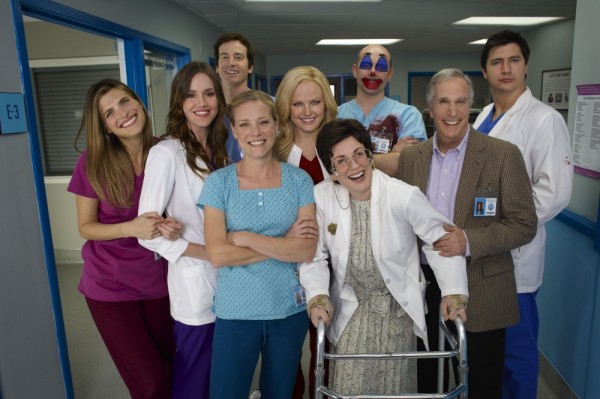 This is where the beauty of Childrens Hospital comes in. It's absurd, but in a completely approachable way. One doctor is a clown, true, but he also always has blood on his scrubs. Neither is mentioned that often. A patient comes in after falling in quick sand. They had to scoop him out and place him in a container that he could swim in, but they still had to rescue him. Relationships between characters switch faster than circuit boards, but only because the medical shows they parody do the exact same thing.
The cast can kick your ass
Here's a partial list of the people who have appeared in the show that I'm just rattling off the top of my head: Rob Corddry, Malin Akerman, Ken Marino, Megan Mullally, Nick Offerman, Rob Huebel, Paul Scheer, Nick Kroll, Henry Winkler, Adam Scott, Jon Hamm, Clark Duke, David Wain, Jason Sudeikis, Nathan Corddry, Ed Helms, Michael Cera, Lizzy Kaplan, and Lake Bell.
Not to mention they're practically doing a Party Down cast reunion in their upcoming episode called Party Down.
It's only 15 minutes, Mr. I-Have-Important-Things-To-Do
Perhaps the show's greatest strength is its length. Corddry intentionally chose to make the show 15 minutes long to preserve its absurdity. With only 15 minutes to tell their stories (with what little stories each episode has) they don't have time for silly little things like real character development and tone. It's just joke, joke, joke, joke, joke and more jokes. There are a few callbacks to other things, but seriously, how much context do you need to see Megan Mullally and Malin Akerman make out? Didn't think so.
The Bottom Line
It's 15 minutes of comedy from some of the funniest people in the business making fun of the easiest target. Just do yourself a favor and give it a shot. I promise you will not regret it. And besides it'll make you seem cooler to your friends when you recommend it to them.
Childrens Hospital airs Thursday nights at midnight on Cartoon Network's Adult Swim.