The Best TV You're Not Watching: 'Parks And Recreation'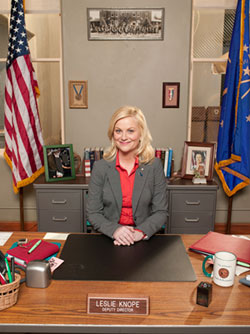 Parks and Recreation is set deep in the heartland of America in the fictional small little town of Pawnee, Indiana. We follow Leslie Knope (Amy Poehler), the Deputy Director of the Parks and Recreation department, as she does all she can to make life in Pawnee pleasant, whether that's building a new park, putting on a festival, or entertaining a famous mini-horse named Lil' Sebastian. Through her adventures, we meet the rest of the cast, which features Aziz Ansari, Nick Offerman, Rashida Jones, Chris Pratt, Rob Lowe and Adam Scott. It's a show that, despite its small world, carries a lotta heart, a lotta love, and a lotta laughs.
Why You're Not Watching
You Think It's an Office Knock-Off
Unsurprisingly, the show comes off as a wannabe-Office. This isn't a coincidence because, Parks was originally conceived as a spinoff from the Dunder Mifflin crew — which explains the similarities in style, tone and production — but creators Greg Daniels and Michael Schur quickly morphed the project into something else. Instead of focusing on the negatives of office life and the pessimistic attitude that comes with that perspective, Parks focuses on hope and optimism. The majority of the laughs come from character traits and situations, but (most of the time) aren't at the expense of the characters. Our laughter isn't mean because, we're genuinely laughing with them, not at them.
Season One Wasn't Very Good
Daniels and Schur have said in interviews in the past that they approached season one as one long pilot episode, which may explain why the mini season (only six episodes) was so bad. Well, perhaps not bad, but simply unsure of what it wanted to be. At times it showed moments of greatness, it really did, but those moments were few and far between. And frankly, asking an audience to stick with you for six episodes as you figure your shit out is quite the request. By the end of the season, a majority of those Office, 30 Rock and other NBC comedy enthusiasts who gave it a chance had given up on it — and haven't tried it since.
Small Town Local Government Seems Like a Dumb TV Show Premise
This show may have Rob Lowe, but it ain't no West Wing. The situations that the Pawnee Parks Department deal with aren't quite as sophisticated as Aaron Sorkin's twisted plots in the US government, but you know what? That's what makes them so wonderful. There are problems everywhere in our world and great comedy often comes from the ability to point out those funny little situations that come with those problems — like filling in a pit to build a park or putting together a town's Harvest Festival. It may not be as appealing initially as, say, the President of the United States mulling over a wartime decision, but in a way, the simpleness and quietness of Parks' life is what makes everything about the show work.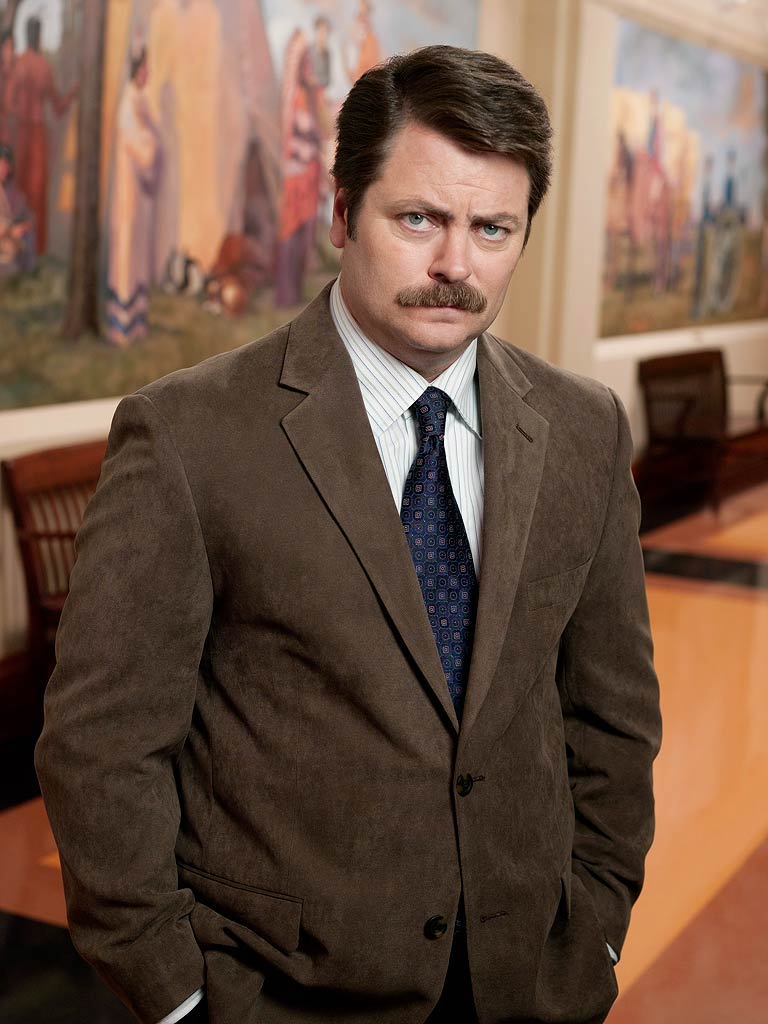 What You're Missing
The Characters Make You Feel Happy, Happy, Happy!
Parks and Rec has so much to offer when it comes to its cast. Not only are Poehler, Ansari, Scott, Lowe and crew ridiculously hilarious, they're all, somehow, infinitely likable. They all might be goofs and have their odd eccentricities, but nothing they do ever makes you mad or angry. You're always rooting for them. You're on the same team. You want to win. And when a comedy like Parks embraces how wonderful everything is, it's difficult to not feel affected by its happiness. Unlike the rest of comedy — which is overloaded with cynicism and pain — we're laughing because of the characters' joys, not their sorrows.
Three Words: Ron "Fucking" Swanson
Nick Offerman's Ron Swanson has emerged as a cult hero (and someone who famously looks like a lot of cats). He's a libertarian, mid-level local government drone who thinks the government should pretty much do nothing at all (except sign his paycheck, but he doesn't talk about that side much). He's a man's man, a woodworker who loves breakfast so much that he hangs a picture of bacon and eggs in his office. He doesn't believe in feelings or talking or any of that crap, and he sports one of the manliest mustaches in TV history. Ron Swanson, alone, is a reason to watch Parks and Recreation. Plus while watching, you might find yourself following his Pyramid of Greatness, and you know, you just might make yourself a better person in the process.
Small Town America Is Actually Pretty Great
Middle America gets a bad rap. I know this because I'm from small town Iowa, and I've heard more than my share of "Iowa, that's the great potato state called Ohio, right?!" jokes, but Parks and Recreation somehow manages to present small town America as a place you want to live, not somewhere you want to runaway from. How? Well, simply by giving us characters that we love and characters that we want to hang out with. Who doesn't want to go to the Snake Hole Lounge and see Tom (Ansari) in his element? Or who doesn't want to have lunch with Leslie Knope and talk about the great city of Pawnee? Each character has so much heart and determination, that it's contagious. You want to be there with them, regardless if it's just small town America because it's not about the place, it's about the people.
The Bottom Line
There's No Time Like the Present
With Steve Carrell leaving The Office, it's now the perfect opportunity for fans unsure about its future to find solace in Parks and Recreation. The show has a little bit of everything to offer and right now, it's operating in its golden age. Every week gives us another great episode. The cast has tremendous chemistry. The running gags are hilarious. Everything just works. So grab yourself a Swanson (a turkey leg wrapped in bacon), and enjoy one of the finest comedies on television.
Parks and Recreation airs on NBC on Thursdays at 9:30 p.m.