'The Big Bang Theory' Season Finale: When Will Penny Finally Catch a Break?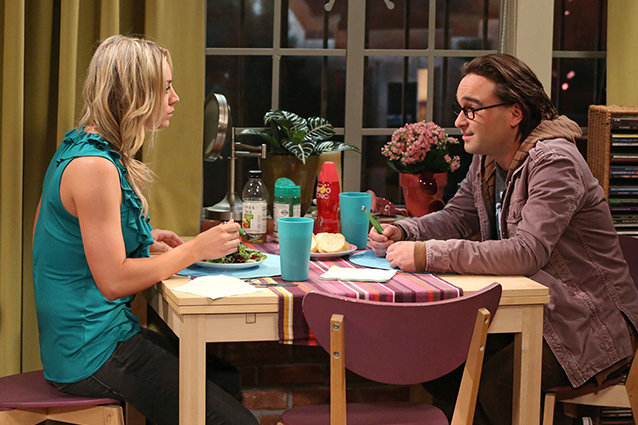 The Season 6 finale of The Big Bang Theory was like a single scoop of vanilla ice cream. It was sweet and sensible — but it wasn't fully satisfying. Maybe it was missing a delicious twist or needed more Penny and Leonard sprinkles, because "The Bon Voyage Reaction" definitely left us craving more.
WARNING: There are season finale spoilers ahead — Read at your own risk!
Good News: After six seasons of Rajesh Koothrappali's sober silence around ladies our favorite astrophysicist has finally cracked the selective mutism code. Bad News: Raj had to get his heart broken in order to find his alcohol-free voice.
Raj has been wooing his lady-love Lucy for the past few weeks and helping her get over an extreme case of social anxiety. Unfortunately Raj's feelings for Lucy became a bit too overwhelming and she broke up with him in one of the worst ways possible: via text message. It was heartbreaking when Raj cried on Penny's shoulder and wailed on about dying alone, but when the two friends realized that he could finally talk to girls without a drink in his hand their excited reaction was positively infectious.
The other big news of the episode came when Leonard was asked to join Stephen Hawking's research team for a once-in-a-lifetime scientific adventure. However, this opportunity meant that Leonard would have to live on a ship in the North Sea for four months. It was a bit of a surprise to see that Penny was totally supportive of her man's new adventure and she sent him off with high spirits and low drama.
Clearly this episode was supposed to highlight a new level of maturity for our beauty and a geek couple, but it would've been much more exciting to see Penny finally have an opportunity to further her acting career (or lack thereof). If Penny had booked a small but significant role in a movie, the couple would still endure the trials and tribulations of spending four months apart like the writers intended — but it would have been a much more exciting moment.
Instead of watching the twosome face a brand new challenge together we're now having Season 2 déjà vu when Leonard left for the expedition in the North Pole. It's been six seasons and although we still adore Penny's disgruntled Cheesecake Factory anecdotes, it almost seems insulting that she is relatively in exactly the same place as she started in the pilot.
Of course like every episode of The Big Bang Theory, there were some perfectly wonderful moments. Outside the airport when Penny and Leonard were exchanging sweet "I love you's," Sheldon was having a panic attack because were parked in the red zone. This scene was a perfect blend of the neurotic humor and heart-warming moments that only BBT can achieve. Hopefully when Leonard returns from his voyage, he and Penny will have just as passionate of a reunion as they did in the beginning of Season 3. Need to refresh your memory? Rewatch the scene below!
Follow Leanne Aguilera on Twitter @LeanneAguilera
Follow Hollywood.com on Twitter @hollywood_com
MORE:
CBS Renews 'Big Bang Theory' And 17 Others — Who Made The Cut?
Behind-the-scenes Of 'Big Bang Theory' Flash Mob
5 Reasons To Fall In Love With Tonight's 'Big Bang Theory'
---
From Our Partners:


Zoe Saldana Strips Down For Magazine (Celebuzz)


33 Child Stars: Where Are They Now? (Celebuzz)