'The Big C' Recap: The Darkest Day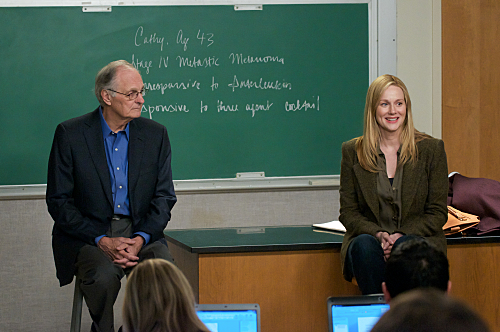 S02E12: As it did last year, The Big C is rounding out its season with some tragedy. At the dawn of the episode, Cathy's standing issues include, in ascending order of severity, her surrogate daughter's premature engagement, her son's bizarre friendship with a forty year-old woman (Parker Posey), her missing vagrant brother and her dying friend with whom she is fighting. Not to mention her husband's secret drug problem, which she's in the dark about. That fits in somewhere between Adam's creepy girlfriend and the unknown whereabouts of Shawn.
"Christmas was one of [Shawn's] favorite holidays. As a kid, he would unwrap my presents and rewrap something from around the house and put it back under the tree with my name on it… like a doorknob… or an extension cord." – Cathy
And this is what gets her to end her fued with Lee once and for all.
Cathy's visit to Lee marks the most tragic event of the series so far. Unlike the death of Marlene, Lee's is not unexpected. He has made mention many times that he will be dying soon of cancer, so we all knew the season would end with his passing. But it's still heartbreaking to see him say his final goodbyes to his best friend Cathy, the only person he has allowed himself to let into his heart, and refer to her (in a sweet callback) as his soulmate.
Fortunately, we might be seeing Lee again…it's not like Marlene stayed out of Cathy's subconscious after she died. But this is not meant to devalue the power of his death.
Paul has developed a sort of fatherly relationship with Andrea ever since she moved in with the Jamisons, and it all comes out here. He turns on his new pal Myk when he finds out that Myk is merely using Andrea for a green card. Paul insists that Myk, who claims that he does truly love her, reveal this to Andrea, but he fails to do so, leaving Paul with the responsibility. Understandably, Andrea lashes out at Paul at first, but comes to understand that he was trying to help her. This is the last we'll be seeing of Myk.
More bad news for Paul: once he thought all his worries were behind him, his boss pops a Random Drug Test on him. We'll see how this plays out…
One of the most interesting parts of the episode was attached to the great Parker Posey's character Poppy. Poppy has been mysterious for many reasons: it has been all but confirmed that she's a cutter. She's a forty year-old who acts like she's sixteen. She hangs around with Adam…the nature of their relationship is heavily ambiguous. But what we learn about her tonight is that she has been lying about her job (she apparently has none) and her cancer-ridden dad: he has been dead for several years. Adam takes issue with the dishonesty, and the two have some hostile words, ending on poor terms.
The episode does end on a happier note, as Cathy returns home after saying her final goodbyes to Lee to find that Shawn has returned. The episode closes as the siblings hug in a powerful music-backed moment.