'The Big C' Renewed for a Third Season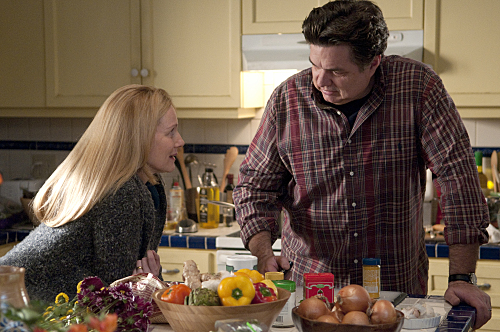 We can be sure that Cathy Jamison will stay alive and well for at least one more year. The Big C is renewed for a third season.
Laura Linney plays Cathy, a suburban mother and high school teacher who develops Stage 4 melanoma. The first season saw Cathy rekindling her relationship with her bipolar brother Sean (John Benjamin Hickey), undergoing a series of marital problems with her husband Paul (Oliver Platt), and developing a new friendship with her elderly, bigoted neighbor Marlene (Phyllis Sommerville), all the while hiding her cancer from pretty much everyone. Cathy denied the severity of her disease and erupted with outrageous behavior, including arsen and extramarital affairs.
The second season sees Cathy settle down a bit. She and Paul repair their marriage and are now cooperating in the fight against her illness. Cathy takes a student (Gabourey Sidibe) into her home, develops a close friendship with a fellow cancer patient (Hugh Dancy), and continues to try tirelessly to form a close relationship with her sex-addict teenaged son Adam (Gabriel Basso), who has recently taken up a friendship with the much older "fellow child of cancer," Poppy Kowalski (Parker Posey).
Cathy's progress with her disease opens up for many possibilities with the show. Perhaps she will experience varying levels of health. Perhaps she will lose some members of her support system, but collect new ones. Perhaps, even, she will find herself freed of the illness, but will regret the loss, as she has come to define herself very much by her cancer.
Plenty of possibilities may be explored in the remainder of this season, and in those to come.
Watch The Big C on Showtime Monday nights at 10:30 p.m. ET.
Source: Deadline