'The Borgias' Battle Lines: Could Cesare Borgia Be Creating 2 Factions in Rome?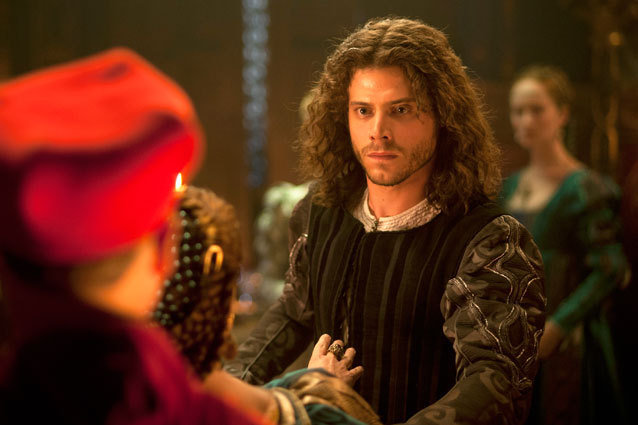 For the first part of The Borgias Season 3, it seemed like Rome was doomed. Caterina Sforza (Gina McKee) seemed to be building alliances that threated the very existence of The Borgia Pope (Jeremy Irons), Rodrigo Borgia's dynasty. And with Juan Borgia dead at the end of Season 2, the Pope's army was basically destroyed. But, the pope's other son, Cesare Borgia (Francois Arnaud), has made it his mission this summer to take control and get Rome back on her feet.
After last week's episode, it was clear that the tides are shifting and that Cesare's plan to build a massive army is in action. But, the episode did leave some questions. Is Cesare building an army to support his father or to take his own power over Italy?
Until those questions are answered, here is the status on the two opposing armies in Italy at this point in the season.
Rome and Her Allies:
Leader: Pope Alexander, Rodrigo Borgia
Army's Commander: Cesare Borgia is the Pope's son.
Allies: 
1. Michelleto (Sean Harris): Cesare's manservant who executes all of Cesare's evil plans. He is now watching over Cesare's sister-lover, Lucrezia Borgia (Holliday Grainger), in Naples.
2. France: Cesare went to France and annulled the French King's marriage. In return, he got a French bride and a French army.
3. Band of Italy's Bastard Sons: The second and illegitimate sons of Italy's greatest families have sided with Cesare instead of Caterina Sforza.
Lost Allies:
Rome has the advantage right now.
Key Tactics and Advantages:
1. Cesare won France to Rome's side. This means that he has to give them Milan and Naples, though.
2. Cesare has also stolen the band of Italy's bastard sons from the enemy.
Disadvantages:
1. It almost seems like Cesare is trying to build an army to support himself and not his father. This could create a division within Rome.
Anti-Papal Forces:
Leader: Caterina Sforza (Gina McKee)
Army's Commander: Rufio (Thure Lindhardt) is Caterina's lackey.
Allies: 
1. No new allies at this point.
Lost Allies:
1. Italy's wealthy families are now supporting Cesare.
2. The King of Naples is now dead. 
Key Tactics and Advantages:
1. Leaving Milan's doors open to Cesare's army and leaving the city empty of defense.
Disadvantages:
1. Lost alliances.
Follow Lindsey on Twitter @LDiMat.
More:
The Borgias: Godly Family Vs. Anti-Papal Army
'The Borgias': The Writer on Its Historical Accuracy 
'The Borgias' Season 2 Finale Recap
---
From Our Partners:


Zoe Saldana Strips Down For Magazine (Celebuzz)


33 Child Stars: Where Are They Now? (Celebuzz)