'The Carrie Diaries': 5 Things to Know About Tonight's 'Dangerous Territory'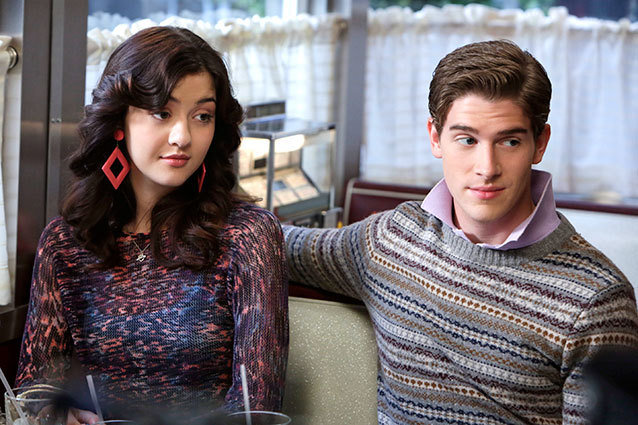 Tonight's episode of The Carrie Diaries introduces new faces, new locations, and new issues for pre-Sex and the City Carrie Bradshaw. Hollywood.com got the chance to screen "Dangerous Territory" beforehand as well as grill creator and executive producer Amy B. Harris all about it, so check out all the juicy scoop as well as what to expect from tonight's episode below:
1. New relationships are introduced, and they're here to stay
When a childhood friend, George, comes back into Carrie's life, it might be enough to make her say, Sebastian who? "He's definitely someone new in Carrie's life who's going to be around for a nice little arc," Harris says. "I like triangles and this time there's a quadrangle coming with Donna and Sebastian and Carrie having the possibility of George. Even though he comes from this intense world, he's more relaxed than Sebastian. I like that about him." George, the son of Carrie's father's friend, also introduces Carrie to a side of Manhattan she has yet to see: the Upper East Side social scene. "This was a way to bring in the Upper East Side social world which was so big in the 80s and it was really its own pocket," Harris says. "Nowadays, the Gossip Girl world is all sort of merged, downtown, uptown, but in the 80s it was very much just an uptown experience to have those kind of people. I was excited to play with that."
2. Carrie's virginity: to lose, or not to lose?
Because George might be sticking around for a while, the issue of losing her virginity is introduced for Carrie. " What I love about Carrie is she actually values her virginity and thinks a lot of what that might be and who she wants to give it to," Harris says. "George, being older and from a more sophisticated world, has a different attitude about it. Some people think virginity is something to get out of the way and some people think it's a treasured milestone mark and I like putting Carrie up against people with different points of view about it than her."  
RELATED: 'Carrie Diaries' Star Freema Agyeman Hasn't Seen 'Sex and the City' Finale
3. Walt and Seth come to blows… over Mouse?!?
What could possibly drive these two mild-mannered boys to throw punches? It has a little something do with S-E-X, and you'll be surprised at the secrets that Walt, Seth, and Mouse all reveal.
4. Walt's struggle with his sexuality is going to be a long journey
Despite his experience kissing Bennett at the Halloween party, Walt is very much back together with Maggie. But just because he's hiding behind her doesn't mean his journey to discover himself is over. "It's 2013, and that's obviously a much better time to know you're gay in high school for a lot of people," Harris says. " What was so compelling about telling this story in 1984, the truth is nobody was coming out in high school. When I wrote the pilot I thought he was going to come out a lot faster but then when I watched it I realized that in the time frame it's in, it's a very difficult thing. I wanted to tell his story in a longer, more drawn-out way because it's the truth. I wanted that experience to be real for Walt, which is painful and scary." Harris also teased that Bennett will return, and there will "be a lot of fallout for" Maggie and Walt.
5. Larissa and Donna are going to become increasingly complicated characters.
Larissa may not be in tonight's episode, but she is going to continue to be a huge factor in Carrie's growing love for Manhattan. "For Carrie, Larissa is this role model slash cautionary tale, but she is opening up ideas and doors for Carrie that she had never thought of before," Harris says. "That's going to become a direct conflict for Carrie and her father as the season goes on. Larissa is complicated and she's got some of her own fears but she's also conquering Manhattan in a way that Carrie finds very exciting." And as for Donna, Carrie's nemesis and competition for Sebastian's affections? She's going to become more and more of a complicated character and less of a one-shot villain. "Donna is going to show some surprising colors throughout the season. You'll very much find her redeemable," Harris says. "Out of everyone on this show, she's the only one that doesn't lie. She's always honest, even if it's mean. Which it often is. You're going to find her very surprisingly filled with heart in some upcoming episodes."
Watch The Carrie Diaries Mondays at 8 PM ET/PT on The CW.
Follow Sydney on Twitter: @SydneyBucksbaum
[Photo Credit: Patrick Harbron/The CW]
---
From Our Partners:

Grammys: 11 Most Memorable Gifs (Celebuzz)

20 Worst Outfits at the Grammys (Vh1)