'The Carrie Diaries' Recap: A Tale of Two Parties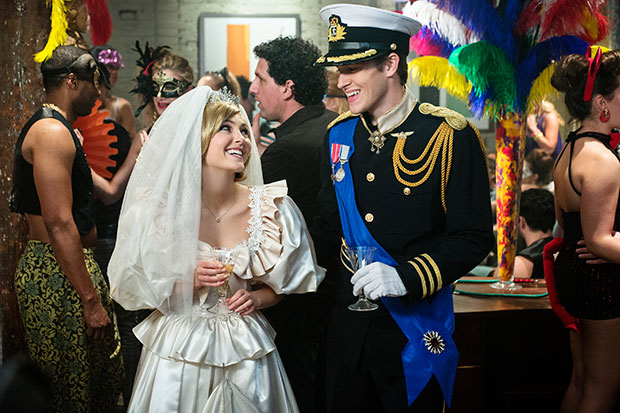 "It was like I was living in my own personal horror film," young Carrie Bradshaw (AnnaSophia Robb) says of returning to school following her big breakup (can you break up with someone if you were never officially dating?) with Sebastian Kydd (Austin Butler). The analogy is apt, as Carrie's are wont to be, as Halloween has come to Castlebury, Conn. And, even as Carrie whisks off to celebrate the ghoulish holiday undercover as her mature New York self at Larissa's SoHo loft party — leaving memories of Sebastian behind in the 'burbs — she is stuck asking herself: during a holiday where everyone pretends to be someone else, how easy is it to lose oneself? 
For her big All Hallow's Eve out on the town, Carrie chooses a costume close to her heart: The People's Princess, Diana Princess of Wales. And her Prince? Walt. As soon as the two arrive at Larissa's downtown loft, they realize they are over dressed and in over their heads. They're not too fancy, Carrie tells Walt, they're wearing too many clothes. But, while half-naked hunks decked out in lamé crowd the space, this scene — much like last week's performance art exhibition — isn't near crazy enough to be New York in 1984. Why isn't everyone on the ground, overdosing on heroin? Ah, well, Larissa's got some Ecstasy for Carrie and Walt, so that's a bit better. Walt pops the offered pill, while Carrie tosses hers on the ground; and in doing so, Carrie dubs herself the night's DD: Designated Doter.
RELATED: 'The Carrie Diaries' Recap: Unlock the Box
After shamelessly flirting with Bennett Wilcox, Larissa's Kubrick-loving cohort who clearly only has eyes for Walt, Carrie comes to realize that Larissa may be having a little bit too much fun at her own party. Luckily for Carrie, who quickly becomes Larissa's babysitter, the effects of mixing Ecstasy, Acid, and alcohol are minimal for Larissa — instead of going into shock, she just wants to fly away, like the bird of paradise she's dressed as. Once Carrie talks Larissa down from the roof and makes her a nice cozy nest of designer duds, the two discuss John Donne and Manhattan living until Larissa falls asleep. (Really. I wish I was joking.)
Meanwhile, Bennett is taking good care of Walt. In a speech filled only with platitudes and thinly-veiled allusions to coming out of the closet, Bennett explains that, in New York, you can be anyone you want to be. Quarters are so tight privacy melts away — and being open should be celebrated! Maybe it's the E, or maybe it's hormones, but Walt's heart is beating uncontrollably. Walt grabs Bennett's hand and places it on his chest… to feel his heartbeat. Reading the signs, Bennett leans in for a kiss. And it's the moment of truth, will Walt finally admit that his love of Interview magazine goes beyond journalistic aspirations? No. No he won't. Walt jerks away from Bennett's embrace, yells, "I'm not like you — I'm not a fag!" and runs away. So much for openness.
After conveniently stumbling across a hate-crime in the making, practically tailor-made for a moment of tragic revelation, Walt decides he wants nothing to do with homosexuality. "I'm not like them!" he asserts once again, this time to a pair of thugs, and then sinks down to the curb, where he waits for Carrie to find him. And so she does. "I realized being a princess isn't what I wanted to be. I wanted to be a good friend," Carrie narrates, right before she inadvertently denigrates Walt for being gay. "It'll wear off," she tells him, speaking of the drugs. But, unfortunately, you can tell that Walt hopes she's referring to something else.  
RELATED: 'The Carrie Diaries' Recap: Lessons from Pinocchio
Back in Castlebury, Maggie convinces Mouse to accompany her to a shindig Sebastian is throwing. You know, to keep an eye on Sebastian — definitely not because Maggie is bored. Sebastian warmly welcomes the girls to his party (man, he really is a nice guy) and then Maggie gets familiar with the bar while Mouse gets lost in a game of Pac-Man. Her winning streak is interrupted all too soon, however, by a lonely Sebastian. The two share their parental woes and a sweet, totally platonic moment (Mouse to Sebastian: "You really are a good listener") as well as a joint until their bonding is so rudely interrupted by the police. 
Luckily, the police detail consists solely of Maggie's statutory rapey officer. Maggie pulls Officer I-Like-High-School-Girls into the bathroom for a little persuasion. But things don't exactly go as planned for Maggie behind locked doors. Maggie's cop is suddenly acutely aware of Maggie's age, and isn't down for any canoodling. He's also not down with underage drinking on his watch. But as he prepares to get all policey on the bad, bad, drinking kids, Maggie reminds him that he had no problem with screwing her before. Blackmail, FTW! 
RELATED: 'The Carrie Diaries' Recap: Girl Meets City
Safely back home in Connecticut once again, Carrie finds a baked Mouse and a handsome bad boy waiting for her on her doorstep. Sure, Sebastian just wanted to make sure Mouse was in good hands. That's totally why he winks at Carrie and affectionately calls her "Bradshaw." I knew these two had a ways to go yet!
But the episode doesn't end on the hopeful Carrie and Sebastian reunion. Instead, it closes with Walt running back to Maggie. As the two lie unclothed in bed, Walt says, "I need you. I need my girlfriend." And, in the ultimate demonstration of dramatic irony's tragic capacity, we know that Walt isn't just talking about love. 
Follow Abbey Stone on Twitter @abbeystone
[Photo Credit: The CW]

40 Most Scandalous See-Through Red Carpet Looks (Vh1)