'The Carrie Diaries' Recap: Girl Meets City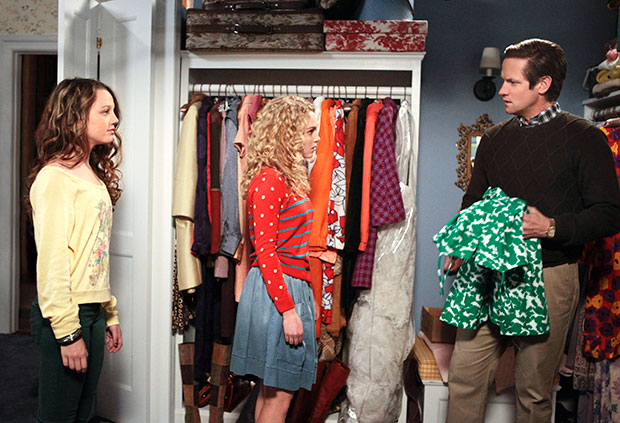 Carrie Bradshaw is an icon. Like the bustling metropolis she calls her home, Carrie is larger than life. But before she was a Vogue columnist, before she had her first byline in the New York Star, before she met Mr. Big, she was just a curly-haired teenager living in Castlebury, Conn. The CW's The Carrie Diaries picks up before HBO's Sex and the City begins. It's SATC BC: Before Sex.
The year is 1984 and, as Carrie (played by Soul Surfer's AnnaSophia Robb) tells us in her opening voiceover, a movie star is in the White House and Carrie is ready to begin her first day of eleventh grade. That is, once she finds her mom's purse. Carrie's mom, we learn, passed away from cancer three months prior, and the Bradshaw family — which includes Carrie, her father Tom (Matt Letscher), and younger sister Dorrit (Stefania Owen) — is still reeling from grief. Carrie's mom's purse is Carrie's last remaining memento of her mom, and the audience's first glimpse at the sentimentality that seeps through the show's every pore.
While its predecessor was full or caustic wit with a touch of heart, with more dramatic episodes becoming the norm only in later seasons, The Carrie Diaries is dripping in earnest sweetness. AnnaSophia Robb may have some of Sarah Jessica Parker's Carrieisms down pat — a tug at her hair here, at bite of the lip there — but this Carrie has a long way to go before becoming the Carrie Bradshaw we know. And the first obstacle in the way of Carrie's Sex and the City future is her virginity. Reunited with her best friends Mouse, Maggie, and Walt (who is also Maggie's gay-but-doesn't-know-it boyfriend) at school, Carrie learns she's the last in the bunch to, as Mouse so eloquently puts it, have a guy "hot dog her keyhole." While she spent the summer mourning the loss of her mother and her childhood, Carrie's friends were busy losing a different kind of innocence.
Luckily for Carrie, a crush from summers past, Sebastian "Even His Name Is Cool" Kydd (played by Disney heartthrob Austin Butler) has just transferred to Castlebury High. He was Carrie's first kiss — and what a steamy, chlorine-filled one it was! — could be be the bestower of another milestone first? While SATC lore has Carrie losing her V-Card to Seth Bateman on the ping pong table of his family rec room, this wouldn't be the first detail of Carrie's backstory for The Carrie Diaries to change. (In the HBO show, Parker's Carrie notes that her father left her family when she was young. The idea for Carrie's mother to pass instead comes from author Candace Bushnell's source novel.) Either way, it's clear Sebastian will dominate many of Carrie's fantasies this season.
Along with a new love interest, the first day of school brings another new possibility for Carrie. Thinking a change of scenery might be just what the doctor ordered to cure Carrie of her mother-mourning, Mr. Bradshaw has arranged for his daughter to spend one day a week interning at a law firm in the Promised Land, Manhattan. For school credit, of course! Disbelief must be willingly suspended to stomach the notion that any father could think his newly motherless 16-year-old needs the stress of a new job over the comfort of a familiar environment, but hey, we've got to get Carrie to the city somehow, right?
Because this story really is about Carrie's love affair with Manhattan. A place where the tale of a pair of ripped stockings can magically morph into a chance meeting with an editor of your favorite magazine (in Carrie's case, Larissa Loughlin of Interview) and a night of glamorous clubbing. Who needs a teenaged boy at the New Beginnings Dance when an older, stylish woman wants to add you to her "collection"?
After catching the last train home, Carrie is rudely awakened from her Manhattan dream by the harsh reality of her life in suburban Connecticut. But before the spell wears off, Carrie demonstrates her newfound confidence and self-assurance in an exchange with Sebastian that foreshadows the Carrie we know a decade down the line. After finding Sebastian in a convertible with Castlebury High's requisite mean girl Donna, Carrie doesn't blink an eye. "It's not what you think," Sebastian stammers. "It's exactly what I think." And then, "That's it?" "For now." For now Carrie has the upper hand, Carrie can wait for the guy to come to her, for now (and evermore) Carrie has felt the pulse and possibility of the city, and no mere boy can shake that.
But troubles at home can. While Carrie was drinking champagne from the bottle and dancing at Indochine, Dorrit (dammit Dorri!) ran away from home. Rebellious, pot-smoking Dorrit of the heavy eyeliner has stayed out all night and gotten drunk. Younger sister, train wreck at 14 Dorrit has caused Carrie and her father to pace into the wee hours of the morning, "worried sick" with dread. When Dorrit reappears, Carrie cries and screams and pulls at her curls. "You think I want to have to be your mother?"
But all hope is not lost for the Bradshaw brood. For, as is the way of teen-friendly family dramas, Carrie's outburst has allowed dear old dad to see the error of his ways. Unable to let go of his wife, he has become a negligent parent. As a melancholy, acoustic version of "Girls Just Want to Have Fun" plays in the background, Tom and his daughters pack up their mother's closet, an unofficial memorial they have kept since her passing.
The episode closes with yet another wink at the future. In front of an open window, Carrie pulls back her hair into a ponytail and then leans over a journal (one of her mother's) to begin writing.
Follow Abbey Stone on Twitter @abbeystone
[Photo Credit: The CW]
More:
'The Carrie Diaries': 'Sex and the City' for a New Generation
'The Carrie Diaries' Preview: 'Sex and the City' Prequel Goes Retro
'Carrie Diaries' First Look: AnnaSophia Robb Gets Carried Away

Megan Fox's 12 Hottest Moments (Moviefone)