'The Carrie Diaries': 'Sex and the City' for a New Generation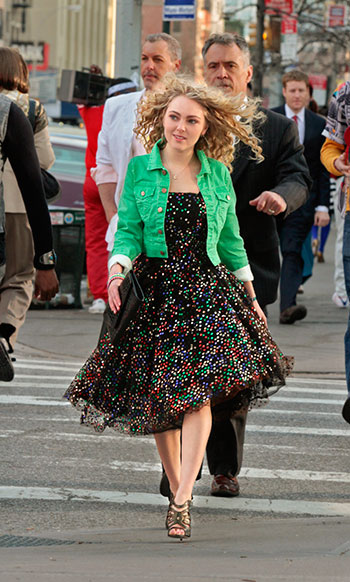 It's 1984, and Carrie Bradshaw is a virgin with a dead mom. Cue the adorableness!
The long-awaited CW prequel to HBO's juggernaut Sex and the City, based on the book series by SATC author Candace Busnhell, is finally here. Gone is Sarah Jessica Parker, but Carrie Bradshaw — writer, lover, friend — lives on in pint-sized AnnaSophia Robb. It's Sex and the City BS (Before Sex). 
Actors You'll Know: Fresh-faced AnnaSophia Robb, whom you'll recognize from the Tim Burton monstrosity that was Charlie and the Chocolate Factory, the sugary sweet Bridge to Terabithia and, more recently, Soul Surfer, heads up a cast made largely of newbies. Carrie's love interest Sebastian Kidd ("even his name is cool!") is played by Austin Butler — whom you'll best know as being permanently attached at the face to Disney Channel starlet-turned-Spring Breaker Vanessa Hudgens.
You'll Like It If: Your workout soundtrack consists entirely of Cyndi Lauper jams and you can't bear to part with your scrunchie. You own all six seasons of SATC and can recite the entire series verbatim but still cry every time Big rescues Carrie in Paris.
Top 5 Reasons You Might Want to Watch: 5) Carrie Bradshaw is your role model — in fashion, in love, in life. 4) To learn who the first person to affectionately call Carrie "kiddo" was. 3) You can't get enough of '80s fashion (and not-so-secretly frequent Madonna-themed dance parties). 2) Interview magazine is your bible. 1) You want to erase everything that was Sex and the City 2 from your memory.
5 Reasons You Might NOT Want to Watch: 5) The drama, the drama! 4) You're looking for mini versions of Samantha, Miranda, and Charlotte. Carrie's three BFFs won't play a part in the CW series… yet. 3) You strongly believe that Los Angeles, and not New York, is the best city in the country. 2) You can't get over the fact that The Carrie Diaries altered Carrie Bradshaw's backstory as presented by Sex and the City. In SATC, Carrie's father leaves her family in Carrie's formative years. In The Carrie Diaries, it is Carrie's mom who passes away. 1) You're over the age of 17 and prefer to leave the CW to the kiddies.
Love It, or Leave It? Love it if you're in love with falling in love, leave it if you don't know who Mr. Big is.
Follow Abbey Stone on Twitter @abbeystone
[Photo Credit: CW]
More:
'The Carrie Diaries' Preview: 'Sex and the City' Prequel Goes Retro
'Carrie Diaries' First Look: AnnaSophia Robb Gets Carried Away
CW's 'Carrie Diaries': 5 Things To Know

Megan Fox's 12 Hottest Moments (Moviefone)