'The Choice' Premiere: Turn Around, Sorta Famous Guys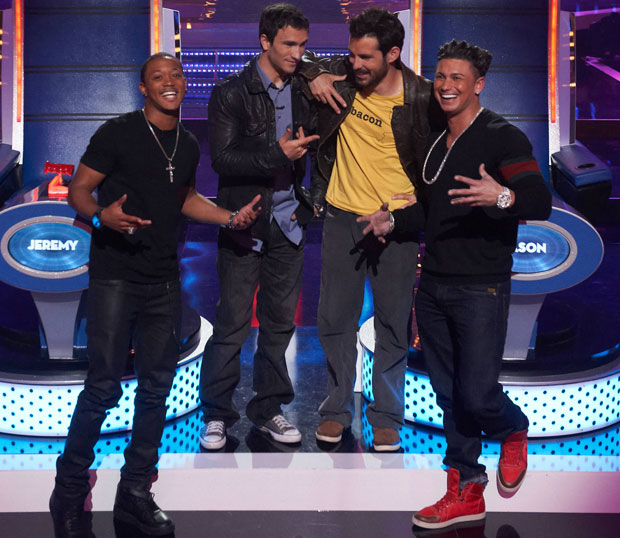 If you're reading this reaction to last night's premiere of The Choice on Fox that means you probably also endured this completely pointless dating show and are seeking some solace. After all, where does one turn after witnessing the decline of civilization on their television? (If you said "the internet," you are correct!) 
Of course, the main problem with
The Choice
isn't really that it's a documented account of so-much-better-than-this host
Cat Deeley
's soul being chipped away it or that it makes
Tough Love
look like a Women's Lib course. It's that
The Choice
is a zero risk game. Here, four male "celebrities" (the first go-round included singer
Romeo
, athlete
Jeremy Bloom
, soap star
Jason Cook
and windswept DJ/
Jersey Shore
resident
DJ Pauly D
) are inexplicably put in spinning chairs to decide if they want to pull their "love handle" to turn around to meet their potential suitorettes, who have been given 30 seconds to explain why they should be picked. Each girl gave the same, albeit incredibly effective reason: You should pick me because I'm really hot! Which they were, rendering the chairs utterly useless. 
The point of the show was to have these guys choose women based on the sound of their voice/personality, but really they just turned around to find a hot girl every time. What suspense! Eventually the guys just tuned out until they heard buzz words and phrases like "sorority," "dancer," and "96-year-old grandma" (wait, what?). Or they didn't even wait to hear what they had to say at all and pulled the lever. Why bother? In what I'll call the Pokemon Round (gotta catch 'em all!) the "celebrities" pulled their love handles until they found three girls to move on. 
When the three girls from each "team" advanced, they then competed in the Speed Dating Round, in which the attractive people shouted inane, pointless questions at one another. While every question should have just been "Why are you hotter and/or more desperate than the girl standing next to you?", they asked hard-hitting, litmus test-quality questions like "What's 9 times 9?" and "Midgets or elves?" (One of those was a trick question.) Some other gems discovered in the speed dating round: 
– Pauly D enjoys "going outside" and "everything." 
– "Comedian" contestant Angelise couldn't tell a joke. In her defense, irony is funny. 
– Contestant Alyssa brags about her "spontinuity." She makes up words, right on the spot!
Through process of elimination (i.e. deciding which girl is hotter and getting Price is Right-type help based on the cheers of the live studio audience), the guys move two girls to the final round. I'll call it the Pageant Round, in which they ask them questions despite the fact that the answer definitely won't matter. Except in the case of Nia, who absolutely won because at one point she assured she likes to "give and receive" and would add coffee to Jason Cook's cream. Take note, future contestants: subtlety will get you nowhere on The Choice. 
Since
The Choice
is essentially a meat market at a douchey bar, complete with
woo
girls, gaudy jewelry, repeated use of the phrase "Oh my God, me too!", there was really no need to show what the actual "dream" date was, so they didn't. Or maybe this show didn't actually happen and this nonsense was all just a summer programming fever dream implanted in our heads by Fox.
BWAAAAAAAP
. 
[Photo credit: Fox]