'The Clone Wars': Chat Live With Matt Lanter, Sam Witwer, Ashley Eckstein Saturday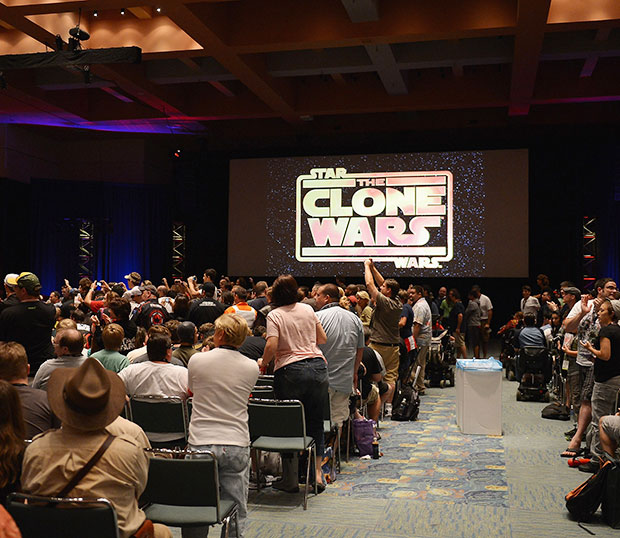 This weekend on Star Wars: The Clone Wars the Sith hits the fan.
Darth Maul's Season 5 arc comes to an explosive close when Darth Sidious, a.k.a. the future Emperor Palpatine, decides to enforce the Rule of Two and rein in his former apprentice. Trust me, as someone who's already seen the episode, titled "The Lawless," you're really going to be talking about this one afterward. Destinies will be met! Which is why Hollywood.com has partnered with Lucasfilm to host a Google Hangouts chat with Clone Wars stars Sam Witwer (Darth Maul), Matt Lanter (Anakin), and Ashley Eckstein (Ahsoka), and supervising director Dave Filoni, this Saturday at 1:30 p.m. Eastern/10:30 a.m. Pacific. Yours truly will be co-hosting alongside Lucasfilm's Pablo Hidalgo to discuss all the revelations in "The Lawless" and tease the upcoming four-part arc featuring Ahsoka.
If you have a Google+ account, you can RSVP for the Hangout here, then follow along with the hashtag #CloneWarsHangout. Come armed with a question to ask, and one of the Clone Wars' very own stars might answer it for you. You'll also be able to follow along with a live stream of our conversation on the official Star Wars YouTube page.
See you Saturday at 1:30 ET/10:30 PT. Or to put it like The Emperor, "I'll be expecting you."
Follow Christian Blauvelt on Twitter @Ctblauvelt
[Photo Credit: Gustavo Caballero/Getty Images]
More:
'Star Wars: The Clone Wars' Recap: Jon Favreau's Pre Vizsla Gets Mauled
'Star Wars: The Clone Wars' Recap: Darth Maul and the Mandalorians Don't Like It Hutt
'Star Wars: The Clone Wars' Recap: Point of No Return
40 Hottest Celebrity TwitPics of January (Vh1)

'Star Wars' vs. 'Star Trek': 15 Insane, Awesome Mashups (Moviefone)