'The Closer' Final Season Premiere: A New Definition to the Term 'Loose Cannon'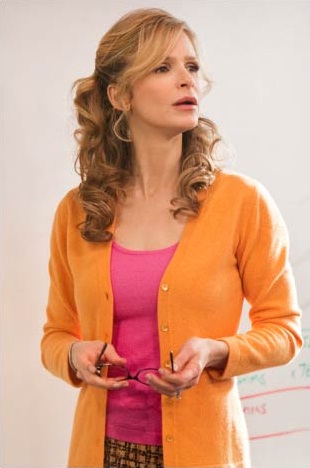 The Closer's final season premiere picks up amid a longstanding enmity between series hero Brenda Johnson and her elusive rival, Phil Stroh (Twilight's Billy Burke), whom she unsuccessfully pinpointed with potential rape and murder back in Season 4. The latest installment of TNT's crime drama picks up with Stroh, a defense attorney, handling yet another case involving these charges; Brenda is obsessed from the get-go of linking Stroh's client's charges to Stroh himself.
The stakes are high. But high enough to warrant what seems like a communal conceit to overacting? It's hard to say. Everyone on this episode is playing it up to eleven, Brenda especially. She fishhooks Stroh with teeth-gritting "Watch your back"-isms, interrogates a mentally ill rape victim with the poise of a garbage disposal, and spouts Pacino-like outbursts in the middle of the courtroom (granted, part of the plan seems to have been to force a mistrial, so that one might be forgivable). In the end, her man stands free, but only for now. Brenda is dedicated to putting Stroh behind bars, and it's likely, from the side the show seems to be on, that we'll see him meet this fate.
Other than performances that occasionally beg for subtlety, the season opener takes good efforts to keep fans optimistic. The antics of the episode are jagged and uncooperative, allowing less adherence to the procedural formula and more a feeling of spontaneity. While this kind of madcappery — like a rogue detective tracking down a psychologically incarcerated rape victim going by the name of Marilyn Monroe, and actually inviting her to stay over at her house — can't subsist each week in a universe that wants to call itself reality, it's a good option for a season premiere, as is the reintroduction of Stroh. Now, for the rest of the season, fans have these things in mind: the show is capable of going nuts once in a while (which can be fun), and it has a very palpable and personal agenda. Arch nemeses are always way more interesting than one-off cases.
So when will we see Stroh again? Hopefully soon; while fans of the show are likely just as comfortable watching Brenda and company handling the criminals that come and go, the real heat lies in cases of personal investment. And no case trumps that of Philip Stroh, who plays your traditionally styled (a little too traditional, maybe) cavalier villain who just knows he'll get away with everything at the end of the day. It might be refreshing to see him do so: to see Brenda realize that although she'll lose this one, she will become obstinate in improving her abilities and learning when she must play by the rules and not against them in order to keep this sort of thing from happening in the future. But what's more likely, and probably way more satisfying, is that Brenda will indeed apprehend Stroh. Locking that smug mother up for good. Even Twilight devotees will be glad to see that day.
All in all, The Closer has opened its final season with flare. Kyra Sedgwick hasn't lost any of the energy she initially brought to the character of Brenda. Her supporting cast still knows how to play off her. And J.K. Simmons is awesome no matter what he's doing, even if it's just sighing and muttering, "One of these days, Johnson…" The season premiere might not have taken any great lengths for the crime drama genre, much less the "rogue cop" sub-genre, but it surely wouldn't have disappointed anyone who's been tuning in all these years.
[Image Credit: TNT]
More:
Russell Brand's 'Brand X' Premiere: Too Much Talk
Matthew McConaughey, TNT Team Up to Add to Singing-Competition Overload
Michael C. Hall, Ben Foster, Kyra Sedgwick & Jennifer Jason Leigh Join 'Kill Your Darlings'