'The Crazy Ones' Is Actually Hilarious… If You Still Love Robin WIlliams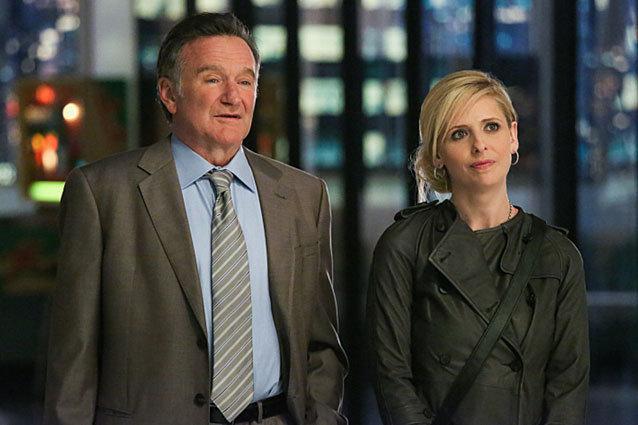 CBS
Robin Williams is back, and he's better than ever. But unless you love the typical Williams schtick that he's been working with since the mid '90s, you're going to get quickly annoyed with The Crazy Ones. The show pairs up Williams with Sarah Michelle Gellar as the father/daughter duo and ad team Simon and Sydney Roberts. The two run a high-profile agency that seems to be losing its touch, which is evident when their biggest client, McDonalds, attempts to fire them. Simon quickly saves the day with his over-the-top charm that endears the clients, and ensures them he will spin a great ad that will bring in the customers. The only issue? He promises to secure a big name singer for the ad within 24 hours. 
Enter the wonderfully talented, and suprisingly funny, Kelly Clarkson. Simon and his mentee Zach (James Wolk) meet with Clarkson and attempt to convince her to sing the tried and true "You Deserve a Break Today" jingle. Clarkson, however, declares she wants to change her image and will only do the commercial if she can sing about sex. Simon and Zach roll with it, which leads them to try out some lyrics that combine meat and sex that will work for a family restaurant. The scene that ensues is absolutely ridiculous, but completely hilarious, as Simon and Zach sing out snippets like "drive-thru lovin'" and "booty-shake, booty-shake, you didn't give me enough ketchup." There is even an end of the show blooper that has Clarkson cracking up during the filming. (Check out the full scene below, starting at the 2:30 mark.) 
Zach and Simon eventually convince Clarkson, and she comes into the studio to sing her sex song with Zach (who thoroughly enjoys the experience). Unfortunately, Sydney quickly puts a stop to the crazy antics and reminds everyone that they need a family oriented song that will actually work for McDonalds. Simon agrees, and joins Zach in the room to try and get Clarkson to sing a more appropriate tune. They ensure Clarkson that she is so sexy already that she doesn't need to sing about sex. Clarkson, however, doesn't find Simon charming anymore, and quickly gets annoyed and storms out. This leaves the playing field open for Gellar, whose character finally gets her shining moment when she gets Clarkson back but bowing to the demand that she sing the "You Deserve a Break Today" jingle in front of the entire restaurant that Clarkson is sitting in. Sydney does so with gusto, so Clarkson comes back and sings the tune, securing McDonalds and saving the company. 
The overall dynamic of the show works because there are so few father/daughter sitcoms that are on televison that actually entertain us. While The Crazy Ones does overuse the stereotypical crazy dad/serious daughter routine, there is something there that works. Of course, Williams is over the top, but that is what CBS promised when they promoted the hell out of this show. And, in the end, isn't that what we love about Williams?
The Crazy Ones is on Thurs. at 9 PM ET on CBS. 
More:
Robin Williams Signed Up For TV Comeback
Sarah Michelle Gellar Joins Robin Williams Pilot
Sarah Michelle Gellar Gives Birth
Follow @hollywood_com
| 
Follow @lexi_smail | 
---
From Our Partners:


A Complete History Of Twerking (1993-2013) (Vh1)


20 Grisliest TV Deaths of 2012-2013 (Vulture)