'Cult' Moves to Fridays: Why This Is Actually a Good Idea for The CW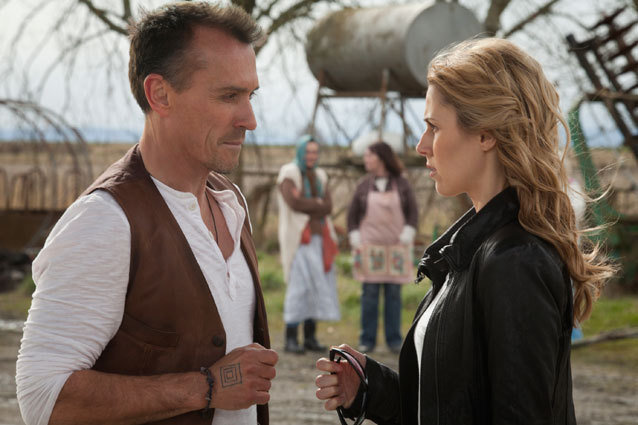 Just two episodes into its first season, The CW's mysterious new psychological drama Cult is moving to a new night. Beginning March 8, Cult's time slot will move from Tuesdays after heartwarming small-town medical drama Hart of Dixie to Friday nights following spy thriller Nikita.
The dark, moody Cult follows investigative journalist Jeff Sefton (The Vampire Diaries' Matt Davis) as he searches for his missing brother and in turn uncovers the dark underworld of the TV show (within the show) Cult, with which his brother was obsessed.  The series also stars Jessica Lucas as Skye Yarrow, the intrepid Cult research assistant who helps Jeff with his investigation, Alona Tal as the show-within-the-show's cop (and the actress who plays her), and Robert Knepper as the show-within-the-show's dastardly cult leader Billy Grimm (and the actor who playis him).
RELATED: 'Cult' Stars Explain Their Confusing (and Intriguing) New Show
While one could view the move as a death sentence for a show struggling to get ratings — Friday night moves usually means a cancelation is not too far in the future — in actuality, this is a smart move on The CW's part. When it aired on Tuesday nights, Cult's lead-in was the could-not-be-more-opposite Hart of Dixie. Cult is a dark, edgy thriller, while Hart of Dixie is a fun, light (although sometimes heartbreaking) Southern charmer. The pairing of the two shows never quite made sense.
Now, with Cult's move to Friday nights, it will follow the equally dark drama Nikita, the show about a secret government organization of assassins. The vibe and subject matter are much more in Cult's wheelhouse than life in Bluebell, Alabama. Perhaps this move will actually end up garnering a ratings increase for Cult.
Encore episodes of CW series will take over the Tuesday 9 PM ET/PT timeslot, beginning with Beauty and the Beast on March 5.
Follow Sydney on Twitter: @SydneyBucksbaum
[Photo Credit: Liane Hentscher/The CW]
---
From Our Partners:


25 Most Scandalous Celeb Twitpics (Vh1)


33 Child Stars: Where Are They Now? (Celebuzz)