The CW Reveals Provocative New Campaign: Too Far?
Remember when overt sexual themes were prohibited in the media, as opposed to mandatory? Probably not. It's been quite some time since the days of modesty. "Explicit" is the new standard state of being. People are all about the sex. It's in.
And obviously, it's going to get some heat, especially when it comes from youth-directed organizations, like The CW. The network, to its credit, hasn't made much of an effort to hide the fact that its biggest programs, like The Vampire Diaries and Gossip Girl, are sexually charged, but the new logo for the station makes it impossible to turn a blind eye to the adult themes in these teen-centric programs: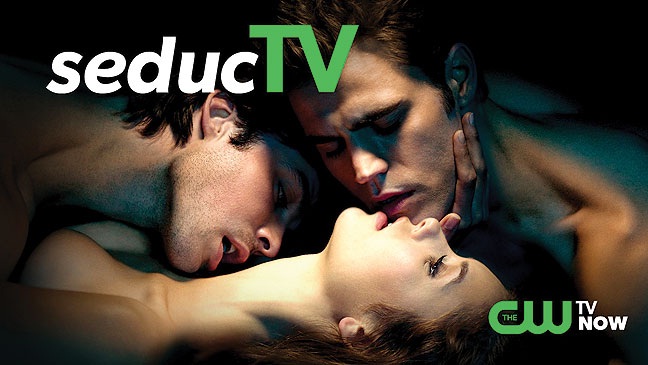 There it is. Whole lot of people-on-top-of-other-people. With the mouths open, and whatever. No doubt, parents groups will be soon contacting The CW with none too appreciative remarks about this new campaign (as they did in 2008 with the network's now-infamous "OMFG"). Even more of a certainty: kids will see this, and be hooked immediately. So how do we make both sides happy?
This kind of thing sparks reaction; whether or not it reaches ubiquity, someone will be talking about an image as provocative as this, and soon. A conservative parent will worry what it'll do to his or her child's innocence. A free-thinking child will wonder just what the reality behind this image entails, and how he or she can achieve that. Sex stirs the pot. CW, you're pot-stirrin'.
Yes, this new branding campaign will contribute to the plantation of ideas swirling around in the heads of the CW's young viewers, but let's be honest: hormonal kids will always find things to ogle, and whatever they're affixed on, their parents will find flaw with. (Nobody wants his or her children thinking about things that aren't wood-cording and volunteer work, but such is human development.)