John Oliver's First Night on 'The Daily Show': How Did He Do in Jon Stewart's Seat?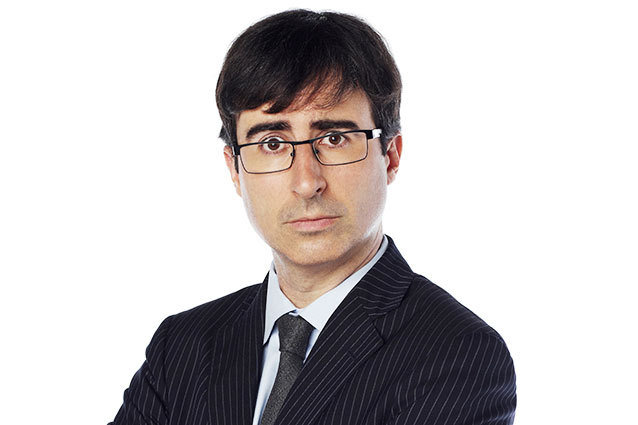 Don't worry, everybody — things are going to be just fine.
The summer looked bleak when we found out that Jon Stewart would be high tailing it out to Hollywood to direct his first feature film, leaving the Daily Show desk in the hands of one of his bespectacled lackeys. We wondered how our weeknights at 11 PM could possibly live up to those that have occupied the past decade and change, if it would even be worth it to keep up with current events without Stewart's trademark nebbishy bite lining every story.
When the news broke this weekend that the NSA has been tapping our phones and Internet histories, we weren't even sure where to turn for a stimulating, intellectual takedown of the political atrocity. We were at a loss.
But again, we need not worry. It's going to be okay.
Oh, not the phone-tapping thing. That's still going on, and it's pretty f**king terrifying. But the Daily Show thing will be fine.
On Monday night, longtime correspondent John Oliver took Stewart's desk, at which he'll stay seated throughout the host's summer-long hiatus. Coming right out the gate with a self-mocking bit about his own inability to fill Stewart's shoes (a shtick carried on by costars Jason Jones, Samantha Bee, Jessica Williams, Al Madrigal, and Aasif Mandvi — each of whom expressed mock outrage at Oliver's promotion to temporary headliner).
Quickly, Oliver leapt right into the NSA story (which, understandably, maintained a stronghold on the episode's subject matter), covering the entire ordeal with the sort of clever wit we'd expect from any episode of the show.
Of course, we will miss Stewart, and will always hold him at a plateau beyond the reach of any competition or successor. As such, we might find Oliver's gags just a little too drawn out, his interview (Monday faced him with Seth Rogen for This Is the End) just a bit too fawning, his overall demeanor just a smidge too… non-Stewart. But as far as non-Stewarts go, we got a bargain with Oliver. We'll look forward to our New Jersey-born Jonathan Leibowitz's return come autumn. But until then, we're in for a few pleasant months with Oliver at the helm.
More:
Jon Stewart Leaves 'Daily Show' to Direct Movie
John Oliver Steps in for Stewart on 'Daily Show'
50 Reasons Jon Stewart's Still Got It

---
From Our Partners:


Zoe Saldana Strips Down For Magazine (Celebuzz)


33 Child Stars: Where Are They Now? (Celebuzz)