'The Daily Show': Jon Stewart Vents His Frustration With Obama's Big Bird Fixation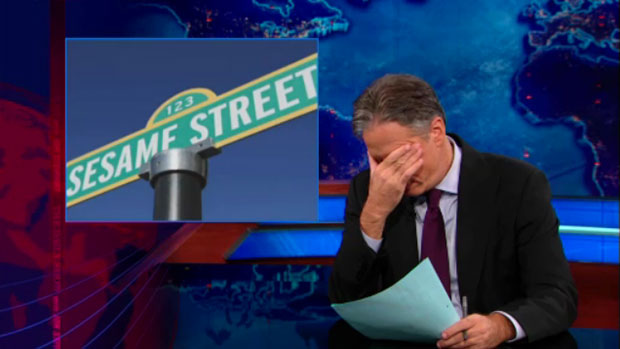 Over the past four years, the comedy world has tried to figure out
what to do with President Barack Obama
. The poised Commander-in-Chief doesn't quite mine the same comedy gold as the endlessly gaffe-producing
President George W. Bush
. 
Saturday Night Live
had the gifted talents of
Phil Hartman
,
Dana Carvey
, and
Will Ferrell
to portray
President Bill Clinton
and the respective Bushes, while
Fred Armisen
failed to connect as Obama — something
Jay Pharoah
is hoping to remedy this season.
Most great Obama humor isn't pointed towards the president; rather, those who point their finger at the president for anything and everything. (Louie's brilliant recurring "What about Obama?" bit hit the nail right on the head every time, and got more absurd as it went). 
Then, just as it looked like we were going to have a downright comedy-free election (
Paul Ryan
is funny, but not
Sarah Palin
 ha-ha funny) President Obama did something many thought he would not accomplish during his first term: he become the butt of the joke. Following the infamous first Presidential debate, in which GOP candidate
Mitt Romney
not only took down Obama but
Big Bird and Sesame Street
,
Jon Stewart
and
The Daily Show
, understandably, went to town on the headline-grabbing story. 
But it wasn't the absurdity of Romney's intention to cut PBS programming in order to fix the deficit that Stewart made fun of, but President Obama's way-late-to-the-party rebuttal. "
Well done, Costanza
," Stewart zinged the President, who brought up the Big Bird budget balance madness at a post-debate rally. From an embarrassing attack ad to an appearance by a non-hologram will.i.am remixing the
Sesame Street
theme, the president may have finally found his "funny." But Stewart, like most of us nervously chuckling along at the campaign misstep, delivered the ultimate gut punchline: "Make it stop". 
Watch The Daily Show's take on Obama's Sesame Street crusade from Wednesday night's episode here: 
[Photo credit: Comedy Central] 
More: