The Dos and Don'ts of Dating from 'The Mindy Project' at Halloween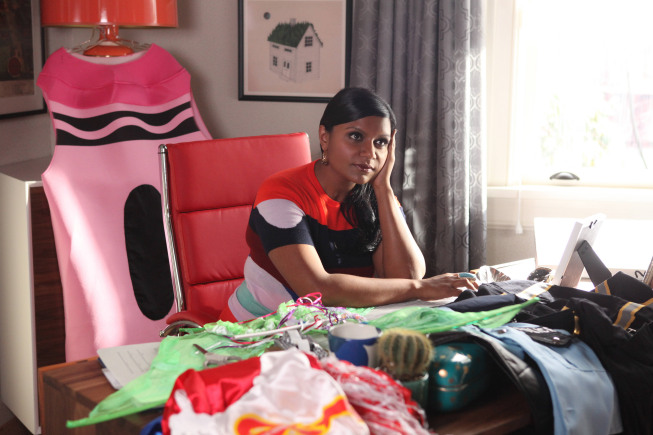 It's been a long time since we've seen a new episode of The Mindy Project, but Dr. Lahiri and her merry band of medical misfits are back at long last! In tonight's episode, a bomb gets dropped on Dr. Lahiri—well, I guess it's more of a baby bomb, really.
After seemingly reconciling with her ex-boyfriend Dr. Tom (Bill Hader is just such a delight), Mindy discovers that his wife is pregnant…on Facebook. Which, let me tell you, can really suck.
But Mindy had more important things to handle: the ESPN Halloween party! That's right, Mindy is still dating Josh the fancy-but-also-sort-of-a-dorky-dick sports lawyer. But what is a girl to wear when the only options are slutty or funny? Well, there's always the old stand-bys like Tinkerbell, Tailor, Soldier, Spy. Or Dirty Harry Potter, or even Lil Wayne on the Prairie! But, when not even those work, sometimes you need to use a little bit of DIY ingenuity and a make-it-work attitude to find your perfect get-up.
So what did we learn about love from this week's episode? Check out this week's dos and don'ts of dating!
1.) Don't let an ex-boyfriend's future baby make you feel like you're going to die alone: It's just a baby! And really, it looks more like a ghost at this point, anyway.
2.) Do date blondes: Didn't Marilyn say they have more fun?
3.) Do break up with jerks: This one seems pretty self-explanatory, right?
4.) Don't spoil shows for ones you love: It's just not nice, even if they're really, really annoying about it. (OK maybe if they're annoying about it and they totally deserve it.)
5.) Do be your own role model: We read about it on the Internet. It's super-inspiring.
6.) Don't be afraid to show a little cleavage in that crayon costume: What is it that Kelis always says? Something about milkshakes and boys in yards. Apparently it works!
7.) Don't take advice from your male nurse: At least not when it comes to funny costumes boys will like.
8.) …If your boyfriend makes a point to find out what your favorite movie (The Princess Bride) and character (Inigo Montoya, because duh: Mandy Patinkin forever) are in order to be him for Halloween, he might be a keeper!: OK, that was just adorable. Even if the sword was sort terrifying.
Oh yeah, we also learned Danny Castellano can't drive, and possibly has a bit of a sweating problem.
What did you think of this week's episode of The Mindy Project? Let us know in the comments!
[Photo Credit: FOX]
Follow Alicia on Twitter @alicialutes
More:
The Dos and Don'ts of Dating from 'The Mindy Project': When You're in the Club
The Dos and Don'ts of Dating from 'The Mindy Project': You're Hired!
The Dos and Don'ts of Dating from 'The Mindy Project'

Kate Upton's Sexiest Viral Videos
(Celebuzz)