The Dos and Don'ts of Dating from 'The Mindy Project': Midwives Edition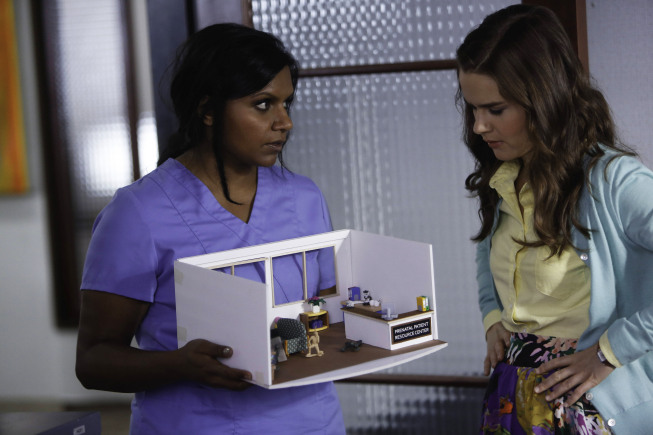 Wake up! It's time for The Mindy Project!! On this week's episode of the show, Dr. Lahiri and the boys are officially without a leader! That's right, Dr. Shulman has retired (he wrote a note because he was afraid to cry in the office) and the boys get the brilliant idea to form an alliance in terms of "swift decisions with handsome faces." (And what about you? "Et tu, Morgan?" "No, that's the only one." Oh, Morgan. You can't not love that Ike Barinholtz.
Only thing is…a holistic center of midwifery (that's mid-whiff-ery) has moved into the building and they've got a lot of sass. "They're midwives…with attitude!" And with attitude filled with peaceful gongs and good vibes went and stole not only Shulman, but some of the others' patients away, as well. (The brothers Mark and Jay Duplass in a splendid cameo of hilarious comic proportions.) Oh hell to the no, says Betsy, and she lets Mindy know what's up. And it was that high of a price that took Mindy away from her Best Friends Day celebrations of packed restaurant fancy lunches and sample sale shopping. It was a serious feat indeed, since we all know you don't neglect Best Friends Day.
In the end, Mindy was able to bring her clients back and show the boys who's really boss: everyone—together! (But also mostly Mindy.)
It wasn't all romance in this week's episode of The Mindy Project, but there were still lessons to be learned about balancing work and play.
1.) Don't insult someone you care about in their place of work: "Don't bring me wedMD, it's like bringing recipes to a restaurant and saying 'here, cook these.'"
2.) Don't let beauty get in the way of your job/duty: You're a thoroughly modern woman, you know? A newborn baby is far more important than looking perfect at 8 in the morning.
3.) Don't be afraid to assert your leadership: Whether in the boardroom or the bedroom, it's cool to show off that you know where you stand.
4.) Do know that dreads are super cool: That random-guy-that-we'll-probably-never-meet-again's kid has them, so they must be.
5.) Don't let the cleaning lady bully you for not being married: Don't listen to her and her life with all of its wonderful life moments like…cleaning!
6.) Do Best Friends Day, always: Seriously. Always.
7.) Do like food! Do like art! Do go on a European holiday!: Oh, and do be OK with uncircumcised penises before you go.
8.) Don't be afraid of the beauty of the Firth: Colin Firth 4-eva.
9.) Don't be afraid to like body hair: There's a top for every pot and maybe you like your pot to look more natural!
10.) Do what you have to do to see your man: It's all about having, in equal amounts: work and play.
What did you think of this week's episode of The Mindy Project? Sound off in the comments!
[Photo Credit: FOX]
Follow Alicia on Twitter @alicialutes
More:
The Dos and Don'ts of Dating on 'The Mindy Project': When You're a Sex-Having Teen
The Dos and Don'ts of Dating from 'The Mindy Project': Thanksgiving Edition
The Dos and Don'ts of Dating on 'The Mindy Project': Danny Castellano Edition

Kate Middleton Pregnant: Could Her Royal Baby Be Crowned Queen Diana? (EXCLUSIVE GUEST BLOG)

Taylor Swift, Harry Styles Sing Karaoke, Hold Hands in New York City (PHOTOS)