The Dos and Don'ts of Dating from 'The Mindy Project': When Hosting a Christmas Party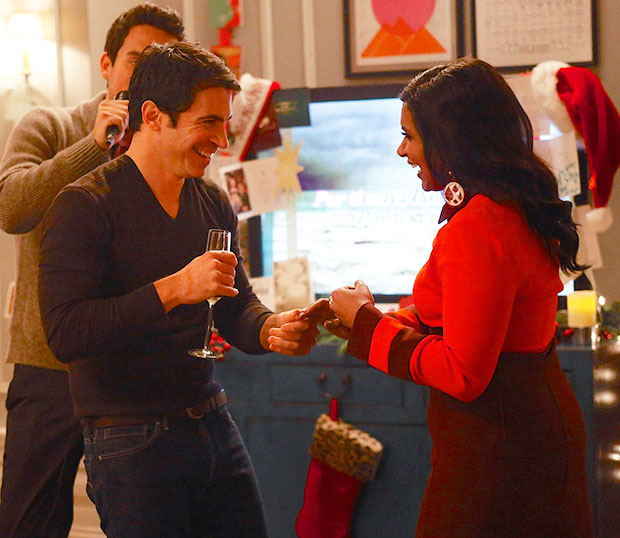 Poor Dr. Lahiri. All she wanted was to feel like her life was finally coming together. While ice skating with her boyfriend Josh, surrounded by Christmas lights and the sound of tiny children playing ice hockey, it really felt like things were on the right track. As a newly-minted co-owner of the OB-GYN practice, Dr. Lahiri was jazzed to be able to host the company's Christmas party this year—and people would finally be able to meet Josh in all his dreamy funny-ishness.
Only, like the rest of Mindy's life so far, things definitely did NOT go the way she anticipated.
While people are seemingly astounded by the level of attractiveness Josh brings to the table (side note: really? Him?), one thing that doesn't surprise us at all? He has a secret girlfriend! Only thing is, that other girlfriend?—TWIST!—it's Mindy. Car screech noise, say what? I know. Turns out Josh the funny-ish and charming jerk has been dating Heather (hello, Ellie Kemper!) for over two years. Two years. That's right: Mindy is the OTHER WOMAN. So it comes as a surprise to no one that Mindy flips out and demands Josh leave the party.
After a wee scuffle with Heather (R.I.P., Dr. Castellano's gingerbread house), Mindy retreats to her room to lick her wounds and is pleasantly surprised by the most effective salve: Danny. (Cue: aww!) The two make a pact: in five years, if they're both alone…they'll kill each other. (Cue: Death is so romantic!)
It was a rough week for Mindy, but thanks to her friends and coworkers, we imagine she'll muddle through, somehow, and have herself a Merry little Christmas now.
So what can we learn from a break-up-filled Christmas episode such as this? A lot! Let's check out this week's dating tips.
1.) Do go ice-skating with your boyfriend: Your life is just like a Nora Ephron movie, I swear.
2.) Don't fight those all-important romantic, on-ice kissing scenes: Sigh.
3.) Don't wait until you're "in the mood" to do something: just do it!
4.) Do know who Bob Dylan is: I mean, seriously. Jesus. But, please, dear lord, do not let Dr. Castellano ever choose the music for any soiree you may be throwing.
5.) Don't eat the gingerbread house: It's just for looking at; it's pretty obvious that it's too small for living in.
6.) Don't murder people. But if you do—do it around the holidays: That way the New York Post will have a great reason to make a "slay/sleigh" pun.
7.) Do play it cool: Sometimes you just need a minute to calm down, partner.
8.) Do not call your boyfriend's other girlfriend: It's only going to ruin your night, not anyone else's. Just break-up with the d-bag.
9.) Don't be shy: You're in it to win it!
10.) Do share a password with your boyfriend: because you really never know when it'll come in handy to know that information. Like when he's cheating on you with another woman.
11.) Do make death pacts: Your real friends are the ones who will agree to ending your life for you if you so ask. Duh.
Bonus: You know someone is a good friend when they'll compare you to the likes of Joan of Arc, Eleanor Roosevelt, and Margaret Mead. Especially when that friend (oh that Morgan!) says such lady heroes are total "scum" compared to you. Between that and the unexpected mouth-kiss from Morgan upon arrival, we have to ask: does somebody have a crush? Uh-oh!
What did you think of this week's episode of The Mindy Project? Do you think Josh is gone for good? Is Mindy better off alone? Let us know in the comments!
[Photo Credit: FOX]
Follow Alicia on Twitter @alicialutes
More:
The Dos and Don'ts of Dating from 'The Mindy Project': Midwives Edition
The Dos and Don'ts of Dating on 'The Mindy Project': When You're a Sex-Having Teen
The Dos and Don'ts of Dating from 'The Mindy Project': Thanksgiving Edition

Lea Michele Calls Her Breasts 'My Prizewinners'

Kim Kardashians Best Bikini Moments (PHOTOS)