The Dos and Don'ts of Dating from 'The Mindy Project': When It's a Rap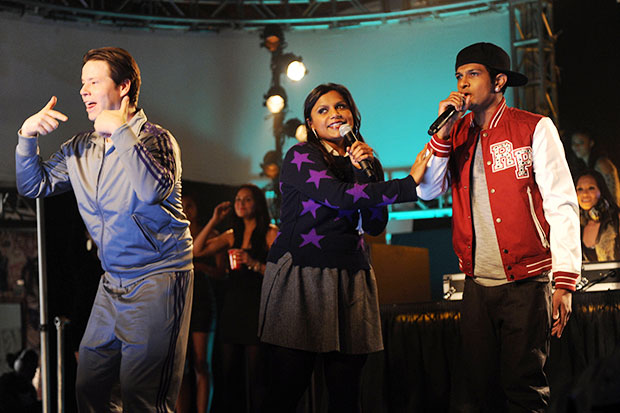 Welcome to a New Year and a New You, Dr. Mindy Lahiri! Sure, 2012 ended up being a bit of a loss there at the end — what with your boss leaving out of the blue, getting into a fight with your best friend, and finding out your boyfriend is actually someone else's boyfriend and you were merely his mistress — but optimism breeds positive results, right? So here's to 2013 and your new outlook on life!
The only problem is, Mindy's new outlook is decidedly… un-optimistic. She's barely leaving her apartment and has buried herself in her work. Her best friends are hanging out without her! That's when you know s**t is lookin' bleak for our poor Mindy. She needs something to take her mind off the old man suits, murderers on the subway, and all the terrible maladies of the soul that plague this modern human existence. Sigh.
Lucky for Mindy, a distraction has arrived. Meet Rishi — the burglar-esque little brother of Dr. Lahiri (though he prefers brown Channing Tatum)! You may recognize Rishi as Utkarsh Ambudkar, who shared the screen with Gwen (Anna Camp) in 2012's Pitch Perfect. They're keeping it in the family; in all of the families, you guys! But Rishi wants to turn his mini-stay away from Stanford into a full-blown rap career. Oh, no! Screams every older sister in the world. Mistakes ahead! Steer clear! Oh no, here comes the stress-vomit! Thankfully, a casual encounter with Brendan (Mark Duplass) the midwife turns into Mindy lying on a table getting stoned. And by that I mean he is putting stones on her person. Nothing illegal to see here, folks!
Only there's everything to see here, because chemistry abounds between Dr. Lahiri and the midwife! Something tells me Danny Castellano isn't going to like this. In the briefest of moments (it should've lasted at least 22 minutes) Chris Messina and Mark Duplass shared the screen, and everything was beautiful and nothing hurt. I plan on getting a screengrab of the elevator scene and replacing Mindy's face with my own. Sweet dreams!
Lessons were learned, resolutions were made, and a chance for romantic comedy splendor was born. Just another day in Mindy Kaling's New York City. Here are the valuable dating dos and don'ts we gleaned this week:
1.) Do put your mistakes behind you: It's a new year! Wipe the dry erase board of life clean, my friends.
2.) Don't be afraid to chat up a new guy: You're a modern woman! But also be careful of the knives they carry in their pants. And no, that's not a euphemism (but be careful of that, too! Safety first!).
3.) Do get a new look: Makeovers are classic! Try a little Annie Hall. Or Grandpa Hall if you're in a bind.
4.) Don't be afraid to get in shape!: You never know when you might have to run through an airport terminal after the man of your dreams before he boards the last plane to a faraway land that will keep you apart indefinitely if you don't admit your true feelings to him right now. It's also good for outrunning muggers.
5.) Don't live in fear: Whether it's fear of being a cat lady, fear of other people, or fear of the world outside your four walls: fear is bad. It keeps love at bay!
6.) Don't ever apologize for what you're passionate about in life: People do not understand the serious amount of Mockinjay points you get with those Hunger Games personal checks!
7.) Do make nerdy math jokes: Not to go on a tangent, but math jokes are a sine of intelligence! (I'll be here all night, folks!)
8.) Do not bail your own mugger out of jail: This just sounds dangerous.
9.) Do splurge on an expensive perfume: Pick something classic: like a Chanel, Dior, or Fa-breezey (it's Italian)!
10.) Don't trick the elderly: It's not very nice. Respect your elders!
11.) Don't ever forget: family comes first: Especially when your little brother is Nice Cube.
What did you think of this week's episode? Did you know Girls' Allison Williams (yay Marnie!) is on next week? Talk about it in the comments!
[Photo Credit: FOX]
Follow Alicia on Twitter @alicialutes
More:
The Dos and Don'ts of Dating from 'The Mindy Project': When Hosting a Christmas Party
The Dos and Don'ts of Dating on 'The Mindy Project': When You're a Sex-Having Teen
The Dos and Don'ts of Dating from 'The Mindy Project': Midwives Edition

Megan Fox's 12 Hottest Moments (Moviefone)

Ryan Gosling's 'Airbrushed' Abs: Plus 19 More Reasons We Love the Actor (Moviefone)