The Dos and Don'ts of Dating from 'The Mindy Project': When You Hit It and Quit It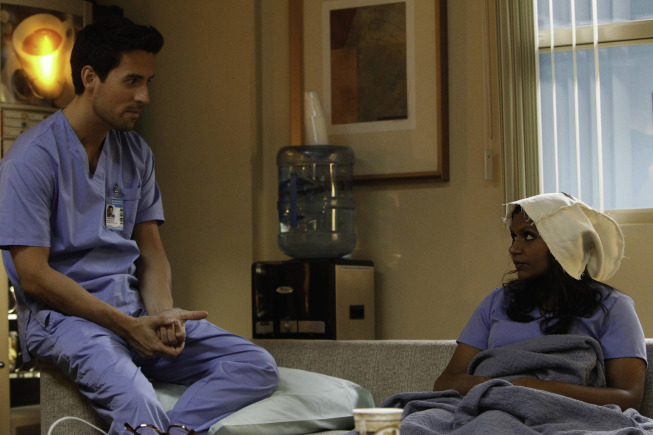 Welcome to the sexiest episode (so far!) of The Mindy Project.Tonight's 30 minutes of fun also happened to be one of the funniest of the series. Welcome to a show hitting its stride! Gosh, what a wonderful feeling it is, eh? Mindy, so lost and confused about what she wants in life, decides she needs to mix it up. She feels like she's missing out on all the fun sex stuff that comes with holding hands, pretending to understand your significant others' interests, and a night of mild-to-moderate drinking. Dr. Reed suggests that Mindy needs to find herself a one-night stand (since their whole f**kbuddy arrangement didn't totally work out so well). Mindy needs to find a man she doesn't respect but finds sexually attractive. Now who would fit that bill? Enter: Mark and Jay Duplass: midwives with attitude (and sex appeal)! Only it'll be Brendan (Mark), who will be entering Mindy (SNAP Y'ALL! Ohnoshediiiiiiin't!) (Oh yes I did!).
Except, the date doesn't exactly go as planned: Morgan's bromance with Duncan (Jay) foils potential funbit bumping, and then Morgan pulls the TKO by having an asthma attack that Brendan uses his midwifery voodoo to cure — therefore gaining Mindy's respect. And we all know respect means no sex. Well…for now at least. Ugh! At least it seems like Brendan's smooth moves only have eyes for Mindy. Don't you even for one second think about not hittin' that, Mindy. Do it for yourself. Do it for me. Do it for women (and men) with soft spots for nerdy yet intelligent funny people, everywhere!
One person who IS gettin' some is Dr. Castellano. Danny's new girlfriend, Eyepatch Girl (aka Jillian aka Allison Williams) tries to lure Danny to a play in Brooklyn that involves grown men in Golden Girls garb for a free-form, audience participation-filled, amoebic performance piece. Right! Totally not up Danny's alley. So naturally, Danny pulls the horrible, selfish, monster-human move and runs off the subway, making up a oh-so-unbelievable lie about needing to be at the hospital. (No one gets cell phone service in the subway! Unless you're at like, the 110th street B/C stop and your spot on the subway just so happens to be situated near the doors that face the exit.) Later on — of course — Jillian calls Danny out on his d**k move (only in a nice way because she's apparently one of those "nice person" weirdos. Ick!) and the two end up making out. All's well that ends well!
So what did we learn this week? Oodles! Check out this week's dos and don'ts from The Mindy Project!
1.) Do dress like a serial killer: It'll keep all those actual serial killer types away — you know, too many cooks in the kitchen (they hate that).
2.) Do not be afraid to mix work and sex: Work and love is hard, though. (Just kidding never s**t where you eat, you guys.)
3.) Do consider casual relationships: If you want to start enjoying life, just skip the date part and go right for the good stuff! You're a modern woman. Welcome to 2013.
4.) Do know who would play you in your Lifetime movie: You never know when a one-night stand will turn into a murder. (I'd want Christina Hendricks to play me.)
5.) Do not be afraid to jet in an uncomfortable situation: Sometimes loosely-structured drag versions of Golden Girls aren't for everyone (though lord knows WHY).
6.) Do not be afraid to make mistakes: Especially the sexual ones. Sometimes those are the best mistakes to make, y'all.
7.) Do have snacks for your hook-up dates: It's rude otherwise.
8.) Do bring a knife with you on casual encounters: Safety first!
9.) Don't forget — age is just a number: It's all about compatibility. And how many Olympics you've been alive for. Duh.
10.) Don't be afraid of something more: Hey, sometimes opposites attract.
What did you think of this week's episode of The Mindy Project? Let us know in the comments!
[Photo Credit: FOX]
Follow Alicia on Twitter @alicialutes
More:
The Dos and Don'ts of Dating from 'The Mindy Project': Love's Letter Lost Edition
The Dos and Don'ts of Dating from 'The Mindy Project': When It's a Rap
The Dos and Don'ts of Dating from 'The Mindy Project': When Hosting a Christmas Party

100 Hottest Women of the Century: PICS