The Dos and Don'ts of Dating from 'The Mindy Project': When You're Breaking Up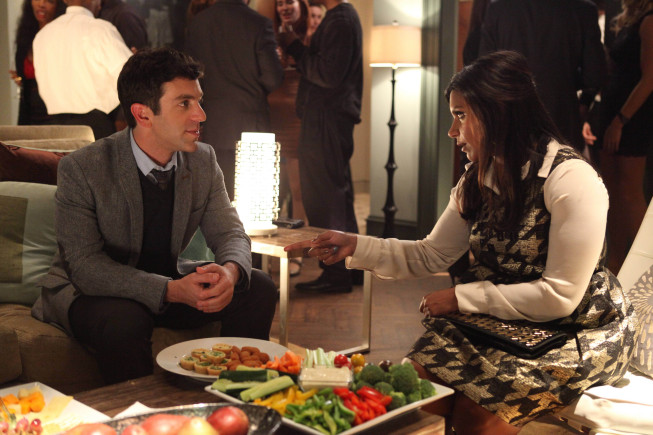 One thing that men should always know about women is the hierarchy of female friendships. And step one? Definitely understanding the idea of the Best Friend. It's not so easy as the phrase might suggest: "Best Friend isn't a person, Danny, it's a tier," explained Mindy. But that doesn't mean that men's best friendships are any easier to understand. Take Exhibit A: Dude With A Female Best Friend. For some, this is cause for trepidation (you never want to be the Bruno Kirby) — for others (cough cough your author cough cough), it's a sign of a man who knows how to respect women and treat them just like the normal human beings that they are! Equality!
Tonight's episode of The Mindy Project saw Mindy end things with f**kbuddy Brendan (Mark Duplass) after spotting him with his refugee maybe-girlfriend (maybe mail-order bride?), but start anew with female-best-friend-having Jaime, a Latin professor and total catch. His best friend, Lucy (Eva Amurri Martino) is super-cool, and super-into making sure her bestie scores the gal he likes. And while this at first freaks Mindy out (hilariously so, considering Lucy and Jaime's relationship is essentially Mindy and BJ's real-life one), she comes around in the end — complete with a grand, Indiana Jones-themed gesture. The same, unfortunately, could not be said for Danny, who was dumped over a cup of hot cocoa by Eyepatch Girl. Poor, poor Danny. She was the best thing that ever happened to him!
1.) Do keep it simple — If you're not convinced about dating, then just sleep with each other, whatever!
2.) Don't keep a knife in your bed — That's just dangerous.
3.) Don't let a leg cast get in the way of a hook-up — Roll up on it, dudes.
4.) Don't believe your married friends when they say their lives are boring — Sweatpants are awesome.
5.) Don't be intimidated by a man with a best girl friend — If it would've happened, it would've happened already. …Right?
6.) Do know what you're getting into — whether it be a guy, or some Mexican hot chocolate.
7.) Do the romantic gesture — Like in When Harry Met Sally…or that part with the bloody gun in Goodfellas.
8.) Do not touch the flightless birds — They're not pets.
9.) Don't freak out when you see your hook-up with another gal — She's a refugee. Like, on Charlie Rose and everything.
10.) Don't throw nachos at other people — Twizzlers? Perfectly acceptable.
11.) Don't fill dead space with jerks — Wait for a good one; they're worth it!
12.) Do the grand gesture — It always works.
What did you think of this week's episode of The Mindy Project? Are you a fan of new flame Jaime? Sound off in the comments!
[Photo Credit: FOX]
Follow Alicia on Twitter @alicialutes
More:
The Dos and Don'ts of Dating from 'The Mindy Project': When You Hit It and Quit It
The Dos and Don'ts of Dating from 'The Mindy Project': Love's Letter Lost Edition
The Dos and Don'ts of Dating from 'The Mindy Project': When It's a Rap

20 Hottest Celebrity Bikini Bodies