The Dos and Don'ts of Dating from 'The Mindy Project': When You're in the Club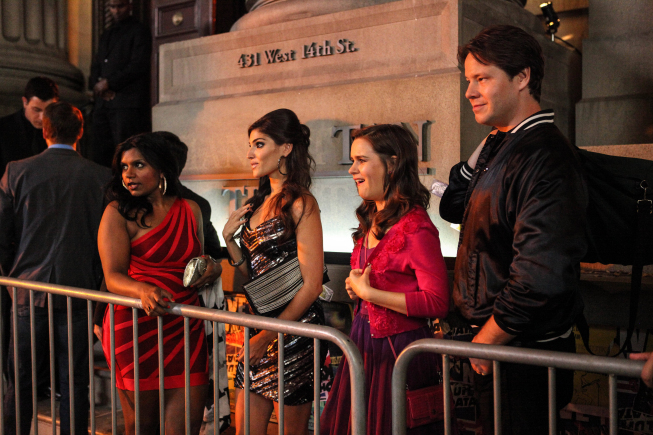 It was coworkers' night out on The Mindy Project tonight, and Dr. Lahiri was on the hunt for a man. After word got out around the office that the hottest club in town was opening its doors for Dr. Lahiri and Shauna the receptionist, pretty soon the whole crew was on board for the ride.
And Mindy wasn't the only one on the hunt for a mouth-on-mouth playmate: both Jeremy and–TWIST!–Danny ended up finding some ladies to spit some game to (or in Danny's case, lay down some seriously sweet dance moves). And while Shauna realized she might only have eyes for Danny, Betsy can't hold her blue booze, and Morgan found his calling (or at least $36) playing Bathroom Attendant, it may be Mindy who got something she wasn't expecting. Tonight we met Josh, a sports agent (to some very impressive basketball players and surprise romantic comedy lovers, Amar'e Stoudemire, Danny Granger and Baron Davis) and try-to-hard-but-possibly-endearing fellow hoping to catch Mindy's interest.
So what dating advice did we learn from Mindy and Co. tonight? Read on to find out!
1.) Do Go Clubbin': It's a great way to meet pedators.
2.) Don't Be Afraid to Leave Your Coworkers Behind: Make sure they know the rules. See you Monday.
3.) Do Play-Up Your Assets: Literally, mostly.
4.) Do Ask NBA Players About Their Favorite Rom-Coms: You never know who's going to love Sleepless in Seattle.
5.) Don't Let Your Friend End Up with the Creepy Bouncer: Because she WILL end up like the other girls.
6.) Do Stick With Your Girls: You're a team, remember!
7.) Don't Count Out The Nice Guy: He might try a little hard to impress, but maybe he just really likes you. At least, enough to spend $500 getting your pashmina back from Amar'e Stoudemire.
8.) Do Take The Limo: Hey, if a guy sends a limo to get you home, you take that f**ker on a joy ride.
9.) Do What Makes You Happy: And don't be afraid to listen to your friends when they call you out for bad behavior.
10.) Don't Be Afraid to Fake Crazy Diarrhea : Shuts it down. Every time.
[Photo Credit: FOX]
Follow Alicia on Twitter @alicialutes
More:
The Dos and Don'ts of Dating from 'The Mindy Project': You're Hired!
The Dos and Don'ts of Dating from 'The Mindy Project'
'Mindy Project,' 'Ben and Kate' Receive Full Season Pick-Ups