The Dos and Don'ts of Dating from 'The Mindy Project': You're Hired!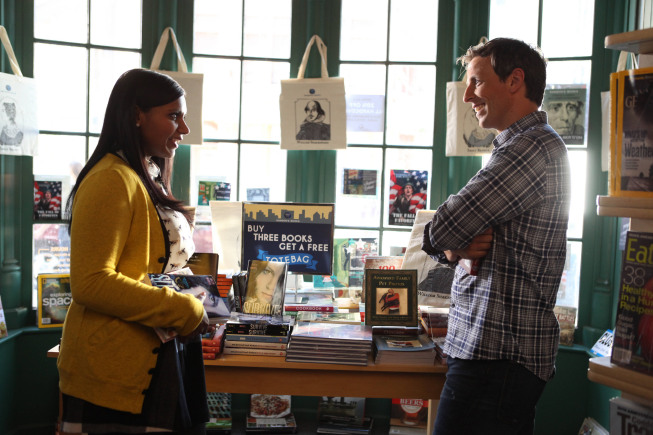 After a rough start (jail questioning is really rough after a night of watching your ex-boyfriend get married, you guys. Not that I have any experience in either scenario that whatsoever. Nope no way!) for Dr. Mindy Lahiri's life-makeover quest, things continue to get tougher. But she's working through it, one day at a time!
Mindy wants control, you see! She wants to take on a more active role in her work environment–really be the partner she wants to be. No doubt success at work will beget success at home. This is all well and great, except that Dr. Danny Castellano (Danny Castellano is one of those names you can't just shorten to "Danny," right?) has taken serious issue with how many Mindy-types he can handle in one office. She will just hire an army of Bridget Joneses, you see. So when it comes time to hire a new nurse to replace soon-to-be-fired Beverly, things get a little…harried.
But luckily, Mindy's had a cute date with a boy she met at a bookstore (played by the oh-so-charming Seth Meyers), so at least her love life isn't getting her down. Nothing can kill a gal's spirits after a real-life You've Got Mail moment, right?
So what lessons of love have we learned this week? Here are the dating Dos and Don'ts according to The Mindy Project this week.
1.) Do Go to Bookstores to Meet Cute Guys: You never know where your long-lost Tom Hanks could be waiting for you. Plus books are things smart people like.
2.) Don't Be Afraid to Take Pictures: That's what hair veils are for. Plus it totally looks vintage.
3.) Do Have Pluck: Outside from being just a really funny, old-timey word, having pluck means you're in charge! Men love a woman in charge!
4.) Don't Miss An Opportunity to Play Hostess: Men love a lady who know that people can't get enough of chocolate fountains and snacks.
5.) Do Watch Dateline Specials Before Your Dates: They should really bring back Stone Phillips. The man had great dating advice. Oh, and tips from To Catch a Predator are also great at weeding out regular creeps. Chris Hansen is such a beacon of truth. Time to up your game, Lester Holt!
6.) Don't EVER Pass Up An Architect: If you ever find one in real life that isn't just an imaginary person from a movie (it's sometimes tricky to tell the two apart, I know), scoop him up! You are well on your way to living the Nancy Meyers movie of your dreams that way.
7.) Do Wear That Power-Bustier!: A bold girl needs to make bold choices. Plus you'll look like a porno librarian.
8.) Do Take That Punch Like a Champ: A well-handled nosebleed is a sign of a powerful potential lifemate. Plus it gives you an opportunity to mix it up in the bedroom! (Missionary: bad for broken noses! Doggy Style: good for broken noses!)
9.) Don't Make Domestic Abuse Jokes About Someone in Public: Sorry, Mindy. According to you this one might be cool, but it's just a little too over the icky line for us. That said…
10.) Do Narrate The Lives of Other People on The Subway: I used to do this all the time when I lived in New York (just quietly in my head). It shows your creative spirit!
[Photo Credit: Beth Dubber/FOX]
Follow Alicia on Twitter @alicialutes
More:
The Dos and Don'ts of Dating from 'The Mindy Project'
'The Mindy Project': Everything To Know About Your New Favorite TV Rom-Com
'The Mindy Project' Channels Nora Ephron, 'Game of Thrones' and Michael Scott