'The Following' Star Teases Passionate Madness, Jealousy, and Threesome Betrayal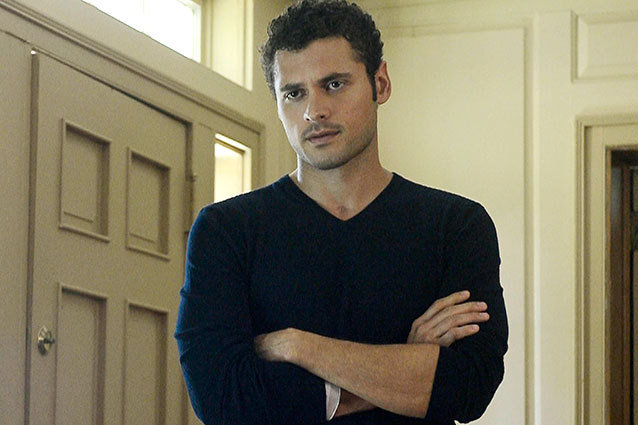 Kevin Bacon and James Purefoy's dark, twisted, body-count-heavy history is the central relationship explored on Kevin Williamson's Fox thriller The Following — but ever since the show's premiere, fans have been increasingly won over by the sick, enthralling relationship between Followers Emma (Valorie Curry), and former quote-unquote gay couple Jacob (Nico Tortorella) and Paul (Adan Canto). A lot of this is thanks to Paul, who lost whatever "it" a serial killer still has two episodes ago, then went off-course and kidnapped a local shopgirl — an offering that would ultimately show Emma that Jacob (gasp!) had never actually killed anyone. What a tool.
RELATED: 'The Following' Recap: Hardy's Sister is Kidnapped
Due to Jacob's fondness for not murdering people, that shopgirl was still alive at the end of last week's episode — but our gut tells us it's not for long. And Canto's teasing gives us little hope that things will get better. "All I can say is, do not be surprised by this guy's rage," he says. "You will see disturbing, and very interesting things coming from Paul."
A lot of these things will come to pass because of the threesome dynamic between the characters — something that was touched upon last week. But apparently, we haven't even begun to scratch the surface. "The [resentment towards Jacob] goes further than jealousy," Canto says. "Paul feels abandoned. It's definitely something that the audience will be understanding, in time, through flashbacks. They'll see Paul's origins, and Jacob's origins."
RELATED: 'The Following': James Purefoy on Serial Killers and '70s Porn
Apparently, we'll also be seeing scenes between Canto and his vicious leader, Joe Carroll (Purefoy). We've seen Emma's disturbing backstory, and Paul's will be explored in weeks to come. "[The Following] is a sanctuary for Paul," Canto says. "It's a safe-house. He feels a deep sense of belonging with all of [the Followers]. And there is always love between Paul and Joe."
Not so much, however, with Paul and Jacob — Canto says that that relationship will continue on its downward spiral. "When you trust someone entirely, and you feel like you're the only person that knows you in the world, then all of the sudden that person gives you their back… you can't help but to feel betrayed," he says. "[Paul and Jacob] start lying, and then continue this lie… Jacob's pretending to be this guy, when Paul knows [the truth]. And on top of that, he's fully neglecting [Paul]. There might be some [romantic] feelings involved. There are always feelings involved. There are very passionate emotions with this cult."
Well, the passionate emotions have certainly become very obvious during weeks 1 through 4 of this deeply disturbing (yet addictive) show. Will things ever let up? You know — maybe they can give us an episode or two without any stab wounds? According to Canto, don't count on it.
"In every episode, something very messed up happens," he says. Eek.
Be prepared for even more "messed up" (and be sure the kids are in bed) when The Following airs tonight at 9PM on Fox.
Follow Shaunna on Twitter @HWShaunna
Photo Credit: David Giesbrecht/FOX
---
From Our Partners: 

'Groundhog Day' Cast: Where Are They Now? (Moviefone)

Bradley Cooper Dancing Is Surprisingly Awkward (Vh1)