'The Following' Already Has a Lot of Followers, Premieres to Killer Ratings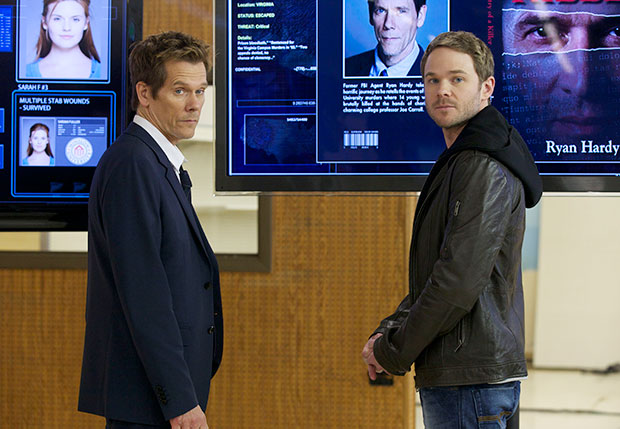 Maybe viewers thought that just watching The Following would put them within six degrees of Kevin Bacon. Or maybe they were just up for a good scare. Either way, Fox's Kevin Williamson-produced thriller about an Edgar Allan Poe-obsessed literature professor turned serial killer (James Purefoy) and the FBI man on his trail (Bacon) scared up solid ratings for its premiere Monday night. The show drew 10.4 million viewers and a 3.1 rating among adults 18-49, tying it with CBS' Elementary as the second-highest rated new drama premiere this season. No. 1 goes to NBC's Revolution.
Considering the changing landscape of network television, 10.4 million viewers is a strong debut. Fox has invested heavily in marketing The Following as a kind of Silence of the Lambs meets American Horror Story meets 24. Bacon and Purefoy themselves are certainly a draw. But the network could be in trouble if viewers were turned off by the premiere's graphic violence. One water-cooler scene from the pilot had one of Purefoy's followers practicing serial killer dissection techniques on dogs. The worst case scenario for Fox would be if the show bleeds viewers the way their much-touted midseason 2012 show Alcatraz did. That show aired in The Following's timeslot and actually debuted to a slightly bigger audience. But within seven weeks Alcatraz lost half its audience, ensuring its cancellation after 13 episodes.
The big question now: will The Following hold on to its followers?
Follow Christian Blauvelt on Twitter @Ctblauvelt
[Photo Credit: FOX]
More:
'The Following' Recap: (Really) Bad Teacher
'The Following': Kevin Bacon's Dark Twisted Game Changer
'The Following': James Purefoy on Serial Killers, '70s Porn, and Kevin Bacon's Entrails

100 Hottest Women of the Century: Do You Agree?