'The Following': James Purefoy on Serial Killers, '70s Porn, and Kevin Bacon's Entrails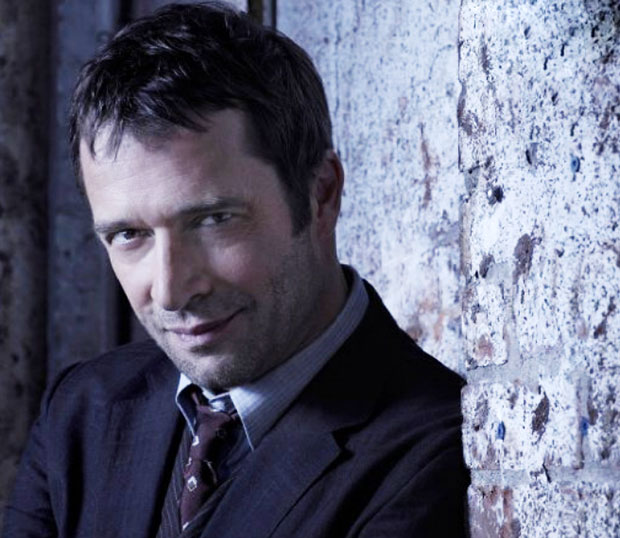 From his smooth, quiet manner to his seductive English accent to his seemingly genuine interest in everything you have to say, there's no doubt about it — James Purefoy would be a devastatingly effective serial killer. When I visited the Brooklyn set of Kevin Williamson's ambitious new thriller The Following last week, Purefoy was the ultimate gentleman; and a great sport when he took time off between filming scenes of cultish terror to speak with me in his dressing room. And after hearing what he had to say about his character, Joe Carroll, as well as serial killers in general, I would have been slightly afraid slash completely cultishly mesmerized if it weren't for Purefoy's little white dog (Marcel — a name Purefoy is not particularly fond of) adding some levity to the conversation. 
"One of the things that people find interesting about serial killers in general [is that] they're human beings," Purefoy says. "They're not monsters. It's not always black and white, good and evil. How unnerving it is; that you can sit down and talk to them, and they can be rational and charming and interesting and likable on the one hand, and then do appalling things on their downtime on another. There's really just a cigarette paper between us."
Hopefully, there's more than just a cigarette paper separating the rest of us from Joe Carroll. Purefoy's vicious killer slaughtered more than a dozen young women in 2003, before Ryan Hardy (Kevin Bacon) slept with his wife and put him behind bars. But prison bars didn't stop Carroll — the sexy, brilliant professor every female co-ed inappropriately dreamed of — from building a broad, sophisticated online network of killers who do his bidding while he does push-ups in the prison yard. Interestingly, Carroll's killings were largely inspired by the works of Edgar Allen Poe —  particularly "The Black Cat," a short story in which the narrator tries to cut out the eyes of a cat. But in Carroll's world, that black cat has become young women.
"He becomes very obsessed with the world of Edgar Allen Poe, and he genuinely starts believing that there's nothing more beautiful than a dying woman," Purefoy says. "That goes back to when he was young — something very specific that happened when he was young. [But] I can't tell you [what that is]."
According to Purefoy, Carroll's obsession with the world created by Poe is linked to a common trait that serial killers possess. "One of the things I found out about serial killers is that they like to have an alternate reality around themselves, that they completely believe in," he says. "And he believes in [his vision] 100 percent. Even Ted Bundy in his final interview, the day before he was executed — he blamed it all on pornography. 1970's pornography as well, mind you, so we're talking pretty lame stuff. If he had been around today — can you imagine? That was his kind of alternate reality. When it comes down to it, all serial killers are people who have a desperate lack of self esteem, and a desire for control and power. Where does that all come from, is the question to ask yourself."
Carroll's resourceful brilliance and internal clarity make his belief in this "alternate reality" even more frightening — and by the end of episode four (the first four are available for press) viewers will see just how far Carroll's many followers are willing to go to please him and his vision. And even though Carroll seems like the perfect serial killer boss, working for him has some serious drawbacks. "Discipline is important," Purefoy explains. "Sometimes [the followers] take it very well. They're trained, and they come to me willingly. But then they also need to be deprived of certain things. It's an S&M thing. [But] the people that he's dealing with are, generally speaking, psychotic serial killers — they're not the most reliable of coworkers."
And these "coworkers" have to be in tip-top murderin' shape if they want to help Carroll achieve one of his ultimate goals: The psychological torture of Bacon's character, Hardy. "I think [Joe would] be very happy to put a crochet hook into Ryan's belly and tug on his entrails forever," Purefoy says. "I don't think he wants to kill him, he wants to cause him terrible pain for a very long time."
With that definitive statement, Purefoy and the remarkably well-behaved Marcel had to go. But the following night, at the show's Manhattan premiere, I was able to fit in the one vital question I'd forgotten to ask: Do Carroll's (American) followers only trust him due to his seductive English accent?
"Of course," Purefoy says. "It imbues us with really not deserved intelligence."
Follow Shaunna on Twitter @HWShaunna
[PHOTO CREDIT: Fox]
MORE:
'The Following' Stars Kevin Bacon and James Purefoy Kissed on Tuesday
'The Following': Kevin Bacon's Dark, Twisted Game-Changer
FOX Sets 2013 Midseason Premiere Dates for 'American Idol,' 'The Following,' and More

Craziest Celebrity Swimsuits Ever (Celebuzz)