'The Following': Kevin Bacon's Dark, Twisted Game-Changer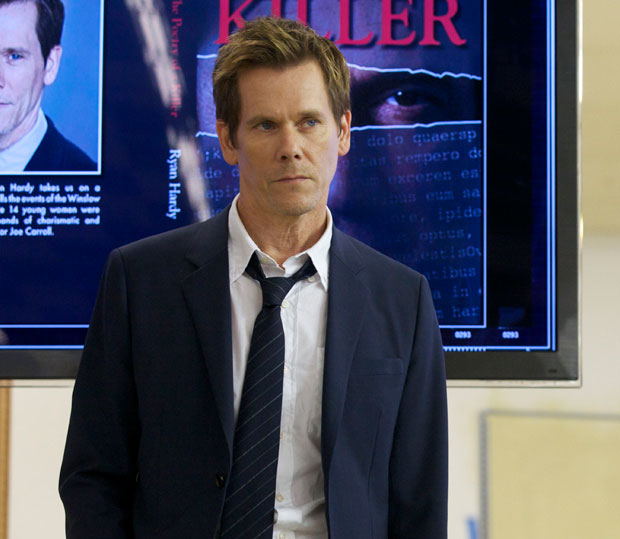 What if our worst nightmares came true? That's the reality of Vampire Diaries creator Kevin Williamson's new thriller The Following, which gives notorious serial killer Joe Carroll (James Purefoy) a legion of followers to enact his vicious bidding faster than the FBI can act while he sits in prison. It's a terrifying false reality, bolstered with performances that could practically convince you it's all very, very real.
Taking place between Virginia and former FBI Agent Ryan Hardy's (Kevin Bacon) home base in Brooklyn, this twisted tale goes to dark recesses of the human mind so disturbing, it's a wonder this show is able to air on network television. But it's here and it's on Fox, and it deserves a spot on your weekly lineup.
Our Hero: Ryan Hardy is Joe's nemesis. He locked up the killer after a rampage that left 14 college girls dead back in 2003. If that wasn't enough, Ryan forged a connection with Joe's ex-wife Claire (Natalie Zea), the nature of which is unclear, but that doesn't stop Joe's jealousy. And, for the pièce de résistance, Ryan successfully sold his recounting of his pursuit of Joe as a national bestseller, a feat the murderous literature professor never managed. But Hardy isn't the knight in shining armor you might expect. The pursuit and aftermath of the Carroll case has left him broken, and somewhat of an alcoholic, something he must fight when the FBI brings him back to investigate Joe's escape from death row and his cultish army of could-be serial killers. And something that grows stronger when he realizes Joe's aim is to torture Hardy as a means of revenge.
Our Villain: In any other setting, Joe Carroll would be every English major's favorite professor. He's passionate, charismatic, and he knows the classics inside and out, speaking about them on an intimate level. That, of course, is always his victims' downfall, all of them going for his overtures about the written word. Purefoy's beguiling murderer is seductive enough to make you question every crush you've ever had on a magnetic professor or speaker or leader. For without even blinking, Carroll connects the beauty of the literary world to a need to kill (granted, he does make use of Edgar Allen Poe's catalog, which is a little more inclined to inspire violence). It's not the senseless violence of your average network procedural. It's a sophisticated, intelligent line of crazy that will take time to unravel, and with a man like Purefoy playing the ruthless villain, it's hard to be at least a little curious about what it all means.
What About Everyone Else?: The series has amassed a solid crew of actors to take us on this journey. From Joe's followers, who we'll meet in greater detail as the series continues, to the FBI officers keeping Ryan in check and on track, to Zea's unraveling ex-wife, who will be present throughout the case, there's not a single weak link.
You'll love it if: You're prepared for a serious dose of darkness on a Monday night, aren't easily prone to nightmares, and enjoy complicated villains and connections to canonical literature.
Don't worry, the violence isn't that bad: For as often as we see the result of Joe and his followers' violent acts, we rarely see any of the bloody violence itself. That allows the show to explore the deep, dark corners of Joe's twisted beliefs without scaring us off (or scaring the censors).
One Mystery? For the whole series?: Believe it or not, this mystery is so rich, so dense and expansive, it shows no signs of losing steam any time soon. We'll be digging up Joe Carroll's past and present for a long, long time.
The Following premieres Monday, Jan. 21, at 9 PM ET on Fox.
Follow Kelsea on Twitter @KelseaStahler
[Photo Credit: Fox]
More:
'Fringe' Series Finale: Who Made the Ultimate Sacrifice?
Rob Lowe in 'Prosecuting Casey Anthony': Feeding Our Addiction to Gruesome, True Life Tales
'The Following' Stars Kevin Bacon and James Purefoy Kissed on Tuesday

Craziest Celebrity Swimsuits Ever (Celebuzz)