'The Following' Recap: Murder and Mayhem at the Rec Center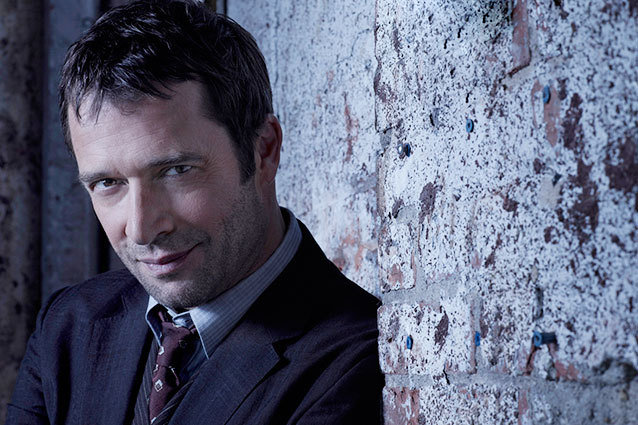 I'm gonna take issue, from a writing standpoint, with the title of last night's Following episode, "The End is Near." Objectively, yes — the end of the season is very near, exactly one week away. One way or another there will be some kind of ending (probably Parker's, when she's revealed to be a closet Follower), and more than likely Joe will allude 1, 3, or 57 times throughout the episode to the fact that we've reached it. "Oooh, I just love endings, Ryan, don't you?" Joe will say as he torture-reads Hardy passages from his manuscript.
But that's the problem, Joe! This book you're writing is nowhere near completion. Buddy, when you're watching 2-year-old sex tapes of your protagonist/BFF and trying to solidify basic character motivation? You're still in the research phase. (And maybe even procrastinating, if we imagine Followers watch creepy sex videos the way we do YouTube.) So don't tell me we're near the end, Joe/Following writers. Like everything on this show, we're circling somewhere around the middle.
Under strict orders from my therapist to utilize the "one positive, one negative" approach to comments and opinions, I'll say that stuff did happen this week in a way that stuff has maybe not happened for various non-consecutive periods in the past. Joe's Followers finally executed some sort of plan! Maybe it only made sense in the context of a diversion. And maybe it held only the most tenuous of Poe connections ('Mask of the Red Death'), in adherence with the Following charter. But attacking the Havenport Rec Center — when Hardy had specifically told them not to — was definitely a bold counter to those critics who may have suggested they "don't do anything" or "are stupid." Kudos, guys! You're all dead now but hey, you made it into Joe's book*.
*This one I can barely joke around. If there's been any ongoing mystery The Following has tried to stoke, it's why, beyond likely insanity, any one of Joe's 30+ acolytes would devote their lives to his cult. The answer (almost tossed off, by Emma, as she tried to convince Jacob not to run away): because they're all going to get a character based on them in his book! Hahahahahahahahahahaha. Terrorists? They get 67 VIRGINS IN TERRORIST AFTERLIFE. You Follower chumps are getting a fake character name, enshrined in writing that's about on par with my Following recaps (e.g. mediocre). You make the guy who spent $10,000 for a walk-on cameo in the Veronica Marsmovie seem like a brilliant person.
While Hardy and Co. tended to the "murder and mayhem" (JOE'S WORDS, NOT MINE) at the rec center, Joe — along with his new #s 2 and 3, Emma and Jacob, and Claire — were holed up in some poor hostages' home, waiting out the police lockdown. Good news: they really made the most of it! While Joe prepared an Italian feast in the kitchen, Claire bonded with the couple unlucky enough to have been home. The man, it turns out, had worked with Joe in his professorial days. Sure, this was ultimately an unnecessary bit of information that shed no more light on any characters nor wrinkled the plot in any way. But….ummm….
Claire attacked Joe! Again! After falling for the old "just untie me so I can pour this expensive bottle of wine, I know your side hurts," trick, Joe found himself on the losing edge of, in order: 1) a wine bottle 2) a fork and 3) a well-placed kick to the side. "Your book sucks!" Claire should have finished with, but she was in a hurry to get out of there with the professor and his wife. Unlike Joe, or me, not everyone has time for silly verbal barbs.
Parker shot a chick at the rec center massacre. Was she a Follower or an innocent bystander? Neither the writing nor the lighting work would tell us! But I do know, definitively, that Parker was taken by a cadre of Followers. So taken that she was actually thrown into a makeshift coffin and, her whimpering against the first few credits, buried alive. In just 14 episodes, The Following has already kidnapped, eyeball-gouged, stabbed, bludgeoned, and throat-slit more than a few FBI agents. "But burying one of us alive crosses the line," I only wish Hardy had said, but once again the episode playing in my head is very different than the one unfolding via Slingbox. If anyone cared, I think this show could foster a really vibrant fan fiction community.
WHERE WE ARE, heading into the "end": Jacob's dead. Emma loves Joe. Joe hates Claire. Hardy loves Claire. Claire's on a boat. Parker's in a coffin. Joe's in a slump. Weston's a wildcard. Hardy's ex-girlfriend is still out there, presumably reviewing their sex tapes like game footage. Nick or whoever is getting replacement eye surgery (good luck!). Roderick hasn't even received a proper burial. There's one episode left. Flowers can grow even in graveyards. We'll all smile again one day soon.
Follow Henning on Twitter @HenningFog
More:
'The Following' Recap: Roderick Goes Off-Book, With Fatal Results
'The Following' Recap: We Need to Talk About Weston
'The Following' Recap: Hardy Uncovers an Explosive Plot
---
From Our Partners


50 Worst Celeb Mugshot Fails (vh1)


33 Child Stars: Where Are They Now? (Celebuzz)