The Funniest Shots from the Republican National Convention — PICS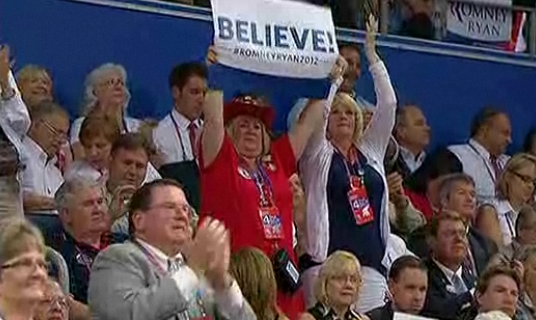 This week, politicos on the right made their way to Tampa, Florida to officially nominate Mitt Romney for President in the 2012 election, taking on the current sitting president, Democrat Barack Obama. He and his running mate, Paul Ryan brought out all sorts of folks to tout their campaign goals and dreams and make the Republican's bid a reality. There were speeches, songs, and rhetoric bandied about over the three-day event, culminating with an acceptance speech from Romney himself.
This election is a polarizing one, and we're not going to play sides, but we are going to comment on what we saw after watching all three days of the convention. And what was it that we saw? Well, quite a lot! There was much clapping, chants of "USA!", dancing and fancy headgear. Cheers and boos, tears and smiles. So without further adieu, let's take a visual stroll through the many heads (and faces) of the Republican National Convention via the screen grabs we took to entertain you. Onward!
There were jaunty hats worn by young barbershop quarteters…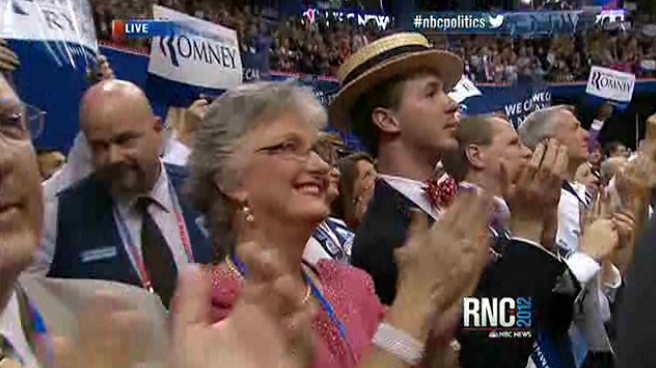 Really saxy hats…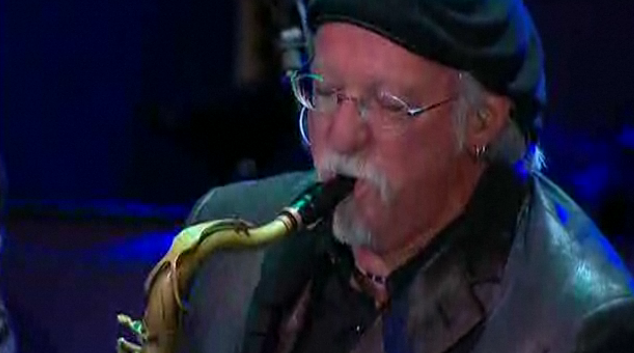 Really cheesy hats….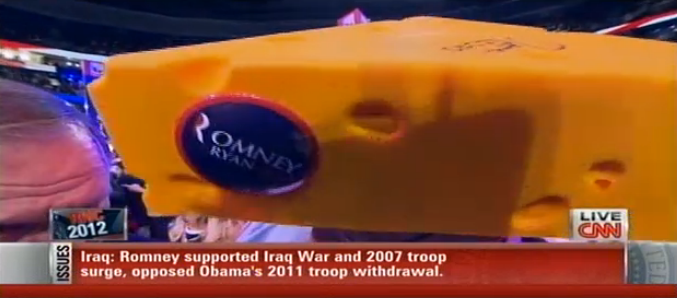 A lot of Texans in matching shirts and hats!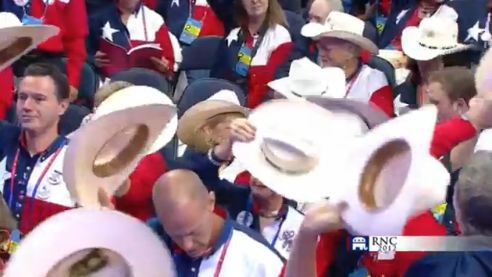 Actually…there were a LOT of cowboy hats. And these hats love to dance!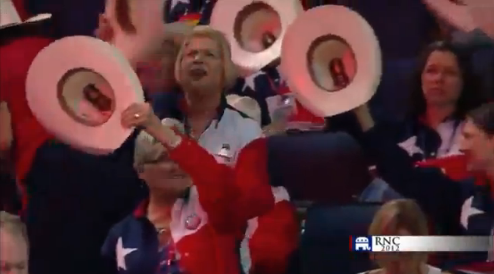 Some of the hats were even patriotic!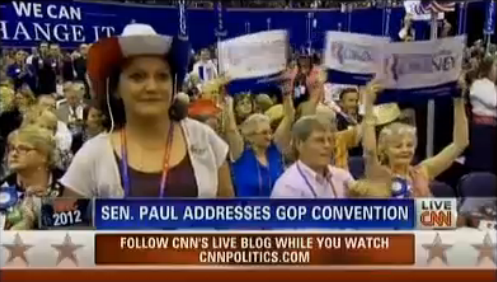 Country singer Lane Turner built this hat with no help from Uncle Sam.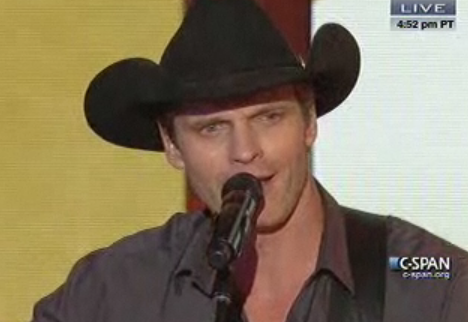 And veterans wore their fancy veteran hats!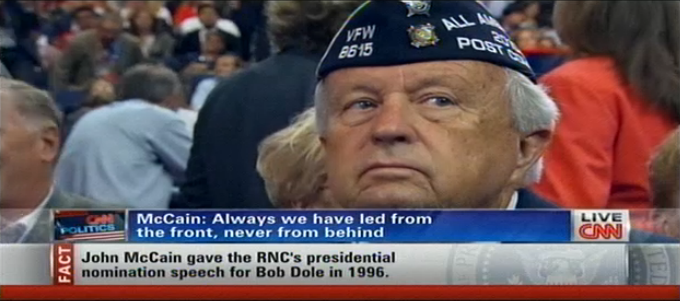 The BEST HAT: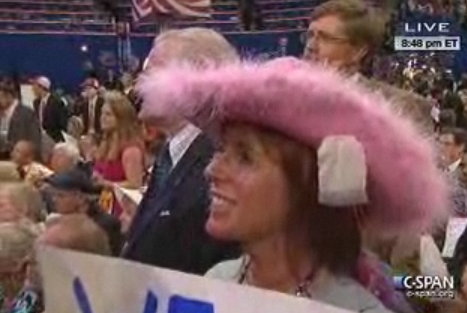 (Yes, those are teabags hanging off that woman's pinky fuzzy head-covering.)
LOOK AT THIS ELEPHANT HAT!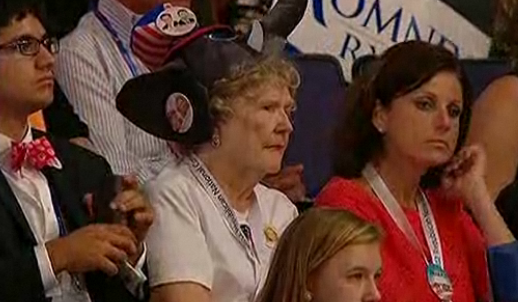 There was also a lot of dancing! Take a look at all of these happy, dancing Republicans! Tampa's got their dancing feet on point, y'all. While scrolling through, we suggest turning on Deee-Lite's "Groove Is In The Heart" for a 360-experience, so we've included the video below:
First, wave your hands in the air like you just don't care…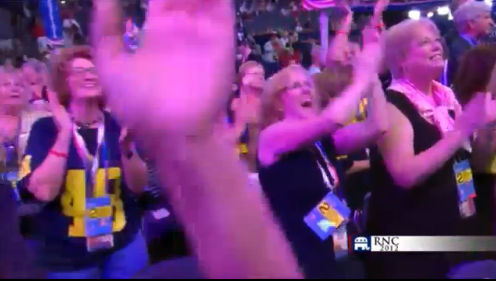 Now raise the roof if you're wearing blue Navy camouflage!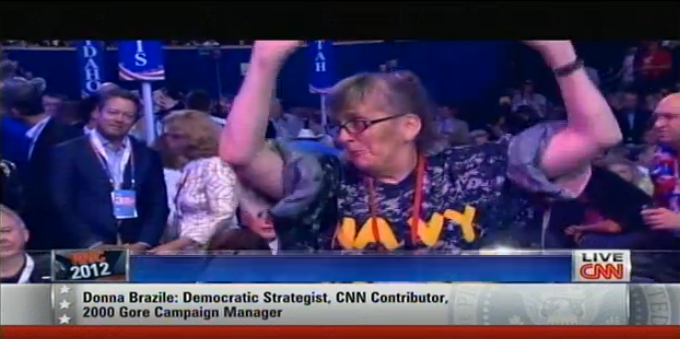 Line dance if you're feelin' funky…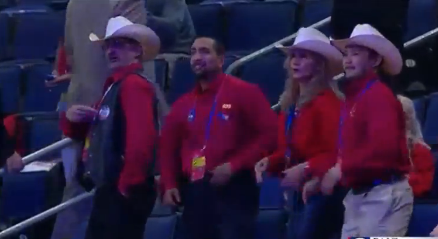 …Now SCREAM!!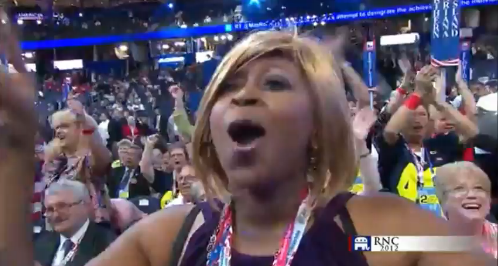 And NEVER be afraid to get down solo: ain't no shame in your fly dancing game! Finger guns!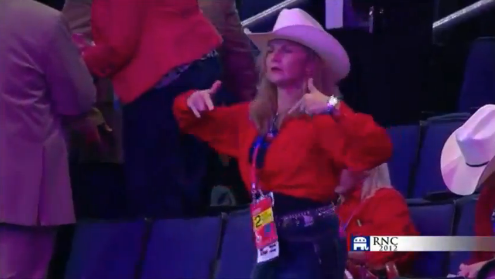 And look at this f**king love connection. Romance is in the air in Tampa. The elephants are out to play TO-NIIIIGHT!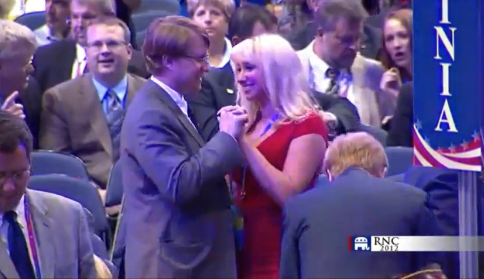 But person having the best time at the RNC was definitely THIS LADY, as she danced her way across the entire convention.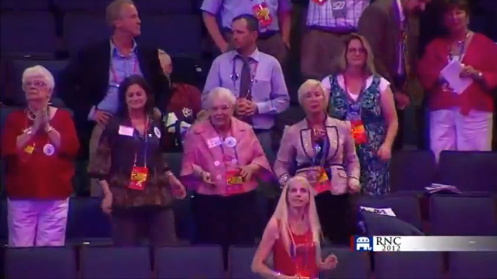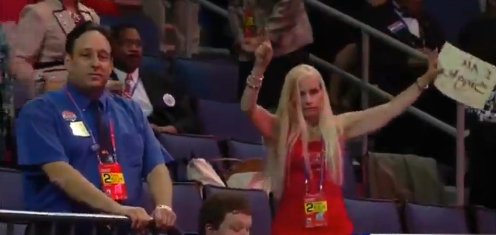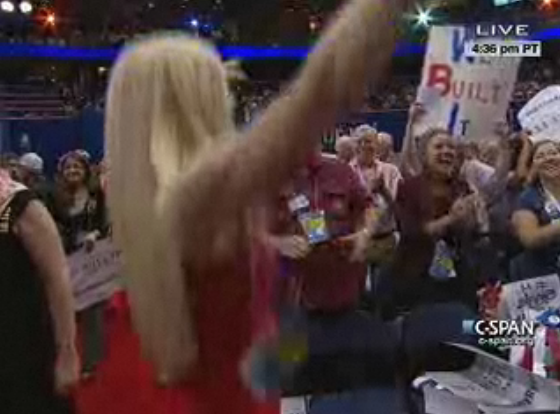 BONUS: KILLER FACIAL HAIR EDITION: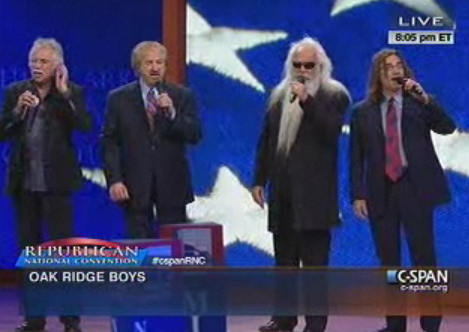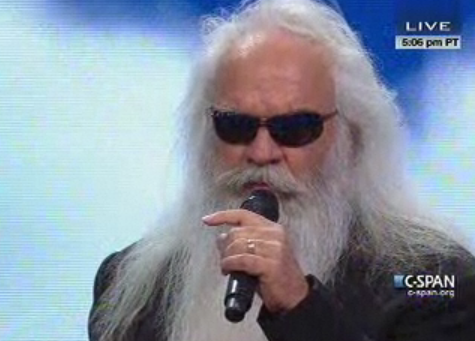 What were your favorite funny moments from the Republican National Convention? Did we miss any? And if you liked this, tune in next week for our recap of the similar happenings at the Democratic National Convention!
[Screen Grab Credits: MSNBC.com, C-SPAN.com, CNN.com]
Follow Alicia on Twitter @alicialutes
More:
Mystery Speaker Revealed: Clint Eastwood at the RNC
The Official Republican National Convention Drinking Game
Clay Aiken, Sarah Silverman, Stephen Colbert and More Tweet About RNC