'The Good Wife' Finale: Everything's Going Down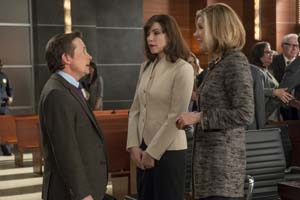 The great thing about The Good Wife is that you think it's a procedural, with each case being wrapped up nicely every week, but by the end of the season you always figure out how everything has been working in conjunction the whole time. The events of each case always have consequences and the actions of one character always have consequences for the other, and all of those things always dovetail nicely into something that puts our protagonist, Ms. Alicia Florrick, into some dicey spot. That's what we got last night in the third season finale when Juliana Margulies and crew tied everything up and made us wait for a resolution next year.
Things didn't fall into place as seamlessly as they have in the past, but thanks to a lawsuit from the firms co-nemesis Louis Canning (Michael J. Fox) and Patti Nyholm (Martha Plimpton) it kicks everything into high gear. This is like the moment in every Batman comic when the villains finally figure out that while they can't defeat the superhero together, but if they team up they might have a shot. The two have been hired by a drug company and an insurance company to put them out of business, because they've been such a nuisance to their clients. From Deus Ex Machina land, we find out that Lockhart Gardiner has big balloon payment on their office and their biggest client is late with his payment, so they're practically on lawyer food stamps.
Everything comes up in the suit: Kalinda's troubles with the law, Will's suspension because of potential judicial bribery, Cary hiring that annoying daddy investigator while at the state's attorney's office, and even Alicia's separation, which finally goes on the record. Yes, it's Peter who saves the firm from the lawsuit and shuts down the allegations of any inappropriate behavior between Lockhart Gardiner and any judges. He wasn't working on behave of his wife's firm because he hasn't worked with what's firm on his wife in a long time. (Sorry, that was one bad pun.) But the lawsuit was just a ruse to distract the firm while Canning and Nyholm steal their main client and potentially put them out of business. Oops! Should have been paying more attention to something other than Will's whining and Diane's wishing she was singing showtunes at some piano bar near Broadway.
Meanwhile, things are going pretty well for Alicia, who goes to see her harpy of a mother-in-law in the hospital for her to apologize and learns that Jackie is sort of losing her mind. Still, the death specter of Jackie signs Peter and Alicia's house over to Alicia's kids for safe keeping. In fact, she and Peter are seeing eye to eye and treating each other like reasonable adults again. On this show, that is akin to having sex, so these two are totally doing it.
What's scary is the evil voice that is on the other side of Alicia's phone. While trying to cash a bunch of old checks for Kalinda, she calls the number on the check and there is a very mean man on the other end. He knows what just called him and is determined to find Alicia. This makes so much sense because, who gets a check for $21,000 and doesn't cash it but keeps it around in a manilla envelope like a bomb that could go off at any moment. Everyone has a least three of those in their junk drawer, right? We find out that Kalinda is on the run from her husband, which, also, duh. Seriously, she always moved to Chicago to get out of Canada for some shady reason (like leaving Canada isn't reason enough) and we never knew what it was, but it was always going to be her husband. That's the big shock, but the shock never came. It was like the shock of Kalinda having like 9 guns and $30,000 hidden in the wall of her apartment behind a mirror. Of course, she has that there. Where else would she put it? Isn't that a standard feature of most apartments where the hallways are lined in birch tree wallpaper (which, I'm sorry, is a million times scarier than The Voice.)
Anyway, Kalinda is trying to leave town, but when she finds out The Voice (which is, indeed, scarier than that Christina Aguilera singing competition) knows where Alicia lives and knows her name. Instead of leaving she decides she's going to pull up her Laz-E-Boy and cuddle up with her gun and wait for company. It arrives but, of course, we don't see who it is.
Who is behind The Voice? Will Kalinda shoot him? Will Lockhart Gardiner Gold Florrick Agos go out of business? Will Alicia get back together with Peter and live in their old house and pretend like he never slept with a hooker? What is going to happen? We have no idea, but this season's finale and its indecision is nicely contrasted with last season's. A year ago we were left with the scene of Peter and Alicia going up in an elevator and stopping at every floor and each time the door opened, we got a glimpse of them making out harder and harder. (Cue having "Love in an Elevator" stuck in your head for the rest of the afternoon.) They were on the rise and we knew just what was going to happen when the show returned in September.
This year we went with Alicia and Will going down in an elevator talking about their relationship. Will asks if it was a mistake and Alicia says no but you know that the romance between them is over. What a great way to deal with the tension but yet still keep it alive in case the show needs a good sweeps week stunt in a year or two. The elevator lands and Alicia says, "Goodbye Will." It's done (until next May!). And that's how we're left, with the end of Willicia (Alicill?) but a ton of other questions that we just can't wait to solve, an elevator going down instead of up. I don't know about you, but I'm loving this sinking feeling.
Follow Brian Moylan on Twitter @BrianJMoylan
More:
Michael J. Fox Returns to 'The Good Wife'
'The Good Wife' Casts Parker Posey Opposite Alan Cumming
New 'Good Wife' Footage Teases Aftermath of Will and Alicia's Tryst