Our Season 5 Refresher Course for 'The Good Wife'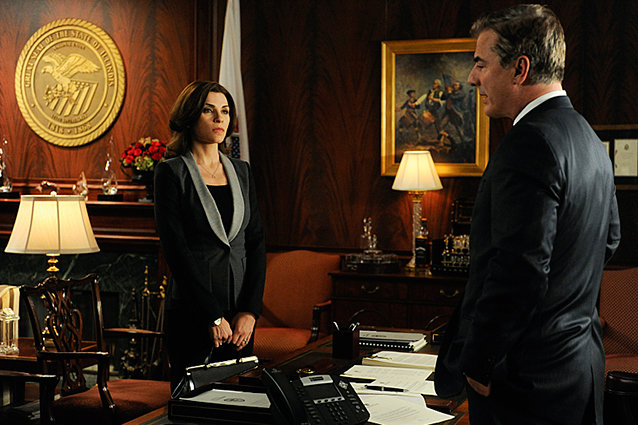 CBS
This Sunday marks the highly-anticipated return of CBS's The Good Wife, and many of us have been practically itching with excitement. Season 5 has been nothing short of explosive, with every episode kicking off or going out (or both) with a bang. In case you need a refresher on all of the madness between Alicia Florrick, Will Gardner, and the rest of the gang, here's a little recap to help you mentally prepare for this Sunday:
It's [Still] All About Alicia & Will
This has been an excellent season for the former lovers. After some serious sexual tension last season, it looked like, if only for a moment, there was a chance that the Willicia reunion many of us had been hoping for was afoot. But then Peter started making goo-goo eyes at his wife again, and Alicia went and left the firm, and that was the end of that. They've spent the majority of Season 5 being awful to each other (mainly Will), fighting over clients and using their sexual and romantic past to get back at each other in the court room. It's made for some great TV, and we can only assume that things will get more heated as the season progresses.
Peter's in Trouble… But at Least He's Not the Babydaddy
The new episode will pick up with a focus on this whole stolen election scandal. Did Peter actually, truly, steal the election? And is his time as Illinois state Governor coming to an end? This is some serious drama, but at least we know he's not the father of Marilyn Garbanza's baby. That pregnancy storyline was positively frightening.
Grace Got Hot; This May Still Be An Issue
Amidst all of this political scandal and courtroom drama, let's not forget that little Grace Florrick… uh… blossomed this season. Thankfully, she's still got her head in the books (and in her Bible), but it's going to be interesting to see if this comes up in the plot again. Earlier in the season she ended up on that hot political daughters website that was actually hacking into her computer, and she was also a huge distraction to some members of Florrick Agos and Associates.
Will Alicia's Firm Survive?
Between her husband's scandal and the devious antics of her ex, Alicia Florrick's new firm is in a pretty awkward position. We've all been rooting for Florrick Agos; they're the underdog now that LG (previously known as Lockhart Gardner) is the big firm in town. But something tells us this David and Goliath battle will be playing out for some time.
The Only Thing You Really Need to Get Ready for Sunday
Seriously. The Good Wife "Thicky Trick" cast video is all you'll ever need in life. You're welcome.
Follow @Hollywood_com Follow @shannonmhouston