The 'Happy Endings' Engagement: The Tricky Union of Friends and Romantic Partners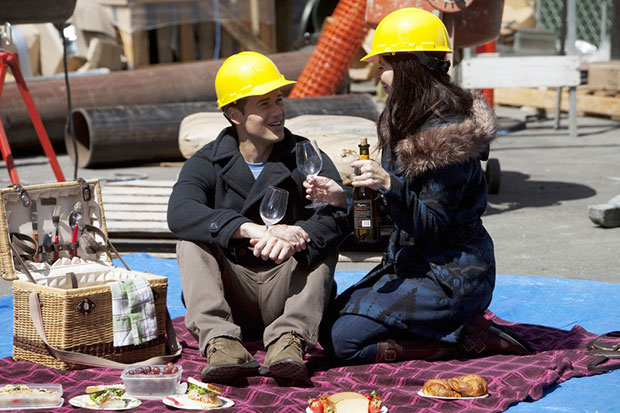 So you've got a new love brewing… and this might be, dare you say, the one. They're sweet, thoughtful, they totally get you. Your personalities mesh well, your interests align, your parents approve. There's only hurdle you haven't yet overcome: your friends. Those horribly judgmental, scathingly abrasive, disconcertingly alienating monsters. The very same ones you love dearly and have spent every waking minute with since your mid teens. You know that no matter how perfect your latest romantic partner might be, the ganglion of derision that you call your social circle will undoubtedly disapprove.
But is that for certain? Is there any chance that you an successfully meld both fields of your life to result in a dynamic smorgasbord of self-efficacy? Or will something always be… off?
Tuesday night's Happy Endings braved the question when Penny (Casey Wilson) and her Season 3 boyfriend Pete (Nick Zano) got engaged. The turn of events came as a surprise to fans aplenty, largely because Happy Endings isn't ordinarily too heavy on the overarching plot. More than this, the show has thrived on its main characters existing as a self-contained, impermeable mass of codependency and affectionate self-destruction. Where might the newbie, nice guy Pete, fit in with this lifelong band of pals?
And along with the question as an in-universe quandary do we wonder how Zano might fit in on the show. It's true, Zano's career is not yet too busy for him to make weekly supporting player appearances on Happy Endings. But very rarely do cast members of this nature on shows like Happy Endings advance to permanence.
Thinking back to Happy Endings' spiritual predecessor Friends, we recall Mike: a Paul Rudd of middling fame who was introduced in the penultimate season as a love interest for Phoebe (Lisa Kudrow). Rudd would maintain a presence throughout the run of the series, appearing right up until Friends' finale, but never truly evolved to a platform of equal stature among the central gang. In fact, the occasional joke surrounding Mike was that he was largely an outsider looking in at the Central Perk madness. One episode even invested an entire storyline in Ross' (David Schwimmer) inability to find anything to talk about with Mike.
Predating Friends in this endeavor, and somewhat more successfully, was Cheers. Over the course of its 12-year run, the Boston-set sitcom introduced not one but two characters as significant others, eventually granting each opening titles billing. Dr. Frasier Crane (Kelsey Grammer) was introduced in the Season 3 premiere of Cheers as a love interest for leading lady Diane (Shelley Long). Although initially penned as a temporary character, the writers and fans loved Frasier enough to keep him around for 8 years (not to mention an 11-season spin-off). And from Frasier came Lilith (Bebe Neuwirth), his fellow psychiatrist and love interest introduced in Cheers' fourth season in a similar circumstance. Although only planned as a one-off character, Lilith returned in Season 5, and stuck around through the final year (marrying, divorcing, and remarrying Frasier during her tour on the series).
Many a series has made it happen: Will & Grace kept both Bobby Cannavale and Harry Connick, Jr. around; 30 Rock introduced James Marsden as a boyfriend for Tina Fey's Liz Lemon last season — now, with the series finale set for this Thursday, the two are happily married and new parents to a pair of adopted nincompoops.
But so many a series, those mentioned included, have brought in romantic guest stars just to ship them off into oblivion again when the time comes. So what will be the case with Happy Endings and Zano? If the ABC series is planning to keep him around, how the hell is that going to work?
As was the case with Rudd on Friends, there is room for comedy in the "odd man out" phenomenon. As the only sane one in this bunch of kooks, Zano can supply a new brand of deadpan humor in reaction to the psychologically alarming, ethically barren antics of Penny and company. Of course, Rudd also exhibited another phenomenon: the endless supply of errands. Oftentimes, Mike was nowhere to be found while Phoebe was hanging around with her West Village harem. He'd be off at work or running an errand or starring in Anchorman. Perhaps Happy Endings will go the same route with Zano, bringing him around for pertinent plots but shafting him to the background for scenes consisting only of the traditional sextet.
And of course, there is always the chance that Zano will go the way of so many sitcom beaus… perhaps even leaving Penny at the altar (or vice versa), a la the Alex (Elisha Cuthbert) and Dave (Zachary Knighton) debacle that sparked the whole series.
More than any other sitcom does Happy Endings have its comedy down pat. It understands what makes itself funny and devotes itself to that with vigor. As such, no matter what path the show takes with Zano, we can look forward to terrific comedy. As far as real life goes, though… keep your significant others far away from your friends. It never works.
[Photo Credit: ABC]
More:
'Happy Endings' Double Recap: Who Got Engaged?!
'New Girl' Recap: The One Where Nick and Jess…
The Least Normal Things About 'The New Normal': Breast Feeding Edition

Miley Cyrus Teaches Us Yoga on the Beach — INFOGRAPHIC