'The Inbetweeners' Trailer Recalls the (Funny) Pains of Adolescence — VIDEO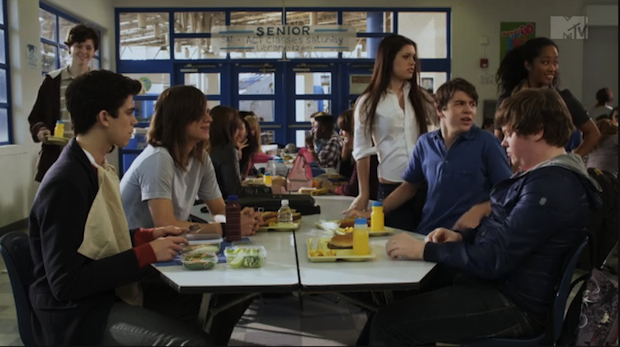 Unless you sat at the popular table in high school, you know what it feels like to struggle at the bottom of the popularity totem. Despite what those silly adults think, being a kid isn't easy — which is something The Inbetweeners trailer makes a special point of proving. In an attempt to rectify the wrongs they made with the edgy UK teen hit Skins, MTV has decided to take another stab at a trans-Atlantic remake by introducing the show The Inbetweeners to U.S. audiences (hey, we've got nerds too!).
Meet Will, Jay, Neil, and Simon — four boys who are desperately trying to fight their way out of loserdom and become part of the cool crowd at Grove High. If only things were so simple. But as they struggle with their "in-between" social status, they manage to leave their mark in the most embarrassing (and hilarious) ways possible (think Superbad meets American Pie). No one said growing up was going to be easy; they only promised it would be memorable.
The cast stars Joey Pollari, Zack Pearlman, Mark L. Young, and Bubba Lewis as the four main characters, with Alex Frnka playing one of the love interests and Brett Gelman portraying a school official that strongly dislikes the boys.
Check out the trailer below and recall the joys (and horrors) of adolescence:
The American adaptation of The Inbetweeners premieres Monday, August 20 at 10:30 PM on MTV.
Follow Kelly on Twitter @KellyBean0415
More:
True Blood Recap: Russell Edgington Forever
Breaking Bad Pulls in Record Viewers, Possibly With "Magnets, Bitch!"