The Kardashians on 'Kimmel': Our Mom Is Crazy — VIDEO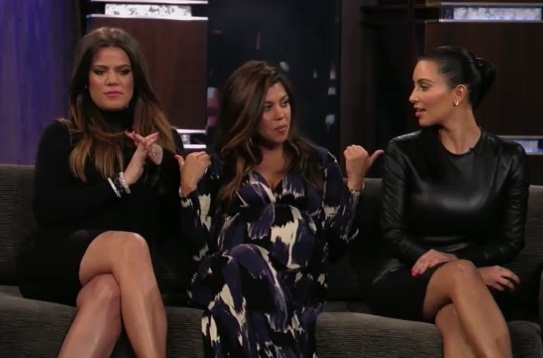 All individuals associated even marginally with the Kardashian clan can be deemed eccentric at best. Sisters Kim, Kourtney, and Khloe all have their fair share of idiosyncrasies, but there appears to be a unanimous consensus on who the real nut of the bunch is: Kris Jenner. On Wednesday night, Kim, Kourtney, and Khloe Kardashian appeared Kimmel to declare their mother Kris to the Kraziest member of the family.
But that's not to say it was an easy contest. According to the sisters, their stepfather Bruce Jenner has a hard time letting go of his past career as a world famous athlete… a fact he brings up literally everyday, so say the Kardashians. And then there's Khloe's husband Lamar Odom, who (despite his stature) has a crippling phobia of his wife's pet peacock. Say what you will about the Kardashians, but they probably never run out of things to say to each other.


More:
Kim Kardashian Takes Over TV, Your Life
Lifetime Makes Kim Kardashian a Relationship Expert — VIDEO
Rush Limbaugh Nicknames the President 'Barack Hussein Kardashian'