'The Kennedys' Will Air on ReelzChannel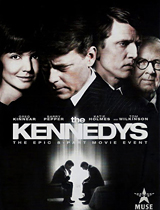 Everyone's latest favorite controversy — well, except for child porn — finally has a home. The Kennedys, the new miniseries starring Greg Kinnear, Katie Holmes, Barry Pepper and Tom Wilkinson, will broadcast starting on April 3 on ReelzChannel. Yes, that one station that is always playing movie trailers.
Anyway, the network — which is four years old and available in 60 million homes nationwide — made an undisclosed deal for the project from 24 executive producer Joel Surnow and writer Stephen Kronish, but The Hollywood Reporter says that the project cost $30 million to make, so it's safe to say ReelzChannel had to shovel out some cash. But then again, maybe not, since nobody really wanted to air it anyway. The series was originally created for The History Channel as their first scripted drama, but after viewing the finished product, the owner "concluded this dramatic interpretation is not a fit for the History brand," which isn't surprising, considering a former adviser to John F. Kennedy called it "vindictive." Following their decision, Showtime, Starz, and FX all passed on the project. Apparently — and this is all just speculation — J.F.K. must spend the entire miniseries snorting blow off of Marilyn Monroe's chest, doing keg stands, taking shots of Patron, all while high on heroin.
But to all of that? ReelzChannel CEO Stan Hubbard says fuck it!
"One of the benefits of being an independent network is that you can be an independent voice and you don't have to worry about corporate pressure or political pressure," he told THR. "This is a project that deserves to be seen."
Damn straight, Mr. Hubbard. Damn straight.
Source: The Hollywood Reporter