'The L.A. Complex' Is Officially Dead, CW Not Renewing For Third Season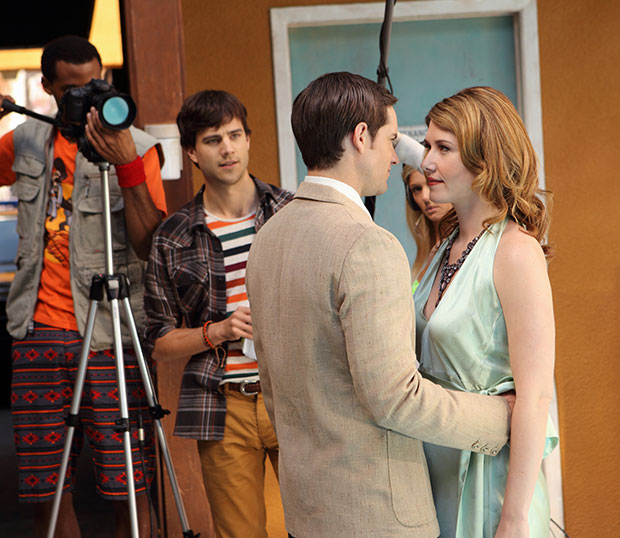 If you were holding out hope that The LA Complex was going to get a last-minute save from The CW, sorry to disappoint: the network has decided against ordering a third season of the Canadian drama.
A spokesperson for The CW announced the official cancelation on Thursday of the steamy soap about Canadians chasing the Hollywood dream in Los Angeles. This decision comes as expected – though still disappointing – after Canada's MuchMusic channel decided weeks ago not to order a third season.
Fans of the soapy drama had hoped that indie producer Epitome Pictures would be able to keep The LA Complex afloat, but losing its key North American distributors might be the final straw that breaks the Canadian series' back. To be fair, the show had little chance of surviving after debuting as TV's lowest-rated drama premiere of all time back in April.
Executive produced by Stephen Stohn and Linda Schuyler of Epitome Pictures, The LA Complex was centered around a Melrose Place-like apartment building, filled to bursting with entertainment industry hopefuls. The series tackled heavy subjects, like self-mutilation, alcoholism, homosexuality in the rap industry, a dancer's foray into the porn industry, a Church of Scientology-like religious cult, and even murder. Unfortunately, even the flashiest of cliffhangers and OMG moments couldn't attract a large enough audience to make The LA Complex a success ratings-wise.
The LA Complex starred Cassie Steele (Degrassi), Jonathan Patrick Moore (ABC Family's The Mistle-Tones), Andra Fuller, Joe Dinicol (Disney Channel's My Babysitter's a Vampire), Georgina Reilly, Jewel Staite (Firefly), Chelan Simmons, and Benjamin Charles Watson.
Follow Sydney on Twitter @SydneyBucksbaum
[Photo Credit: Stephen Scott/The CW]
More:
'The L.A. Complex' React: Classic CW With a Side of Raunch
'The L.A. Complex' Breaks Ratings Records… for the Lowest Broadcast Debut Ever
'L.A. Complex' Star Cassie Steele on the Show's 'Dark' Side. Plus: A Drake Cameo?
You Might Also Like:

20 Hot (and Horrifying) Movie Sex Scenes