'The L.A. Complex' React: Classic CW With a Side of Raunch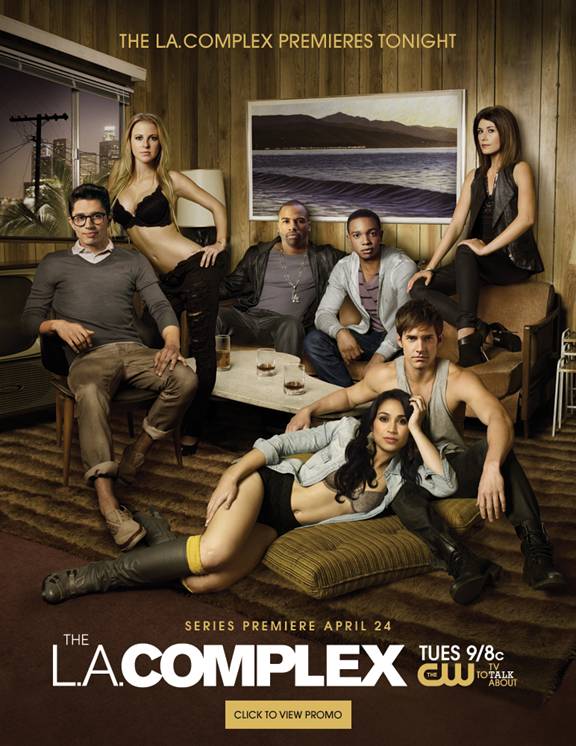 Los Angeles may bear an angelic name, but it's a dirty, dastardly place. And that's exactly what The L.A. Complex hopes to teach us via seedy stories about sex, drugs, and rock and roll. After all, this is a CW show. 
The ensemble-driven guilty pleasure takes us into the lives of seven gorgeous young people in the entertainment industry; we find a few actors, a comedian, a dancer, a rapper and an aspiring music producer all grappling through the murky waters of the cruel Hollywood realm. Led by
Degrassi: The Next Generation
alum
Cassie Steele
, the cast does its best to lend weight to the storylines of struggle and fleeting success at the hands of casting agents and music moguls. But before we go any further, let's stop and call this what it is: sexy, down-in-the-muck fun. 
At the beginning of the episode, we meet Abby (Steele), who's on the verge of a breakup with her long-distance boyfriend because he's convinced she's a failure as an actress. He's instantly painted as a total douche… but he's not wrong. Abby can't get an audition and when she does, she can't even get her hunk-a-junk car to function long enough to get her there. (As you may have heard: Nobody walks in L.A. Or takes the bus for that matter.) Her misfortune leads her to aspiring (and crashing and burning) comedian, Nick, whose dorky hipster glasses aren't doing much to hide that he's actually a gorgeous male model under that gimpy costume, producers. He helps her out with a more affordable abode in his L.A. apartment Complex (get it? Like the name of the show. You guys). The set-up is very Melrose Place, with art decco apartments surrounding a pool, but this one is stripped of the soapy glamour and coated instead in artist-approved grime. And this, my friends, is where the drama all goes down. 
Abby meets the dashing young Australian actor Connor — who's just nabbed some doctor show pilot and plans on movie' on up to the Hollywood Hills — his over-the-hill (in actor years) but still smoking hot f**k-buddy Raquel, and a style of partying that includes floaty pool toys and red Solo cups. Because they're both so ridiculously sexy (and apparently on the appropriate Hollywood cocktail of hard liquor and ecstasy), Abby and Connor have sex, sans protection, on a roof overlooking the classic L.A. skyline. Here's our romantic conflict, ladies and gentlemen: Nick has just lost his damsel in distress (and his manhood) to Connor and Raquel has just been ousted by a hot, young thing. (It's her Grueling Audition Circuit Part Deux: Sex Life Stolen By a Younger Woman.) 
We also meet Alicia, the professional dancer (and exotic dancer to pay the bills), and Abby's buddy Tariq, who's under the thumb of a big-time music producer. With that, we've got our main characters and supporting characters, and a full collection of new lessons for newbie Abby to learn with doe-eyed wonder as the series continues. 
And while the series has all the finesse of the over-the-top teen dramas like
90210
and
Gossip Girl
, it benefits from its quasi-grounded tone. Our heroine can go from being chased with a baseball bat by her slumlord of a landlord to having hot rooftop sex to throwing up during an audition, something that would send
90210
's Naomi into an over-privileged tailspin.
The L.A. Complex
may not stray far from the CW formula, but it's "grown-up" in enough of the right ways to keep us on the hook… at least until the main cast runs out of sexual combinations. 
Did you watch The L.A. Complex? Did it earn a spot on your weekly TV lineup? Answer our poll! 
[Photo: The CW]
More:
LA Complex Star Cassie Steele on the Show's "Dark Side." Plus: a Drake Cameo?