The Least Normal Things About 'The New Normal': Gaydar Edition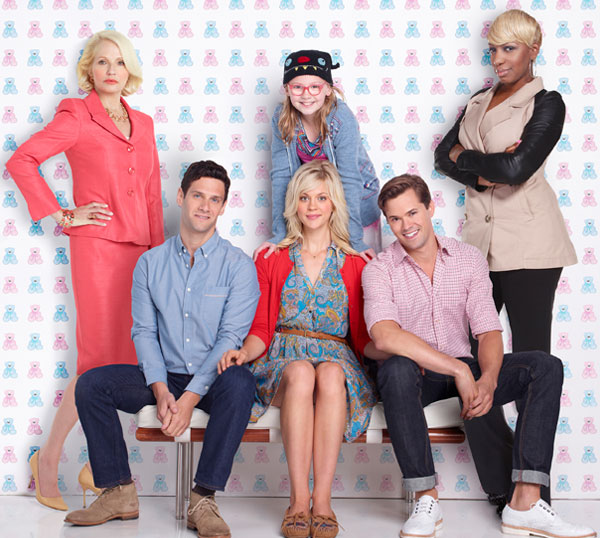 NBC's The New Normal is a delightful show about a not very ordinary gay couple trying to have a surrogate daughter with a strange woman who has an oddball child and an unbelievably bigoted (and funny) grandmother. NeNe Leakes is also somehow involved. As much as it would like us to believe that this is the way the world works today, like most Ryan Murphy shows it is really a celebration of the oddities within all of us. Therefore this weekly feature is both a celebration (and indictment) of all the abnormality contained within it.
Normal: Deciding on the perfect outfit for your baby's birth announcement.
Abnormal: Picking out a lavish and over-the-top frilly dress for a birth announcement when the baby hasn't even been born yet.
Normal: Having a subtle crush on a co-worker.
Abnormal: Believing for a mila-second that NeNe Leakes could ever be subtle at anything.
Normal: Explaining why a relationship didn't work out to one of your good friends.
Abnormal: Oversharing to your boss's baby surrogate that the reason the relationship didn't work out is because he gave you a rimjob.
Normal: Being attracted to John Stamos.
Abnormal: John Stamos. (How can he look just as sexy, if not more, after the 18+ years since Full House ended?! It's just not normal!)
Normal: Going to a hair salon with your best friend.
Abnormal: Being forced to update your look by a co-worker.
Normal: Agreeing to update your look with a new haircut.
Abnormal:Getting the full-on Miley Cyrus/cockatoo and cutting some awkwardly asymmetrical, drastically different 'do when you're 58-years-old.
Normal: Having a functioning gaydar that is 85% accurate.
Abnormal: Believing that a ten-year-old girl has an absolutely perfect gaydar.
Normal: Tying to guess if the hot guy across the room is gay or straight.
Abnormal
: Devising an at home game show to guess if a man is gay or straight at your own dinner party.
Normal: Being attracted to John Stamos. (Yes it's so normal and highly encourage that we listed it twice)
Abnormal: Believing that John Stamos belongs with anyone else besides Aunt Becky.
Follow Leanne on Twitter @LeanneAguilera
[Photo Credit: NBC]
MORE:
The Least Normal Things About 'The New Normal': Mr. Mom Edition The Least Normal Things About 'The New Normal': Shirtless Matt Bomer The Least Normal Things About 'The New Normal': Egg Nog Edition

Craziest Celebrity Swimsuits Ever (Celebuzz)

Child Stars: Where Are They Now? (Celebuzz)