The Least Normal Things About 'The New Normal': Mr. Mom Edition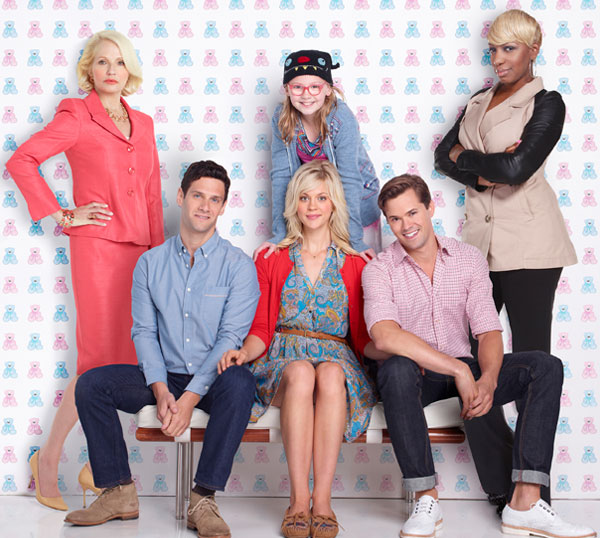 NBC's The New Normal is a delightful show about a not very ordinary gay couple trying to have a surrogate daughter with a strange woman who has an oddball child and an unbelievably bigoted (and funny) grandmother. NeNe Leakes is also somehow involved. As much as it would like us to believe that this is the way the world works today, like most Ryan Murphy shows it is really a celebration of the oddities within all of us. Therefore this weekly feature is both a celebration (and indictment) of all the abnormality contained within it.
Normal: Interviewing prospective nannies to care for your future baby.
Abnormal: Presenting the nannies with crazy and overly detailed hypothetical situations whist timing their diaper fastening skills. 
Normal: Giving your surrogate a birthday present
Abnormal: Sending your surrogate away on a week's long vacation so that you can practice being a stay-at-home dad with her daughter. 
Normal: Working on a television show and wanting to be a producer someday.
Abnormal: Letting NeNe Leakes have any sort of power whatsoever. 
Normal: Telling a bedtime story
Abnormal: Telling a bedtime story starring a make-up free Uma Thurman wandering through the florescent lights if a Walgreens. What a terrifying tale! 
Normal: Packing a school lunch for a young girl
Abnormal: Packing a lunchbox filled with club soda, brie, and a whole avocado for a young girlAbnormal: Letting the sick child act like a psychotic spoiled brat and succumbing to their each and every whim. 
Normal: Being emotionally and physically exhausted after a long day.
Abnormal: Trying to commit suicide by sticking your head in the oven from being emotionally and physically exhausted after a long day. Drama queen. 
Normal:
Offering to host a party.
Abnormal: Hosting a princess tea-party at your house with a group of scissor wielding elementary school lunatics. 
Normal: Having lotion in your bedside table.
Abnormal: Watching a bunch of young girls taste the fruity flavor of the strawberry flavored lube they found in your bedside table and. 
Normal: Accepting a promotion with grace and excitement
Abnormal: Insulting your boss for buying you a nice present and giving you a title that you definitely do not deserve. Yes, once again we're talking about you NeNe.
Follow Leanne on Twitter @LeanneAguilera
[Photo Credit: NBC]
MORE:
The Least Normal Things About 'The New Normal': Shirtless Matt Bomer
The Least Normal Things About 'The New Normal': Egg Nog Edition
The Least Normal Things About 'The New Normal': Tofurkey Edition

Craziest Celebrity Swimsuits (Celebuzz)

25 Risqué Miley Cyrus Stage Outfits (Celebuzz)