'The Michael J. Fox Show,' 'Sean Saves the World,' 'Dracula' Trailers Debut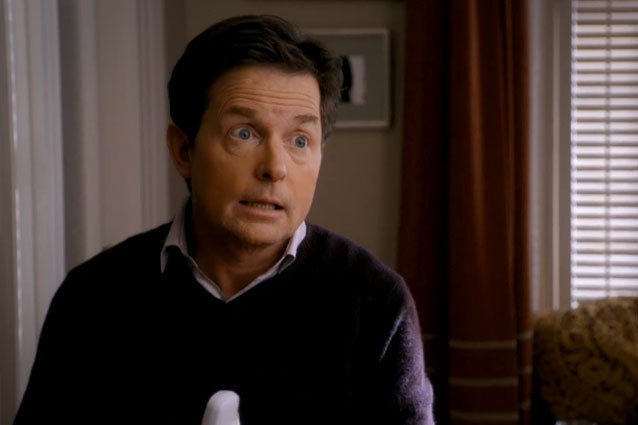 NBC looks like they're keeping it all in the family this fall. Not only is the network bringing back a slew of familiar television faces like Michael J. Fox and Sean Hayes, but the newly released trailers for three of their upcoming comedies are centered around family dynamics.
The Michael J. Fox Show, which brings the leading man back to the small screen, looks to bring the actor's battle with Parkinson's to the forefront with a mix of heart and wise-cracking humor. (In the preview, Fox's character jokes that a shaky ride in a van feels normal to him). Plus, there's Marie from Breaking Bad and Bunk from The Wire! 
In addition to The Michael J. Fox Show, there's also Sean Saves the World —which looks like a bit of an extension of Hayes' Will & Grace character Jack (he's a gay single dad, only it's a daughter instead of a son this time around). In Welcome To The Family, Glee's Mike O'Malley stars as an Average Joe dad whose life gets turned upside down when his college-aged daughter gets pregnant and his future in-laws don't quite gel.
On the flip side, there are gritty dramas on the slate from NBC including the already-has-us-hooked The Blacklist, the bloody creepy Dracula (vampires aren't going away anytime soon, folks) with Jonathan Rhys Meyers, and the Blair Underwood-starrer Ironside, in which the actor plays a no-nonsense cop in the remake of the 1960s series of the same  name. You can watch all of the trailers below and decide which ones you'll watch this fall. (Our money is on Dracula for the vamp appeal and The Michael J. Fox Show becoming a big hit thanks to the star's undeniable charms and his self-effacing humor). 
The Michael J. Fox Show 
Sean Saves the World
Welcome to the Family
Ironside 
Dracula
Here's the fall 2013 lineup for NBC: 
Monday
8 PM: The Voice
10 PM: The Blacklist
Tuesday
8 PM: The Biggest Loser
9 PM: The Voice
10 PM: Chicago Fire
Wednesday
8 PM: Revolution
9 PM: Law & Order: Special Victims Unit
10 PM: Ironside
Thursday
8 PM: Parks And Recreation
8:30 PM: Welcome to the Family
9 PM: Sean Saves the World
9:30 PM: The Michael J. Fox Show
10 PM: Parenthood
Friday
8 PM: Dateline NBC
9 PM: Grimm
10 PM: Dracula
Sunday
8:15 PM: NBC Sunday Night Football
More: 
James Spader Gets Downright Criminal in 'The Blacklist' Trailer  
NBC's 2013-2014 Shows Feature Dermot Mulroney, Sean Hayes, and More
NBC Cancels 'The New Normal,' Picks Up 3 New Series
---
From Our Partners:


Watch Justin Bieber Attacked in Dubai (Celebuzz)


33 Child Stars: Where Are They Now? (Celebuzz)