'The Mindy Project': Everything To Know About Your New Favorite TV Rom-Com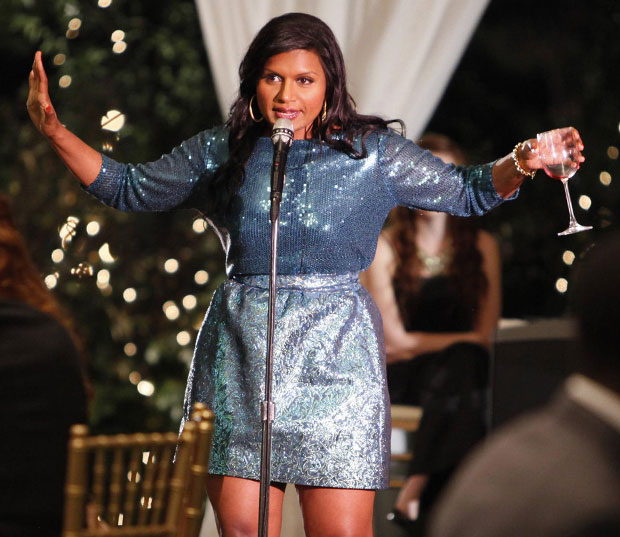 Over the next few months, we'll see new series soar, old series sour, and so much Jersey Shore madness, we'll want to shower. Let's face it: The Fall TV season is intimidating. With dozens of new and returning shows hitting our small screens, we know we have some big choices to make. So, to help you determine what to watch, we're digging deep into the most notable series premiering this season. Where did each show leave off? Where is it headed? And who should you watch it with? Today, we're checking out The Mindy Project, which — in its premiere season — will determine whether Mindy Kaling is more than just an amalgamation of Kelly Kapoor quirks.
Series Name: The Mindy Project
Premiere Date: Tuesday, Sept. 25th at 9:30PM
Number of Knee-Jerk Laughs During The Pilot: 6
You'll Like It If…: You know all the words to Nora Ephron movies. You dream of living the life portrayed by the Goddess Meryl Streep in It's Complicated. You enjoy Jonathan Adler home decor. You are a lady. OK, I mean, this one is definitely geared towards the females, but if you appreciate quippy, pop-culture laden humor with a dose of modern-day feminist reality, you'll dig it, too, my dudes.
You'll Hate It If…: The idea of a flawed lady who loves the idea of love is not your thing.
Cast: Mindy Kaling is Dr. Mindy Lahiri, Chris Messina is Dr. Danny Castellano, Ed Weeks is Dr. Jeremy Reed, and Anna Camp is resident best friend Gwen Gandy.
Synopsis: Mindy Lahiri is an OBGYN in New York City, but she's also sort of a mess. (Probably why the show was originally titled It's Messy). Romantic comedy-obsessed, seemingly from birth, Lahiri battles her own self-destructive behavior while trying to find the balance of work and love. Surrounded by quirky coworkers and a by-the-book BFF, Lahiri's one-date-disasters (and hopefully some successes) are chronicled under the lens of her life as a early-30s modern woman trying to be as on-track with her love life as she is with her work life.
Star Likely To Out-Fame The Show: This isn't even a question: Chris Messina. Seriously. This man is not only a dreamboat, but he plays the will-they-or-won't-they-which-means-they-totally-will potential romantic interest/agitator of Mindy's character with a breezy bit of comedic timing. Plus, the dude is in seemingly every production in Hollywood currently in production. Methinks Mindy's going to have a hard time holding onto him for season two, because he's pretty special (And did I mention dreamy? Yeah, he's that, too).
Most Cringeworthy Moment: The few moments of dotted casual racism that mostly involve the front desk staff (More rich white patients! The woman wearing a hijab should have "oil money"? Oof–girl NO). Barbie in a swimming pool was a close second for sheer hoke-factor.
Best Messina Moment: "First of all, it's 'a Springsteen show,' not 'a Bruce Springsteen concert.' You sound ignorant." (Oh sorry, did you think we were done talking about Messina? Nope, not here; look elsewhere if you can't hop on the Messina Express. And if you can't, you're the one who sounds ignorant, now.)
Biggest New Girl Similarity: They're two funny ladies starring in funny shows and are funny! Wow they're basically identical, right?! (Also they have vaginas?) Seriously though, anyone who makes this comparison needs a frontal lobotomy for sheer lack of originality. Oh look! A funny lady in a show! It must be ~just~ like New Girl! Ugh.
Best Cameo: In a show where there are several, the adorable Ed Helms takes the cake here. His blind date with Mindy is charming, and he plays it well against the one-woman rollercoaster of awkward that Mindy becomes at the end of the date.
Best Use of Glitter: Mindy's date night outfit. She looks like an extra from Sparkle if that movie was about a sequin factory explosion. In a good way.
Who to Watch it With: Your favorite, most funny girl friends. Especially if you're in your mid-to-late twenties.
Who Not to Watch it With: People who use the word 'millennial;' especially those that use the world 'millennial' with disdain. If you relate to Mindy's character at all, then definitely don't watch it with your mom.
Wine and Cheese Pairing: the second least-expensive bottle of rosé champagne (treat yoself!) and something totally indulgent like baked brie–so cheesy, but so good. Other options include: all of the wine and all of the cheese. Because duh, cheese is delicious and any wine will do.
Best Dating Advice From The Show: Never be the high-risk situation.
Worst Dating Advice From The Show: Regularly hooking up with the "Hugh Grant in real life" guy is not a good idea.
What To Say When Your Friends Ask If It Is A The Office Spin-Off: Mindy wrote on both shows, but don't expect Dr. Lahiri to burn her foot on a George Foreman grill because she likes to wake up every morning to the smell of bacon. The Mindy Project is no mockumentary, y'all.
Is it Worth Watching?: OK, it's a pilot, so you should always give a little bit of wiggle room. Pilots are awkward! They're clunky, and they're figuring it all out. It's not perfect, but "YES, DUH, WATCH IT" is the correct answer.
[Photo Credit: FOX]
Follow Alicia on Twitter @alicialutes
More:
'Boardwalk Empire' Returns: A Deep Dive
'New Girl': Fox Casting VP Seth Yanklewitz Talks Emmy Nods, Season 2 and Guest Stars