'The Mindy Project' Recap: Mindy Lahiri is a Racist!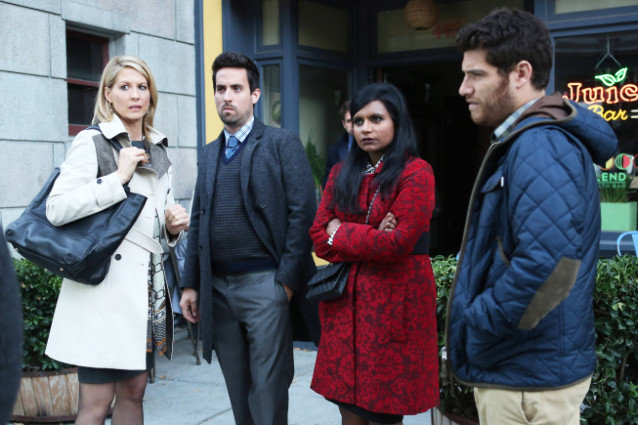 Beth Dubber/FOX
Season two, episode nine of The Mindy Project picked up where last week's left off. "Mindy Lahiri is a Racist" was directed by The Office creator Greg Daniels, Mindy Kaling's former boss, who expertly executed this complicated episode. The story starts with Morgan (played by Ike Barinholtz, who also co-wrote the episode) making amends for all the sexting from Mindy's phone last week. This acknowledges that Mindy's relationship with Clint the lawyer (Glenn Howerton, from It's Always Sunny in Philadelphia) may be explored later, while allowing a completely different and unexpected plot to emerge. Schulman and Associates receives a positive internet review, but unfortunately it's on a White Power mommy blog. 
Morgan is trying to clear the air, party boy Dr. Peter Prentice (Adam Pally) wants to get taken seriously, and everyone else is making a case that they aren't racist. The blog comes up innocently,  sneaking up beneath jokes about Danny's feminine reading glasses. This made the reveal more surprising and funny, while subversively introducing the sensitive subject of race. It also shifts the narrative away from Mindy's romantic misadventures. Meanwhile Peter is asking Mindy to take him seriously, as she responds "I don't have time for your Borat impression."
Arriving at the issue of racism in a way that is so absurd allows The Mindy Project to address something delicate, and not deviate from the show's silly brand of chaos. This particular episode is packed with celebrity guest stars like Jenna Elfman. As a publicist, Elfman offers a lot as a straight-man and a sex partner for Danny. The racist mom blog even sparks a protest, led by a reappearance from the Duplass Brothers as the midwives who are the practice's competitors. When Mindy and Tamara are called on to make a statement, Mindy criticizes Tamara's boyfriend Ray-Ron (Josh Peck), causing a rift between the two.
Tamara joins forces with the midwives, but because Mindy is condescending, not racist. This calls back to the issue with Peter not being taken seriously. Danny then attempts to "change the conversation" only to mention his four black friends. Peter is set up to be the savior when Congressional candidate Tracy Whitfield, played by Larenz Tate, arrives. Peter claims to know the African-American politician, but after approaching he immediately retreats confusing him with another black guy. "Ok. That was very racist," Mindy concludes. 
Mindy takes to addressing the crowd in one final attempt to defend the practice, calling on Peter's previously proposed mobile health clinic for women in need. This offers an olive branch to Whitfield while making Peter the expected hero in an unexpected way. In this effective episode, Mindy did what she does best: addressed a character flaw (she's condescending) while solving a broader problem. This allowed for both Peter and Tamara to show more depth and shot down criticism that Mindy only dates white guys. After all, she did go to second base with "Korean Justin."